If you have a story to tell — even a dull one — Adobe Voice can improve your presentation. The free app can't make your story more compelling, but it can give you a better shot at getting it across. Adobe Voice is available for the iPad 2 and above running iOS 7.To kickstart your use of Voice, Adobe offers a welcome page with a pair of sample slideshows to give you an idea of how others have used the app. One video is an inspirational message from a mother to her daughters about living a happy and empowered life. The other is a promo for a line of clothing.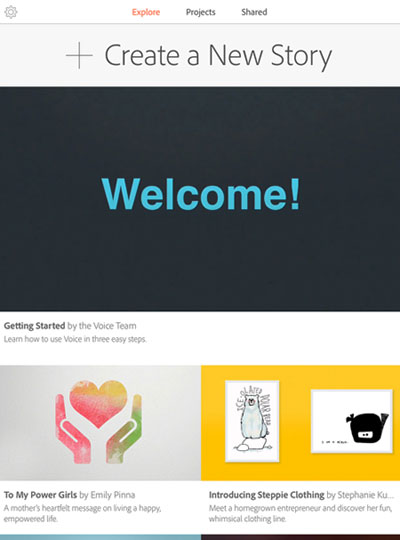 There's also a tutorial — it appears to be made with Voice — for using the software. It provides the essentials for creating a short video in Voice. Every story is made of pages, and your voice tells the story on each page. Every page has an image or graphic to illustrate your story. Finished videos can be shared with others.
A Little Prodding
When you start a story, you'll be asked for a title. If you don't have one, you can skip that step. If you don't have a video topic in mind, Adobe helps you out with suggestions in categories like personal, business, causes, school, greetings, tales and instructional.
For example, in personal there are ideas such as "the best party ever" and "when I made a wrong choice." In business, there's "key accomplishments for the quarter" and "annual report in one minute." School topics include classics such as "what I did on my summer vacation" and "summarizing Hamlet in 60 seconds."
Once you have an idea and title, Voice helps you structure the story in your video. It includes eight story arcs — promote an idea, for instance, or tell what happened, explain something, follow a hero's journey, or teach a lesson — but you're not locked into any of the story arcs. You can always choose to make up your own.
When you create your first video, Voice will provide you with screen prompts for creating content on a page. You can turn that off by choosing "skip tutorial" when you begin a video.
Voice-overs for pages are performed by touching a microphone button on your iPad's display. Recording stops when you remove your finger from the screen. You can instantly review what you said and record it again if you don't like what you hear.
A nice feature of Voice is that it will sweeten the audio it records with the iPad's microphone. The process adds richness to your voice. However, it won't work miracles, so don't expect your pipes to be transformed to those of James Earl Jones.
Give It a Look and Feel
After you've recorded your voice-over for your page, you'll be prompted to add an icon, photo or text. Unfortunately, video can't be imported into the program.
Voice has a library of more than 25,000 icons and access to some 100,000 quality stock photos on the Web.
A great feature about Voice is that its photo searches of the Web returns only royalty-free photos, so you don't have to worry about rights violations when you use them in your video. What's more, Voice automatically will create the proper credits for the photos you use and tack them to the last frame of your video.
In addition to using photos from the Web, you can import pics into the app from your iPad or Adobe Creative Cloud, Facebook or Dropbox accounts. You can also snap shots with your iPad and bring them immediately into a page.
As you add pages to your video, thumbnails will appear on a timeline on the bottom of your iPad's display. You can move through the timeline by dragging your finger on it. Tapping a thumbnail lets you jump to that page to edit it.
Voice also gives you some options for controlling the overall appearance of your video. For example, it gives you a number of choices for slide layouts. You can place two objects on a page, for instance, or an object and a caption or an object and a full photo.
More than 30 themes are included with the program. A theme is primarily an assortment of background colors for your slides.
Voice also will lay a musical soundtrack behind your video. Some 35 musical pieces are included with the program organized into categories such as happy, playful, relaxed, rousing, thoughtful and uplifting.
Although for now you're limited to the musical library in Voice for your video's score, the next upgrade of the program reportedly will allow users to use their own tune collections in the program.
Fast and Fun
When you finish your video, you'll want to share it. Voice lets you upload your video to Facebook and Twitter. You also can share it via email or instant messaging, but first you have to upload it to the Adobe Voice website, which easily can be done from within the app. Messages and emails touting the video will contain a link to view it at the Adobe site.
Not being able to export a slideshow in a video format — MP4, for instance — is disappointing and seems like a gratuitous restriction on the fruits of a Voice user's labors.
Another annoyance is that it doesn't support landscape mode. I like to have my iPad at a slight angle when working with it on a tabletop. My iPad case does that but only in landscape mode, so Voice's portrait-only support is inconvenient.
Irritations aside, Voice is a fun program to use and certainly the fastest way to create a good-looking slideshow that I've seen to date.