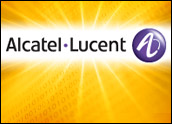 Alcatel-Lucent on Tuesday unveiled its 7950 Extensible Routing System (XRS) core routing platform in a bid to take on rivals Cisco and Juniper Networks, the current leaders in the US$4 billion market.
The company's seeking to leverage the increasing demand placed on carrier networks by the growing move toward cloud computing and the explosion in online video.
A core router is designed to operate in the Internet backbone. It must therefore support multiple telecommunications interfaces of the highest speed and be able to forward IP packets at full speed on all of them.
The 7950 XRS family, which was three years in the making, leverages Alcatel-Lucent's FP3 processor, which is claimed to be the world's first 400 Gbps network processor. It can handle 70,000 simultaneous high-definition video streams or more than 8 million simultaneous retail cloud sessions.
Alcatel-Lucent's top-of-the-line 7950 XRS-40 supports 32 Tbits/second capacity and has 160 100Gbit Ethernet ports in a single system, which is five times the density of current core routers. It also cuts power consumption by more than 66 percent compared to typical core routers.
"This has a big implication in terms of capital expense and operating expenses such as the power footprint," Brian Partridge, a vice president at the Yankee Group, told TechNewsWorld.
The Guts of the 7950 Family
There are three routers in the 7950 XRS family. The flagship XRS-40 can accommodate up to 2 Tbits per slot. It's upgradeable to multi-chassis configurations. It will be available in the first half of 2013.
The XRS-20 is a 16 Tbps core router that can deliver 80 100GE (Gigabit Ethernet) interfaces in a single rack. This is five times the current norm, Alcatel-Lucent claims. It can be upgraded to the XRS-40 or multi-chassis configurations as needed. Like the XRS-40, it can accommodate up to 2 Tbits per slot. The XRS-20 will be available in the third quarter of this year. It's currently in trials.
The XRS-16c is a 6.4 Tbps core router with up to 32 100GE interfaces. It's designed to accommodate 1Tbit per slot. It will be available in the first half of 2013.
All three support IPv4 and IPv6 routing, MPLS switching and infrastructure services. They all use the SR OS (Service Router operating system) and the 5620 SAM network management system.
Can ALU Play With the Big Boys?
At least one analyst, Stuart Jeffrey of Nomura Research, reportedly stated recently that Alcatel-Lucent might be able to take market share from Cisco and Juniper Networks with its 7950 family. He cited the company's success in edge routers, where it has 24 percent of the market.
The 7950 supports both IP backbone networks and regional metro core networks. Competing products from Cisco do not, but those from Juniper Networks do, Yankee's Partridge said.
However, Cisco and Juniper are "absolutely" working on something to take on the 7950, Partridge said, although he's "just not sure when or how yet."
Cisco and Juniper Networks did not respond to our request to comment for this story.
Taking a share of the core routing market "will not be easy, even with a box as impressive as the 7950," Partridge remarked. "There are politics involved, and incumbents such as Cisco will not rest on their existing product laurels."
Alcatel-Lucent did not respond to our request for further details.
Time to Throw the Elbows
Competition in the core router arena is bound to heat up, Jim McGregor, president of Tirias Research, told TechNewsWorld.
"As everything goes towards IP, whether it's voice, data or any other type of communications, we're getting to the point where there's a collision of network architectures and network players," McGregor elaborated. "You've got HP, Cisco, Alcatel-Laurent and all these other guys stomping on each other's toes."
The move toward IP-based solutions "is the pot of gold because now you have the potential to control the entire back-haul solution, whether you're talking about the enterprise, the metro network, or the entire communications infrastructure," McGregor said.