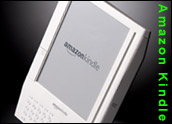 If last year's runaway success of Amazon.com's Kindle e-book reader didn't surprise anyone, how about this year's continuing momentum? The US$359 Kindle is out of stock again, and it probably won't be back in time to fill anyone's stockings this holiday season. For technology and gadget lovers, the black and white, single-purpose Kindle is an anomaly. It doesn't play games, doesn't show movies or TV shows, and it doesn't even have an app store. It's for one thing: reading electronic text.
Can't a cheap netbook do the same thing in a lightweight form factor — plus play all sorts of other media? You betcha. But Amazon.com didn't bust into the e-book space last year with a mini computer, a tablet or an iPhone. It did it with a retro, head-stratching Kindle.
Oprah Helped, of Course
The book-loving media titan Oprah Winfrey, who has the power to send book publishers scrambling to reprint millions of copies of whatever book she happens to mention liking, gave Amazon.com's Kindle the thumbs up in late October. Still, after a year of solid sales, how did Amazon.com get caught with its pants down?
It's a question Amazon.com isn't going to answer directly. In fact, it's hard to get any solid Kindle numbers out of Amazon.com at all.
"We've been very pleased with sales of Kindle since its introduction. Oprah's recent announcement to her audience that Kindle is her 'new favorite thing' generated a significant increase in demand," Cinthia Portugal, a spokesperson for Amazon.com, told TechNewsWorld.
"As a result, we do not have inventory in stock available for immediate shipment. Customers interested in buying Kindles should still order immediately to reserve their place in line, as we will continue to ship to customers on a first-come, first-served basis," she added.
When pressed for details surrounding volume — even just comparisons to last year's supply — Amazon.com dodges the question.
"We don't disclose unit share numbers, but I can tell you that we've had great momentum and continue to grow content availability in all genres and affinities," Portugal said.
Other Proof Points
However, Portugal did point out a few other indicators that speak to Kindle's growth and popularity. Kindle's library continues to grow, with available book titles more than doubling since launch to over 200,000, including 96 out of 112 of The New York Times' bestsellers.
Newspaper and magazine selection have each more than doubled since launch, while blog selection has grown fourfold from 250 to 1,000.
Kindle titles already account for more than 10 percent of unit sales for books that are available in both digital and print formats.
The Kindle Store has added periodicals such as the Chicago Tribune, Financial Times, Los Angeles Times, MIT Technology Review, and U.S. News & World Report to a list that already included the New York Times, The Wall Street Journal, the Washington Post, Forbes, Fortune, Newsweek and Time.
Back in August, TechCrunch reported that a source close to Amazon.com and familiar with its sales figures said the retailer had sold 240,000 Kindles — and this would have been well before the 2008 holiday season. Citigroup estimates that Amazon.com will sell about 380,000 Kindles in 2008, according to Forbes, but this was a few weeks before Oprah dropped her endorsement bomb.
More Than Just the Kindle
While the Kindle has gotten Oprah's nod and has the high-profile Amazon.com distribution channel, there are other e-book readers on the market, most notably Sony's Reader Digital Book line, which has been available since late 2006. It starts at $299, with a newer PRS-700BC model going for $399. The current sales figures for the Reader Digital Book line comes in at 300,000.
Like the Kindle, Sony's Reader Digital Book line uses a black and white, paper-like screen to make the text more book-like and easy to read. While the Kindle lets users buy directly from Amazon.com wirelessly, Sony's lineup requires a computer to act as a middleman.
Then there's Photoco's miBook, a $120 e-book reader with a color screen. It's not as portable as the Kindle or Reader Digital Books, and its miBook titles come on SD memory cards. It launched this summer, and seems to focus primarily on how-to sorts of titles for cooking, home improvement, parenting and the like.
What About the iPhone?
Apple's popular iPhone, it turns out, is also an e-book reader, albeit a small one. Stanza, a free application available in the Apple App Store, lets readers download e-books on the fly and read them on the iPhone. The books, however, aren't new bestselling titles — they are public domain classics.
Either way, we may be entering a new age of the book — and it's all electronic.