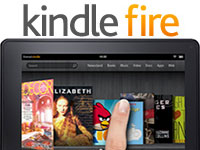 Many a parent or teacher has probably encouraged kids playing video games to read a book, but now the world's largest book retailer is getting further into games. On Tuesday, Amazon announced a new social engagement layer for video game developers.
GameCircle for Amazon's Kindle Fire will allow developers to add achievements, leader boards and even cloud syncing to games. Developers who utilize the GameCircle APIs will be able to include achievements that gamers can earn, such as trophies, badges and awards, while also receiving message updates without leaving the game. GameCircle reportedly will offer a cloud syncing feature as well, which will save a player's progress and make it available the next time the game is played, even if it's on a different tablet.
The service, which is Amazon's answer to Apple's Game Center, is intended to help game developers keep users more involved.
"Amazon is clearly looking to become a gaming network and is following Apple's lead," said Billy Pidgeon, principal analyst for M2 Research, "but this should and could outdo Apple, as Apple — especially under Steve Jobs — never understood games."
Games on Tablet
Although mobile phones have long been the untapped market for game developers, it appears that makers are looking for gamers to tap in with tablets.
"Gaming is going to be more important than ever as people broaden their tablet usage from single apps to an 'always on' device," Josh Crandall, principal analyst for NetPop Research, told TechNewsWorld. "Having a few games available for the kids when busy — or oneself when finished reading the latest title — is a natural extension for the platform."
The market will likely be subject as much to individual titles, much like on the traditional gaming platforms.
"In general, the gaming market tends to be highly changeable, according to which games are rising/falling in popularity," said Charles King, principal analyst for Pund-IT. "But those vicissitudes are felt more acutely by game developers than they are by distributors."
Development for Tablets
Tablets could offer an advantage for the game's software developers as much for the hardware manufacturers, simply because the systems could offer another option for titles being released on other platforms.
"Since the Kindle Fire is an Android-based platform, developing new — or porting existing — games shouldn't be much of a challenge for developers," added Crandall. "Additionally, the tightly integrated payment experience makes purchasing a breeze for consumers. These aspects, along with the established audience, make Amazon's value proposition to developers straightforward."
This fact could have consumers looking past consoles for the living room to devices that are portable and not tethered to a TV.
"For Amazon, Apple and Google, game sales certainly provide welcome — occasionally lucrative — sources of revenue," said King. "But more importantly, they offer opportunities to engage more deeply with consumers to drive sales of other products and services."
Opening a New Market With Closed Ecosystem
One outstanding question is whether consumers, especially gamers, will look to the Kindle Fire as a game platform, given Amazon's relatively closed ecosystem. But is this really a problem, or does it offer advantages?
"The two major attractions for developers on the Kindle Fire are 1) the size of the audience, and 2) average user revenues," said King.
"The former point is somewhat problematic since sales of the Fire apparently dropped off significantly after its 2011 holiday season launch, but Amazon's reported plan to introduce three new Fire models this year could assuage that," he noted. "The later point, however, holds up much better since — according to a March report in the Flurry blog — per-user revenues in Amazon Appstore users trail Apple's iTunes App Store — Flurry's gold standard — just slightly."
GameCircle could also leverage Amazon assets, including its cloud infrastructure, enhancing gamers' experience "by allowing them to save/track their scores and progress, compare their performance to other players, receive updates while they're playing, and win/store awards," added King.
Multi-Device Strategy
Just as many game developers look to a multi-device strategy when creating games, Amazon could be looking to a multi-device strategy of its own with the cloud. This could allow syncing for players to save their progress and then resume play later on any synced device.
"Multi-device syncing is fairly rare in the online game market and may well foreshadow integration with Amazon's rumored plans to launch its own branded smartphones," said King.
And the end goal might not just be tablets.
"It will start on the Kindle," said Pidgeon, "but it could go into mobile. Kindle isn't a great game machine, but this could be an indication they are ready to support it, and it could be a step to mobile. Amazon is clearly trying to strengthen their game play."