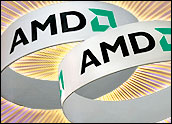 AMD on Wednesday announced what it claims is the world's first accelerated processing unit (APU) for embedded systems, the Embedded G-Series.
The G-Series is the embedded version of Fusion APUs the company announced earlier this month.
It consists of a low-power x86 CPU combined with a DirectX 11 graphics processing unit (GPU) and a parallel processing engine, all on one piece of silicon.
G-Series processors will target graphics-intensive products such as digital signs, Internet-ready set-top boxes, mobile and desktop thin clients, and point of sale (POS) kiosks, among others.
The G-Series's Tech Specs
The Embedded G-Series platform consists of one or two x86 "Bobcat" CPU cores with 1 MB of L2 cache and a 64-bit floating point unit each.
Bobcat is the code name for AMD's first x86 CPU core since 2003. AMD is targeting netbooks and notebooks with its Bobcat architecture. It claims the Bobcat core is smaller and faster than a single-core Intel Atom chip.
Dual-core Embedded G-Series APUs run at 1.6 GHz and consume 18W of power. Single-core APUs consume 9W of power.
The Embedded G-Series APUs have an array of SIMD engines, support DirectX 11 graphics, have a third-generation Unified Video Decoder, offer power management features and offer DDR3 800-1066 memory with support for 64-bit channels and two DIMMs.
SIMD stands for single instruction, multiple data. SIMD engines are parallel computers with multiple processing elements that perform the same operation on multiple data simultaneously. An application that may take advantage of SIMD is one where the same value is being added to or subtracted from a large number of data points, which is a common operation in multimedia applications.
DirectX 11 is a superset of the DirectX 10 technology from Microsoft. It's for gaming machines. DirectX 11 offers hardware tessellation, better multi-threading and the DirectCompute API. This last API supports general purpose computing on graphics processing units (GPGPU). Nvidia's CUDA and AMD's Stream initiatives support GPGPU.
The open development ecosystem for the Embedded G-Series includes multiple BIOS options; support for various Microsoft Windows, Linux and real-time operating systems; the integrated OpenCLTM programming environment; and source-level debug tools.
AMD did not respond to requests for comment by press time.
What's an APU?
With various processors integrated on a single piece of silicon, an APU sounds suspiciously like a system-on-a-chip, or SOC. However, the two differ.
"An APU has the main CPU, the GPU, the floating-point unit, cache controllers, caches and other integrated elements on it," Shane Rau, a research director at IDC, told TechNewsWorld. On the Embedded G-Series platform, the APU is combined with an input-output hub, which AMD calls the "Fusion Controller Hub," or FCH. The FCH has interfaces such as those for PCI-E, HD audio and SATA drives.
An SoC, on the other hand, would have the CPU, the GPU, the floating-point unit and the interfaces all on one chip, Rau pointed out.
Apple makes extensive use of SoCs.
The Import of the Embedded G-Series
AMD's Embedded G-Series is an embedded version of the company's C-Series and E-Series Fusion processors, Rau said.
Because AMD's embedded processors are x86-based, they are generally targeted toward the most PC-like of embedded processor segments, such as thin clients and POS systems, which emphasize performance over other factors like price, board space, battery life and thermal dissipation, Rau remarked.
However, the Embedded series will extend AMD's reach beyond that because it's more highly integrated than its processors and is based on the new low-power Bobcat CPU core, Rau stated.
"It will still lend itself towards embedded systems that emphasize performance but will also open up AMD to applications that are also concerned with board space and thermal dissipation," Rau suggested. "For example, it could enable smaller thin clients and POS systems, more robust digital signage systems, or fit into embedded control system where AMD's prior embedded products couldn't."
Uses for the Embedded G-Series
APUs leverage graphics.
"The consensus seems to be that, with the growing consumer interest in compute-enabled multimedia and similar types of capabilities going out into other promotional markets, that there'll be a new broad market for embedded chips that can perform fairly intensive graphic tasks," Charles King, principal at Pund-IT, told TechNewsWorld. "That's what Intel's been pursuing with Atom for awhile."
Intel did not respond to requests for comment by press time.
Embedded computing technology specialists Kontron will implement the Embedded G-Series in three of its designs. The first of these will be debuted at the Embedded World trade show, to be held in Nuremberg, Germany, March 1-3.
Kontron sees the Embedded G-Series processors being useful in vertical markets such as multimedia content delivery applications, kiosks, POS, professional gaming, radar, sonar and image recognition, as well as the military, industrial automation and medical markets.
The Fujitsu Technology Solutions plant near Munich, Germany, will begin production of two new mainboards incorporating the Embedded G-Series in April.
Several other vendors have also announced support for the Embedded G-Series.
"It's a good move for AMD," King said. "Given the rise in media-centric technology devices that can profit from embedded processors with more intensive graphic capabilities, this seems a good way for it to leverage its ATI assets."