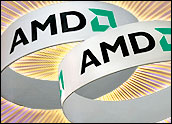 AMD has begun shipping production units of its 32nm quad-core "Llano" A-series accelerated processor units (APUs) with discrete-level graphics, it announced Wednesday.
That's well behind Intel, which began working on the 32nm process in 2009 and began shipping 32nm processors in 2010.
"Once again, AMD's late," Jim McGregor, chief technology strategist at In-Stat, told TechNewsWorld.
AMD views its positioning differently.
"Customers don't buy nanometers," AMD spokesperson Phil Hughes told TechNewsWorld. "Our goal at AMD is to deliver the best APU every year. Visual computing technologies drive the AMD pace of innovation," Hughes added.
That may well be the best strategy for AMD.
"Chasing Intel wasn't working for them, and where they led Intel, in graphics, created the opportunity to change the battleground to one that better favors AMD," Rob Enderle, principal analyst at the Enderle Group, pointed out.
"Thus the need to create an APU where they could have a better chance of getting Intel to chase them," Enderle told TechNewsWorld.
Playing Llano Cards Close to Its Chest
AMD was sparing in the information it released about its new APU.
All Hughes said in a blog post announcing Llano was that it had begun production shipments and that more information would be available later.
"You know I can't give you any details about Llano," Hughes said when asked about the APU — but he pointed to a YouTube video demonstration.
Asked about specs for the Llano that have been posted online, Hughes said only that Llano is targeted at the mainstream and performance notebook market, has two to four "Stars" CPU cores; and a discrete-level DX 11 GPU.
Information published on Wikipedia indicates the Llano will come in two-, three- and four-processor versions. It will have upgraded "Stars" CPU cores with 1MB L2 cache on each core, as well as Redwood-class integrated graphics, an integrated PCIE 2.0 controller, and a dual channel memory controller.
Geek Talk about the Llano
An APU is the term given to any processing system that includes additional processing capability designed to accelerate one or more types of information outside of a CPU.
This means it may include a graphics processing unit (GPU); a field programmable gate array (FPGA) or other specialized processing system.
The AMD Fusion family (which includes the Llano APU), Intel's Sandy Bridge, and Nvidia's Project Denver are all APUs.
AMD's Stars family reportedly includes the Agena FX, Agena, Kuma, Rana and Spica cores. They use the HyperTransport 3.0 protocol, which is expected to provide twice the amount of bandwidth between the processor and chipset.
HyperTransport 3.0 will also let the processor and internal north bridge operate at different frequencies.
Processors in the Stars family reportedly have a 128-bit floating point unit for each CPU core, offer DDR2-1066 support, and have a split power plane.
What's a Nanometer More or Less, Anyhow?
It would not be right to compare the 32nm Llano APU to 32nm Intel Westmere processors, In-Stat's McGregor suggested.
Intel perfects the process first and then makes the product run on it, while anybody else that has a more limited market, such as AMD, optimizes the product first and then tweaks the process around it, McGregor explained.
"If you really had to compare the processes and products, you'd see that the gap between them is more like a year instead of 18 months because of AMD's tweaking and everything else," McGregor elaborated. "Typically, AMD has smaller core dies and they know their graphics unit really, really well."
Still, AMD will remain behind "until they're in lockstep with or ahead of Intel with its innovations," McGregor said.
The Short, Happy Life of an AMD APU
The Llano is slated to be replaced by the Trinity in 2012, according to AMD's road map.
Like the Llano, the Trinity APU will use the 32nm process, AMD's Hughes said. It will, however, use a Next-Generation Bulldozer core instead of the Stars core employed in the Llano.
If that's the case, what's the point of bringing out the Llano now?
"Customers want the best visual experience they can get today while improving their battery life and overall performance," Hughes said. "Llano is about giving customers what they want today."