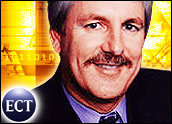 I just came back from the Atlantis resort and a nice vacation playing on some incredible water slides, swimming with dolphins, and floating on a mile-long endless pool.
I had a ball, but it appears that others decided to be very busy in my absence. AMD, for one, brought out its long-awaited Barcelona chip. In thinking about it, however, I no longer believe Intel and AMD are Apples and Apples. AMD's strengths come from being dramatically different in other key areas.
Apple brought out its new iPods and, I think, now has some ugly line conflicts. The designers took my favorite product (the iPod nano) and made it ugly.
Hi-Def Blus
Without meaning to, I riled up the Blu-ray faithful by using the likely failure of that platform as an example of what not to do when bringing a technology to market. I got lots of fun e-mail.
I still believe the market is likely getting ready to be done with optical media, and while the move will take a while, the activity will be with downloads.
We'll close, as always, with this week's product of the week, which this week is a raygun.
AMD's Barcelona and the Power of Partnering
Battles are fun to write about, and many of us focus a great deal on the Intel vs. AMD battle. AMD is struggling a bit with a large merger, while Intel has fixed many of its issues early in the decade and now has a number of market advantages.
However, at AMD's launch, it was really driven home that AMD's sustaining advantage isn't technical — Intel can probably outspend it any day of the week in pure R&D. Rather, it is in partnerships and sharing the resources of its customers.
LucasFilm Gushes
At the event, LucasFilm indicated it probably wouldn't have been able to create Industrial Light and Magic without AMD. In an almost-tearful, heart-rending testimonial, the company thanked AMD for helping it get to where it is today. If you think of the amazing movies this company has helped create, that is an amazing thing for anyone to say.
This was followed by statements from VMware, which implied its work with AMD was driving the leading edge of virtualization; and HP, which indicated that AMD's work was creating the best power-per-watt solutions in the segment.
Perhaps the most powerful, however, was Dell, a former exclusive Intel supporter. The company indicated it will significantly increase its AMD commitment and revealed that the virtualized server it and AMD had jointly developed would be 40 percent faster than anything coming from anyone in the segment. This last bit isn't because of Barcelona alone; it's because the entire product was jointly developed and brought to market as a collaborative effort with AMD.
A New Model
For a long time, vendors have complained they can't differentiate and that this commoditization of the market was killing their margins. AMD didn't fail to address their needs with a new processor; they succeeded in addressing them with a partnership model that is paying off dividends.
I think there is a lesson in this for all of us, and perhaps something Apple should think about: Strong partnerships can actually create more powerful results than strong products, and when you have both, you truly have magic.
iPod/iPhone Conflicts
Speaking of Apple, Cupertino's issues with AT&T continue. The reports of initial bills exceeding US$130 and hundreds of pages long were topped by folks who went to Europe with their iPhones and came back with nearly $5,000 in charges (here's a tip: turn the e-mail checking feature of the phone off). Since the iPhone launched, it seems like 90 percent or better of the problems are related to AT&T. That probably explains the rumor about Apple going into the cellular business for itself.
Apple also brought out the iPod touch, which:
Is cheaper than the iPhone,
Has more capacity,
Will likely have a battery that lasts longer (both in daily battery life and life cycle),
Has 90 percent of the good stuff of the iPhone and none of the bad stuff, and
Is probably the coolest portable media player currently in its class.
If it weren't for the fact that I prefer subscription music services, I'd probably have bought one myself. It makes me wonder how many people will decide to take the new iPod touch and avoid the aggravation of the iPhone.
Apple kind of created a mess with the nano and classic. Now, I can recall when the nano came out of Steve Jobs' pocket initially and caught your breath. It turned out to be too fragile, so they clad it in metal for the next version, but it remained very small.
Chubby nano
The new nano looks like a short, chubby version of the classic. It works very well but it sure didn't catch my breath like the first version did. It is about as far from the cool look of the original nano as we get in this class in hardware.
The user interface (UI) is actually kind of cool, but I couldn't help but thinking that someone must have missed a meeting or they are trying to force people up to the touch partially by making the more reasonably priced nano chubby.
Maybe Apple wants it on "America's Biggest Loser." With the classic and touch, you have an ugly choice: If you want capacity, you don't get cool; if you want cool, you don't get capacity. That kind of thing typically hurts sales.
It will be interesting to see if that is the case here, though personally I think 16 GB is plenty of storage in one of these things for anyone, and the touch can likely power through this if the price isn't too big a problem.
nano in the Crosshairs
What I think is interesting is that SanDisk brought out its View player, which at under $200 with 16GB both looks better than the nano and is vastly more affordable than the touch.
SanDisk has been competitive for a while, but this is the first time it has beat Apple in a class (the nano class) of product. That was much Apple's fault as it was SanDisk design. If most buy up to the iPod touch, this won't matter much; but if they don't, SanDisk may take some serious market share.
Blu-ray as an Example of What Not to Do
For some time I've believed Blu-ray to be a dead-end technology, not because HD-DVD is killing it, but because both are soon to be bypassed by download services. Only HD-DVD has a slim chance of selling enough players to possibly avoid this likely fate.
This is nearly the exact repeat of what happened to Laserdisc, and it will have an impressive impact on Japan. This negative impact in terms of billions of lost dollars in revenues and profits was largely the result of a conflict between two Japanese vendors who should have found some middle ground and didn't.
I've been using this as an example of bad product decisions and why analysis before decisions like going to war with Toshiba and its partners is incredibly important.
Japan Goes 0-for-2
To net it out, at the beginning of the year Japan had two chances out of two to capture the next generation of the DVD. Had they been able to come up with an equitable sharing arrangement that could scale by the end of this year (my opinion is Blu-ray can't get there), they could have shared an impressive revenue stream and probably sold more HD TVs and projectors as well. They didn't, and now the market is getting ready to move.
The first big hit is Vudu, which is the first DVD+ quality download replacement for a DVD player that is truly viable.
It is only in generation one, so it will improve and it's already getting rave reviews.
The second is HD-VMD, a better (in terms of value) solution that just hit the market with a limited, though relatively current, content library.
Virtually all of the technology vendors backing both formats are now gearing up to move to movie downloads and that includes companies on both sides, including Sony.
The lesson I think we can learn from this is it's always better to have 50 percent of something than it is to have 100 percent of nothing.
Product of the Week: Dr. Grordbort's Infallible Aether Oscillators
As you can imagine I get a lot of really fun technology toys, but when it comes to what I want for my birthday I can be incredibly hard to buy for. This year my wife bought me one of the coolest things I've ever seen. It is a Steampunk Raygun.
Built by a company specializing in movie props, this Raygun comes in a velvet-lined case and the entire thing looks like it came right out of a good '50s era sci-fi movie. I ended up with the Infinity Beam Projector, which at just under $700 isn't cheap, unlike an iPhone; however, you carry this on a plane and you will be noticed.
Think how handy this will be if aliens (and I mean the little-green-men type) actually do invade.
Each version has a limited run, and the first version is already sold out — so if you want to save the world or simply scare the crap out of the neighbors, this thing is for you.
We often compliment Apple's TV ads; Dr. Grordbort's ads are incredibly different.
---
Rob Enderle
is a TechNewsWorld columnist and the principal analyst for the
Enderle Group
, a consultancy that focuses on personal technology products and trends.
---