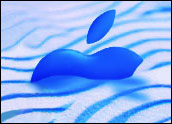 In my mind, 2014 is shaping up to be Apple's wildest year in the post-Jobs era.
Last year, we saw a lot of incremental innovations from Apple but no thunderous new products. Sure, the new Mac Pro is insanely small, quiet and super sexy — not to mention manufactured in America, which is no small feat these days — but it's also a niche product for professionals.
Apple's street creds and ultimate success are firmly entrenched with mass consumers.
Hence the wild-and-wooly promise of 2014.
From where I sit, there are three acute areas of risk and opportunity for Apple in 2014:
smartphones
tablets and notebooks
new(ish) products
Why leave out the iTunes Store and App Store? Aren't they critical to Apple's success? Yes and no. While Apple just bragged that App Store revenue topped US$10 billion in 2013, with $1 billion coming in December alone, Apple's potential profit is limited to the 30 percent revenue it pockets, less operating costs to serve up the ability for customers to download apps, music and movies billions of times.
While Apple's ecosystem drives customer satisfaction and repeat purchases, its overall effect in 2014 will be far less than, say, the design of a new iPhone.
Rising Sales, Shrinking Share
In 2013, it was hard not to turn around every other week and see some sort of report indicating that Apple's relative market share of the smartphone market was shrinking — even as iPhone sales continued to grow. Sure, sometimes it might see a blip here or there, but ultimately the horde of Android smartphones has increased the size of the smartphone market and Apple hasn't been able to maintain overall share at the same pace.
One recent report notes that Apple holds 43.1 percent of the smartphone market in the United States, 35 percent in Australia, 30.6 percent in Great Britain and 69.1 percent of the market in Japan.
Of course, many of the Android-based smartphones sold around the world are hardly feature-competitive with the iPhone. Producing an even cheaper alternative than the subsidized iPhone 5C … hard to argue that it's a good business case: Market share with little profit? This is like telling your daughter to start selling Girl Scout cookie knockoffs at a buck a box so she can gain market share and profit sometime in a nebulous future.
Desperately Seeking a Snazzy New Design
So, what's the smartphone risk for Apple in 2014? To me, Apple faces an innovation mind-share sort of problem: The iPhone 5s is wildly successful in terms of demand and sales, but that form factor isn't going to gain a lot of "new" friends throughout 2014. The Touch ID fingerprint sensor is cool, but at least half the people I know have little interest in "locking" their iPhones in the first place. What if a relative or child needs to make a non-911 emergency call?
Apple needs to create a snazzy new design for its iPhone in 2014 to show that it can continue to inspire externally as well as internally. While 64-bit processors are an astounding leap forward, again, most people I know are blissfully unaware of the iPhone guts. Apple might be able to maintain mindshare — if not hold market share — with an iPhone with slim, curvy or nifty materials … or by simply selling millions of units in China.
What I'd like to see is an iPhone with a larger screen. Not a horrendous "phablet," but something just a little larger. Why? Everywhere I look, people who used to use computers to surf the Web, read the news and engage with the world are now ignoring them in favor of their tiny little iPhone screens. As for myself, I'm rarely far away from a MacBook Pro or an iPad, and yet I engage more and more often through my iPhone. I love pocketability, but when I'm browsing the Web, I instantly crave a larger screen.
Despite saying otherwise in the past, I now want a larger screen on my next iPhone.
If Apple caves to consumers like me and those who are leaving behind PCs, it's hard to imagine its sales and mindshare could be anything other than stellar in 2014.
Tablets, Notebooks and Innovation, Oh My!
While Apple sold 150 million iPhones in its 2013 fiscal year, the company did something even more impressive: It sold 71 million iPads. Because the company's fiscal year-end is in September, this figure doesn't count the high likelihood that the iPad Air and iPad mini with Retina Display sold insanely well over the holidays.
During the same 2013 period, Apple sold 16 million Macs.
As of last fall, Apple also had a 94 percent share of tablets in education.
So where is the opportunity for Apple in the tablet space? The obvious answer is the rumored 12.9-inch iPad "Pro" model. Sporting a next-generation, 64-bit Apple processor and wicked-sharp display, it could replace Apple's low-end MacBook Air. Not only would this be a nice compromise for business users — travel with the iPad or the notebook? — it would continue to be a go-to option for school kids and students in higher education. For a generation of consumers raised on tapping and swiping, a larger iPad seems like an obvious win for Apple.
At the same time, Apple's competitors are firing on all cylinders. While Microsoft's do-it-all touch-tablet-PC operating system hasn't ignited mass consumer interest, it's hard not to like the idea of a "notebook when you need it and a tablet when you want it" converged device.
Does Apple have to create an iPad with a built-in keyboard in 2014? No, clearly not. But doing so could definitely boost its market lead.
iWatch Waiting, Apple TV Snoozing
Because Apple has taken so long figuring out an iWatch, other competitors have delivered so-called smartwatches already, and none of them are very compelling. They don't really solve new problems, and as fashion accessories, they scream, "Super Geek Here!"
Apple seems to be working to align its wearable product as something more akin to a fitness partner like Nike's FuelBand. It's a good hook to take an unnecessary watch purchase into the realm of possibly important to a segment of consumers, but can it surprise and delight consumers who have already seen (and largely ignored) smartwatches? I doubt it. If Apple gets it right, though, it'll be a huge mindshare win for Apple's secretive (and sometimes slow) ways.
As for the aging Apple TV set-top box, might Apple finally deliver an update? A new hockey puck or stick with a faster, snappier Apple processor inside? I find this likely. A new distribution and service agreement in the TV and movie space? Less likely. A real big HDTV with Apple TV built in? We can only hope.
Even so, none of these so-called new product innovations will be as surprising as they have been in the past. We already have smart TVs with built-in Netflix and Hulu. Heck, even Roku is partnering to build its own Roku-branded HDTV set. Voice and gesture controls? The Xbox One has already taken away the technological surprise of the idea.
Google is building self-driving cars, so having better iPhone integration in newly manufactured automobiles? Big market opportunity, sure, but not so much in the mindshare and surprise space.
So where does this leave Apple? In a place where consumers can be disappointed — even lured away — or delightfully focused on Apple for another two years.