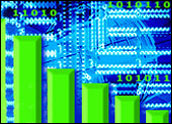 Falling prices, the limping economy, natural disasters — nothing has been able to put a crimp in the double-digit growth of the personal computer market over the last three years. Analysts expect a significant slowdown in 2006, but that is not to say that the worldwide growth rate for the market won't be one that many industries would kill to have.
In a forecast released on Tuesday, Framingham, Mass.-based IDC predicted global shipments of PCs would grow 10.5 percent next year, compared to an estimated 15.8 percent in 2005. Earlier this month, Stamford, Conn.-based Gartner pegged 2006 growth at 9.3 percent, compared to 15.2 percent for 2005.
IDC projects that 207.7 million PCs will be shipped worldwide this year and 229.5 million next year; Gartner forecasts 211.2 million PCs will be shipped in 2005 and 230.9 million in 2006.
Persistent Despite Pundits' Predictions
"Following the shocks of 2001 and 2002, many people were impressed with the strength of the market in 2004 — but cautious about the foundation and longevity of this growth," said Loren Loverde, director of IDC's Worldwide Quarterly PC Tracker.
"The fact that solid double-digit growth has continued through 2005 shows that the market recovery did not peak in 2004 as many expected but is still ongoing," he continued.
"The market may slow in 2006," he added, "but persistent growth over the past several years shows the appeal of low-cost and portable systems, and the potential for both a longer recovery and a higher rate of long-term growth."
2005 Surprises
Entering 2005, everyone was concerned with how robust desktop sales would be, but there were few who doubted that laptops would continue their stellar performance, according to Stephen Baker, an analyst with the NPD Group in Port Washington, N.Y.
"Now that we're at the end of the year, the two surprises are how much stronger notebook sales were than anyone imagined they would be — and despite that, desktop sales remained okay," he told TechNewsWorld.
Historically, the peaks and valleys of PC growth follow replacement cycles. As computers age, they need to be replaced, usually around every three or four years. "This bump in sales in the market is due to PCs that were bought around the Y2K time frame, " Gartner analyst Charles Smulders told TechNewsWorld. "That's certainly slowing down."
Laptops Breaking Cycle
The current replacement cycle is winding down, IDC analyst David Daoud agreed, but another factor is buoying growth: mobility.
Because that market has had three years of double-digit growth, it should be getting close to the end of a replacement cycle, he told TechNewsWorld. "However," he added, "there's a fundamental shift in form factor going on, to a relatively new market — the mobile market.
"That means what may have been the end of a refresh cycle may be extended a few more years," Daoud continued, "because portable PC penetration rates are low, and consumers and companies will continue to buy laptops.
"If we only had a desktop world, we would be reaching the end of a replacement cycle and a potential major slowdown in purchasing," he said, "but the shift to this new form factor is creating a tremendous amount of opportunity out there."
Riding the Mobile Wave
Mobility — combined with dropping laptop prices — is proving to be a potent inducement to computer buyers, according to Gartner's Smulders.
"We're seeing strong growth in mobile PCs," he said. "That's because of falling prices together with wireless LAN availability.
"That is driving people to upgrade earlier and is also attracting new users," he added.
PC or TV?
There are a number of major developments expected in the PC market next year: a new generation of Intel PCs from Apple; a new version of Windows from Microsoft; and wider availability of PCs with dual-core processors. Still, none of those developments are expected to have much of an impact on PC shipments.
PC sales to consumers, about 60 percent of the market, could be impaired by another replacement cycle next year — television replacement, according to NPD's Baker.
By the end of 2006, high-definition TV prices will start hovering around US$1,000, he conjectured. The choice next Christmas between buying an $800 notebook or a $1,200, 42-inch plasma television will be a lot tougher than this year's choice between buying an $800 notebook or a $2,500 plasma TV, he added.