Google on Tuesday revealed some major new features in the next version of its Android operating system for mobile devices.
Now in public beta, the OS known as "Android P" includes features designed to address growing concerns about phone addiction and distraction.
For example, a dashboard will show users how often, when and for how long they use each application on their phone. What's more, they can set time limits on usage.
With the help of artificial intelligence, Android P also will watch how a user handles notifications. If notifications from an app constantly are swiped away, Android P will recommend notifications be turned off for that program.
"Do Not Disturb" mode has been beefed up in Android P. Users will be able to set the mode so there are no visual cues at all on a display of notifications, not even in the notification drawer.
The mode can be activated simply by placing the phone face down on a flat surface. If a phone is set up to separate work from personal apps, it can be configured to mute all apps at once with a single toggle.
Moreover, there's a "wind down" feature that will take the phone into Do Not Disturb mode at a bedtime set by the user.
Fighting Addiction
The new application dashboard and notification muting features target a growing social concern about smartphones.
"Google is making the product far more user-friendly and directly addressing at least some of the problems associated with smartphone addiction," said Rob Enderle, principal analyst at the Enderle Group.
That strikes a contrast with Android's chief competitor, iOS.
"Apple is more focused on ensuring privacy and doesn't seem to be as aggressively addressing the addiction problem," Enderle told TechNewsWorld.
It remains to be seen whether users will take advantage of the tools.
"Folks should care more about this — but, like any addiction, they likely feel they can deal with this one without help," Enderle remarked.
The success of the features will depend on Google, noted Gerrit Schneemann, senior analyst at IHS Markit Technology.
"I firmly believe that many smartphone users do not use all the features of their phone to their full potential," he told TechNewsWorld. "It seems like that could be the case here."
"If Google focuses on things like 'wind down' to expose users to the capabilities, I think there could be traction," Schneemann said. "However, depending on users to discover the dashboard alone will be problematic on a broad scale."
More Than Well Being
In addition to the new "digital well-being" features, Android P will provide a new way to navigate phones.
There's the familiar home button, but with modified behavior. With new gestures, a user swipes up to get an overview of open apps, and swipes up further to go to the app tray.
The back button is still there, but it only appears inside apps.
Google has added screenshot editing to Android P, allowing users to mark up screenshots without having to use another app.
Google also has injected smarts into app searching in Android P. When a search is performed, things that can be done with an app appear along with its icon. So if you search for a ride-sharing app, for example, the results might include a button to hail a ride.
The Android P team partnered with DeepMind on a new Adaptive Battery feature that optimizes app usage, noted Dave Burke, VP of engineering for Android.
"Adaptive Battery uses machine learning to prioritize access to system resources for the apps the user cares about most," he wrote in an online post. "It puts running apps into groups with different restrictions using four new 'App Standby buckets' ranging from 'active' to 'rare.' Apps will change buckets over time, and apps not in the 'active' bucket will have restrictions in: jobs, alarms, network and high-priority Firebase Cloud Messages."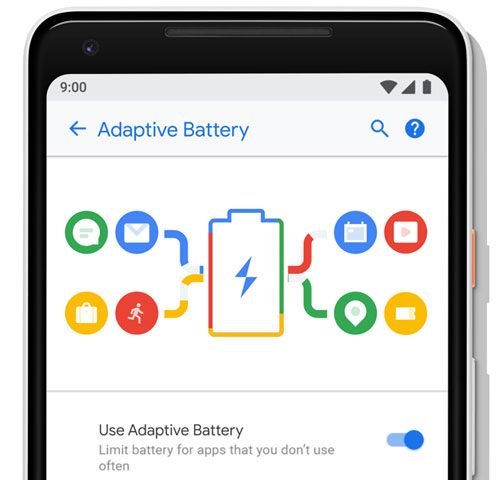 Personal Touch
Android P shows Google wants to make the OS more personal and relevant for individuals, noted Brian Blau, a research director at Gartner.
"There's a lot of new features in Android, but they all center on how can Google users have a more holistic and personal interaction with technology," he told TechNewsWorld.
With Android P, Google is making a pitch to use less technology, Blau maintained.
"They're saying you don't need technology at every last pinpoint in every day of your life," he continued. "Maybe you need more effective technology with fewer interactions. With Android P, Google is taking away the rough edges. That, over time, means what you will see is an Android that caters much more to the individual."
From a feature and user interface perspective, Android P is one of the more significant rollouts for the OS in a while, noted Ross Rubin, principal analyst at Reticle Research.
"They're also letting the beta run on more third-party phones," he told TechNewsWorld. "In the past, betas only ran on a Nexus or Pixel device."
Those third-party phones include the Essential Phone, Sony's Xperia XZ2, Xiaomi's Mi Mix 2S, Nokia's 7 Plus, Vivo's X21, Oppo's R15 Pro and the soon-to-be-released OnePlus 6.