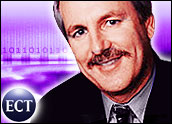 The Consumer Electronics Show kicks off this week in Las Vegas and I'll be there with the crowd, hoping it won't rain this year and praying I can get from meeting to meeting in one piece. This is a massive show covering the broad spectrum of consumer electronics. This year's show will be amazing, the most spectacular yet. This week I'll share my expectations, and next week I'll chat about what actually happened.
Apple the Stealth Vendor & Ease of Use
Given the success of the iPod, there is one vendor that should be but won't be at this show and that is Apple. However, I expect Apple will permeate the show anyway as other vendors have raised the company up as the pagan god of successful consumer electronics. This bodes well for the products we will see from companies that wish to emulate Apple.
Last year the surprise vendor in this regard was Sonos, which has been growing 4 percent per week throughout this year, except for the one week in which they grew 8 percent. This rate means they can double in size twice a year — impressive for any company, that is, if they can keep it up.
Vendors are increasingly talking about Apple's Achilles' heel — the Apple proprietary DRM system, which doesn't support subscription video or audio. With the first video subscription Internet services expected to be announced at the show there will be a large number of vendors showcasing that they can do what Apple can not and use these newly launched services.
In addition, and particularly with music, iTunes doesn't work with distributed audio systems. This fact will also be used to showcase relative strengths and weaknesses between CE products at the show. Meanwhile Apple will be busy at MacWorld talking about their new Intel-based PCs. (Apple is not expected to talk about new iPods until much later in the year).
Overall, this means a huge focus on the customer experience and ease of use which will undoubtedly lead to both more competition for Apple and better products across a broad cross-section of categories.
HD Video and Hot New TVs
If HD was big last year it is huge this year. However the problem remains that content is incredibly hard to come by. Expect to see a number of lower cost HD video cameras hit the show to address the massive discrepancy between the number of systems deployed and the lack of HD content available for them. The few HD cameras on the market last year produced amazing videos with nearly unbelievable quality. Though most of us take videos that we never watch, the idea was that we could be content in knowing that, once we die, our descendents will be incredibly impressed.
Once the HD content problem is solved you will be amazed at the new prices for the HD-capable TVs that will be hitting the market next holiday season. (Of course, you may be amazed at the prices you are already seeing — I've seen 37-inch HD LCD TVs for under US$1,000 after rebate). The new TVs to watch for are the LCD TVs with LED light sources. Expected to be much brighter with an almost unlimited service life, this will be the first year we have had these in volume at affordable prices. In fact, I'm having a hard time avoiding predicting the death of plasma.
Large-format 3D TVs are expected from several vendors. This next generation is hoping to solve a number of persistent problems in this area. From ease of use to lack of compelling 3D content, 3D hasn't excited many over the last decade but we'll see if this current crop does any better. I have my doubts. Philips is increasingly the vendor to watch here. Most of the really amazing stuff I've seen so far is from them. Some of these TVs will be wireless and be vastly easier to set up as a result. Unfortunately you're also likely to see the result of a TV interface war that is heating up for the next generation of sets. My hope is this won't become too pronounced.
You'll also see the first holographic high-definition optical drives at CES. The fact that they are showing up well in advance of when they were expected and have capacities several times what either HD-DVD or Blu-ray can deliver probably means those two formats won't last long in the market — they were nearly dead at birth.
Finally, you'll see a lot of set-top box offerings that support HDTV and personal DVR functionality.
GPS and In-Car Entertainment
You'd better get used to the idea you are going to be increasingly guided to your destinations via GPS, because systems are coming in a flood. Last year we were impressed with products like the Tom-Tom 700 which connects wirelessly to your cell phone; this year the hot thing is integrated traffic routing and much lower prices. For instance, one company, Fine Digital, will be showcasing the FinDrive 400, a nationwide, aftermarket GPS system for your car selling for under $500 and based on the Microsoft embedded platform.
A huge portion of the show will be targeted at the automotive enthusiast with a broad selection of products that can enhance your driving pleasure and distract your passengers as well as drivers of other cars on the road. From large automotive-targeted LCD displays to sound systems that can be heard in the next county, it is always a treat to see how far these specialized audio companies will go to make a show car incapable of holding anyone other than the driver. A highlight last year was a Hummer that was filled to the brim with speakers, amps, displays, tuners, mixers and receivers. I was told it would pump out enough volume to do permanent damage to a person's ears. I declined to test it.
Look also for better interoperability between home and automotive systems. From improved connectivity options for iPods, to hard drive repositories for automotive music, to WiFi systems that sync when you leave you car in the garage at night, there will be a showcase of converged products at CES.
Media Servers
The hot new category for the home is the Media Server. This is basically a network-attached storage device where you put your pictures, music, and video so you can watch or listen from anyplace in the home, or anything connected to either a wired or wireless network.
The hottest product I saw last year was the Infrant Technologies ReadyNAS X6, a scalable RAID device that came with a relatively low entry price. At CES we'll see a wide variety of products like this which address the growing need to put increasingly large video and audio repositories someplace safer than a person's PC. My hope is the market will gravitate towards a more consumer-friendly name than NAS (for Network-Attached Storage).
IPod Accessories and Competitors
It will be weird not having Apple at the show with the massive number of iPod accessories that will be there. You name it, they'll show it: from car adapters, to home stereo devices, to desktop sound systems, to software patches that increase the capability of the device. It would appear, based on the briefing requests I've received, that this year's CES will be the iPod show. But be aware that there will be a host of companies showcasing iPod competitors as well.
These competing devices have become more and more capable but with the massive lead that Apple has, coupled with the vast number of accessories available, I have my doubts as to whether anyone will be able to catch up. Still, a number of devices last year were considered better than the iPod. If that trend holds, there could be some interesting non-Apple choices next Christmas.
Cell Phones and Accessories
If there is one area that may attract more interest than iPods it will be cell phones. Many think that if there is anything that can dethrone the iPod it is a cell phone, and the three companies that have the potential to create such a device are Motorola, Palm and HP. The Motorola Razr was the hot phone this year and next year the Q is supposed to move in and take over. Palm will be showcasing the new Treo 700, built in partnership with Microsoft. There are a number of other vendors that will be standing up to show their version of the next big thing as well.
With memory capacity approaching 5 GB, music and even video will be increasingly common. While I still doubt I'll ever regularly watch TV on my phone, clearly the phone builders have faith that I will, because the video feature will be all but standard.In addition, look for a massive number of Bluetooth headsets and accessories, building on some of the amazing things firms like Plantronics did last year with Bluetooth and executive Bluetooth headsets.
Considering my expectations for CES, the only things that will save me this year will be my wife hiding my credit cards from me and the fact that much of this stuff won't be available until the next holiday shopping season. Next week I'll share some of the products unveiled at the show that truly knock my socks off.
A Final, Post-Christmas Self-Gift Recommendation
Now that Christmas is over you might want to consider buying yourself really good photo printer. If you received a new digital camera over the holidays you'll quickly find that if you don't do something with the pictures most will be lost or forgotten. Printing them out and giving the prints to the people you care about is one way to avoid this. And imagine all the fun you can have altering the pictures before you print them!
Of the new printers on the market, my current favorite, primarily because it is the most advanced, is the HP Photosmart 8750. This six-color printer makes amazing prints.
Until next week, Happy New Year!
---
Rob Enderle
, a TechNewsWorld columnist, is the Principal Analyst for the
Enderle Group
, a consultancy that focuses on personal technology products and trends.
---