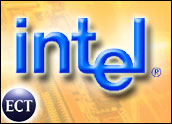 Intel may still be "inside" but the chipmaker is taking a leap ahead in the New Year with a new branding strategy. That is, Intel is adding to its ubiquitous brand "Intel Inside" with a new tagline: "Leap ahead."
Intel is expected to formally announce the changes on Tuesday as part of a move to market itself as a platform provider with offerings like Centrino technology for notebook computers and Viiv for home entertainment PCs.
"This evolution will allow Intel to be better recognized for our contributions, establish a stronger emotional connection with our audiences and strengthen our overall position in the marketplace," said Eric Kim, Intel's chief marketing officer.
Ch-ch-ch-changes
That's not the only change Intel is making. The company is also removing the dropped "e" from its logo. And, taking a page from AT&T's latest logo, "Intel" will now appear in lower case. These mark the first significant changes to Intel's branding in nearly 40 years.
The "Leap ahead" tagline will appear under a simplified "Intel Inside" sticker on PCs. Intel's marketing program that subsidizes PC makers who use Intel chips and stickers will continue in the new era of the company's branding.
However, the Pentium name will change in some applications. Intel will dub its mobile computer processors "Core" instead of Pentium M. Core Solo will now describe processors with a single computing engine, and Core Duo for chips with two engines.
Some believe Intel will eventually retire the Pentium name altogether. The brand was introduced in 1993.
A Platform Technology Company
Endpoint Technologies Associates Principal Analyst Roger Kay told TechNewsWorld that Intel's rebranding strategy is repositioning the company as more consumer-friendly. The company, he said, is communicating that it is moving into a new business.
"The big change in messaging from Intel over the past year has been that they are not just in the silicon business. They are in the platform business. They are providing a lot more than just chips," Kay said.
Indeed, the shift began in 2003, when Intel introduced Centrino technology that garnered consumer attention for laptops and wireless computing. Centrino is an Intel chipset, microprocessor and communications chips designed for wireless computing.
New Leadership, New Brand
Another step toward the "platform positioning" Kay spoke of occurred after Paul Otellini took the helm at Intel.
With his marketing background, Otellini was swift to reorganize the corporate product strategy into five business divisions, including enterprise, homes, mobility, and healthcare.
Viiv, its next major platform launch, is expected in early 2006. Viiv targets the home entertainment PC market. Kay said the new Viiv domain is about partnerships with content providers and software and hardware vendors.
"The idea with Viiv is that Intel is going beyond a platform and into an ecosystem," Kay said. They are saying, 'It's not just what we provide, but what we and our partners provide.'"
Will the Market Applaud?
Kay, for one, is not a big fan of rebranding strategies. People get used to brands and don't like change, he said. But, he added, Intel provides the backbone of many digital systems and he expects consumers to welcome the move into new domains.
"Intel is saying, 'We are not just providing computers to businesses. We are now concerned with home buyers and even other specialty segments like medical,'" Kay said. "I think it will be well received."