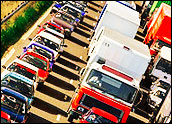 If Henry Ford were alive today, his jaw might very well drop to the floor.
Though Ford's cars were innovative for the time, the automaker probably never could have imagined that the company that bears his name would one day ink a deal with Microsoft for hands-free Bluetooth technology in-vehicle operating systems. Ten years from now, it may be difficult to find a vehicle without a diverse array of telematics features.
However, not all of tomorrow's digital options will revolve around entertainment. Indeed, there is vast market for in-car technologies that provide information rather than amusement: radar detectors, diagnostic tools and voice-based search and control products.
Part 1 of this series on cool auto accessories looks at hands-free and portable entertainment devices for those long car commutes. This installment looks at other cutting edge in-car accessories that are expected to gain momentum in 2007 and beyond.
Monitoring the Roads
Remember those old-fashioned radar detectors? Sometimes they worked. Sometimes they didn't. You may even have the speeding ticket to prove it.
K40 Electronics is vying to eliminate tickets forever with its line of high-tech radar detectors and laser diffusers that use — you guessed it — Bluetooth technology to wirelessly connect various modules in their radar and laser defense systems.
K40's Calibre RD850 promises total speeding ticket protection in a device priced at US$299. K40's Laser Defuser, which also retails for $299, deactivates the laser light signal transmitted to police.
Remote Control Panel
Forget simple keyless entry. Connect2Car is revving up the concept with its integrated automotive electronic solutions. Its multifunction controller offers a central software control panel on a mobile device. The company's MFC V2, for example, is a $500 smart device that comes equipped with Bluetooth technology to allow users to remotely manage alarm systems, electric windows, trunk releases, actuators and hydraulics.
"Connect2Car products can even be programmed to automatically disarm the alarm, unlock and open the doors and make the vehicle ready for push-button starting whenever the owner approaches with their Bluetooth phone. As only one phone can be synched with the Connect-2-Car device, it is completely secure," John Haynes, lead technology buyer for Al & Ed's Autosound, told TechNewsWorld.
Checking on Auto Health
Beyond the entertainment-oriented auto accessories, diagnostic technology is making its way into the glove box. CarMD displayed its handheld tester at CES last week. Drivers can use the tester to monitor and maintain the health of the car as long as it's a 1996 or newer model.
Here's how it works: Red, yellow and green indicator lights offer insights into the vehicle's performance. Green indicates that all systems are go, yellow advises you to proceed with caution, and red warns you to consult a mechanic.
CarMD can even read your vehicle's computer and upload that information to your PC via the CarMD Web site. You can run a diagnostic report and get an idea of what's wrong and how much it might cost you. CarMD retails for $89.99.
Vehicle Tracking to Go
One of the next big waves in car technology will relate to vehicle tracking devices, Tony Frangiosa, president and CEO of MobileToys, told TechNewsWorld. A transceiver installs in the vehicle and uses both GPS and cellular technology to identify where the vehicle is, which users can access via a Web site. The transceiver can also display information about the car on a Web site, such as how fast it is driving and where it has been over the last few hours.
"Up until recently, this technology has been used primarily for fleet companies, but soon consumers will be able to get a unit installed for less than $150, pay a monthly service fee for $10, and any parent can monitor how fast and where their kids are driving, get a phone call if they travel outside a designated area, or in an emergency if the airbags are deployed," Frangiosa said.
Speaking of Car Technology
Voicebox Technologies has developed a conversational voice-based search and control technology for the automotive market. The device understands a user's intention based on the context of the request rather than recognizing only words.
VoiceBox has established partnerships with XM Satellite Radio,