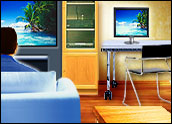 Apple may well unveil a set-top box bearing the name "iTV" at this week's Macworld Conference and Expo. However, Netgear beat Apple to the punch with its Sunday debut of a new hardware media receiver and a content partnership with BitTorrent.
At the Consumer Electronics Show in Las Vegas, Netgear Monday announced its Digital Entertainer HD media receiver, along with an ongoing collaboration and agreement with peer-assisted digital content delivery platform BitTorrent, to promote video downloads.
As with Apple's pre-announced wireless video set-top box, the Netgear Digital Entertainer HD media receiver can stream content to high-definition televisions (HDTVs). What Netgear doesn't have is Apple's reputation or the iPod to integrate into the system.
The End User Experience
Apple's user experience typically boasts friendly, easy-to-learn navigation and sleek design. The iTV looks like a flattened Mac Mini.
Netgear, meanwhile, is betting on its audio and video quality combined with BitTorrent's delivery technology to turn heads.
The Digital Entertainer HD connects to a home theater system to stream digital media from computers, network storage and USB-based media players. The receiver automatically discovers, organizes and plays high-definition movies, TV shows, music files and personal photos, as well as Internet-based video, news feeds, weather reports and radio programs.
Its high-definition multimedia interface port can display video resolutions of up to 1080p on big-screen TVs; an optical digital audio output transmits full digital surround sound to a digital audio receiver.
Moving Toward Home Networks
Apple and Netgear have something else in common: Both are vying for a slice of a rapidly growing pie. By 2008, the global digital set-top box market is expected to grow to nearly 20 million units, according to the Market Intelligence Center.
Digital Entertainer HD's ability to support multiple appliances in the same home — viewers can stop a video on one TV, turn the TV off and resume watching the video on another TV — that may be especially attractive to consumers, according to Allyn Hall, director of In-Stat's Wireless Research.
"With TiVos, you can't move stuff back and forth. You either have to record what you might want to watch later on two different TiVos on two different sets or you have to watch the program on the machine it was recorded on," Hall told TechNewsWorld. "That's a major pain, especially for families with several kids and televisions."
Moving Into Home Media Servers
Besides competition from Apple, Netgear already has to face Hewlett-Packard with its Media Server/HDTV, Samsung with its TrueOne product, and lesser known MediaGate with its line of entertainment servers, among others.
This takes the concept of media a step beyond the receiving mode and closer to the possibility of home networking and automation.
Home media servers allow tasks such as central mobile phone tele-multimedia access, delivery of video-on-demand and gaming-on-demand, and sharing of photos and videos on the Web.
"There are several approaches to a central home controller or media server. While they may not be direct competitors, there's certainly not room for all of them," Hall noted. "Somebody has to figure out how to do this at a reasonable price with simple services that are easy enough [to use] for those of us who don't enjoy technology for its own sake."