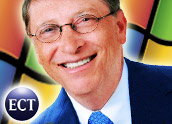 Microsoft Chairman Bill Gates took center stage at International CES (Consumer Electronics Show) Sunday night in Las Vegas, kicking off the computer industry's largest annual convention with a keynote speech that described what he called the "Digital Decade."
Gates was quick to cite plenty of stats to back up his assertions: more than 2 billion digital photos were taken last year; 65 percent of homes are using digital cameras; more than 40 percent of U.S. homes have multiple PCs; and a young generation spends more time on a PC than they do watching television.
"We see portable devices proliferating, a higher and higher part of the growing PC market. We see the connections, both through WiFi and 3G, getting to the point where you can get information wherever you want to go — and we're just scratching the surface," Gates told his listeners.
Virtual Reality Comes to Life
Gates believes this is just the beginning. Few would disagree. Network bandwidth has increased dramatically, high-definition television screens are adding a new dimension to classic TV, video games and even PCs. Processors offer memory capabilities up to 64-bit.
High-resolution graphic capabilities are making room for thoughts of representing reality on the screen, Gates said. He sees a day coming when shoppers won't just see a list of items. They will shop in the actual environment, either the stores that really exist or the stores that would exist if it was designed for them personally, Gates explained.
Bigger Is Better
The industry is beginning to measure storage on personal computers in terabytes, as well as gigabytes. LCD and plasma screens are getting bigger. Both are part of the equation of what the industry needs in order to deliver on the promise of the digital decade, Gates said.
However, there are still some things missing. One of the most important of which is the connection, in Gates' view. Delivering on connected experiences requires more than just great hardware — it requires content that consumers can connect to across multiple devices.
"So, delivering on connected experiences — where people are being productive, doing new creative things, where they're sharing with each other, where they're mobile, where they're just playing games — that is the key element that's missing, and something that we've all got to deliver on to take full advantage of that hardware and deliver on the promise," Gates insisted.
Microsoft's Connected Contributions
Microsoft plans to deliver those connected experiences and introduced several new products to illustrate its position in the digital decade.
"Microsoft made a good chunk of its presentation about Vista, which is understandable since a good deal of its revenue is tied to that particular product," Enderle Group Principal Analyst Rob Enderle told TechNewsWorld.
Gates announced new Windows Vista-inspired PCs, never-before-seen Vista features, an Internet Protocol Television-enabled Xbox 360 video game system, a new partnership with Ford to extend digital experiences to the car and a Home Server that provides a central hub to store and access digital content in the home.
Unveiling Video Wallpaper
Among the Vista features is Windows DreamScene, available to Windows Ultimate customers through Windows Ultimate Extras. DreamScene aims to turn the PC desktop from static background wallpaper into a full-motion, personalized video canvas.
"You can actually take a video and put it on your screen," Enderle noted. "Microsoft used a scene in the woods with a waterfall in its demonstration. That is very soothing and interesting. I think that was specifically targeted at Apple, which tends to lead with eye candy. Apple clearly is going to shoot back tomorrow."
Windows Media Center SportsLounge in conjunction with FoxSports.com combines live television, real-time scores and online sports media. Premium versions of Windows Vista will also offer brand-new content from existing partners and new ones, including, Nickelodeon, Showtime and Starz.
The Hardware Play
Several new Vista-powered PCs from HP, Toshiba, Sony and Medion were unveiled, including Toshiba's Portege R400 — a mobile PC that incorporates connectivity and display technologies to provide access to e-mail and appointments.
"The Toshiba Portege includes wireless docking capability. I don't think anybody has ever done that in a laptop computer," Enderle stated. "HP showcased a touchscreen media center computer and a touchscreen laptop computer, where you could actually navigate with your finger as opposed to using a pen. Steve Jobs will strike back tomorrow."