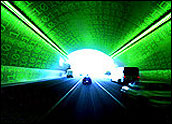 The average person spends nearly an hour a day driving to and from work, according to the U.S. Census Bureau. So-called "extreme commuters" spend four hours or more — that's the equivalent of spending over a month per year sitting in a car.
Long commute times are one factor driving the demand for technology-based accessories, and accessory manufacturers are tapping into that demand as the industry moves toward fully digital cars.
Estimated factory-to-dealer sales of in-vehicle technologies are expected to reach US$9.6 billion in 2007, according to the Consumer Electronics Association, and car technologies are among those drawing extra attention at this week's International CES (Consumer Electronics Show) in Las Vegas.
From slick gadgets to cockpit electronics and beyond, the in-vehicle technology market has something to offer not only the soccer mom who drives a just a few miles per day, but also the road warrior who spends many hours on the highways each week.
Burgeoning Bluetooth
In-car Bluetooth accessories abound. Hands-free kits offer safer usage of mobile phones and many other features as this wireless technology becomes pervasive in mobile devices.
"All add-on units provide one-touch answer capabilities and allow full operation of the phone even if it is in a pocket, purse or briefcase," John Haynes, lead technology buyer forretailer Al & Ed's Autosound, told TechNewsWorld.
"As a matter of fact, the phone can be anywhere in the vehicle, even in the glove box or trunk," he continued. "Many more sophisticated units allow the user to dial by voice, either from the phone's address book or just by calling out the phone number."
Al & Ed's Autosound showed sales of almost $100,000 in Bluetooth adapters during the second half of 2006. Haynes expects volume in Bluetooth devices to at least double for 2007.
While there are many brands of Bluetooth hands-free kits, the Parrot MK6000, introduced at CES, offers audio-streaming capabilities. You can listen to music or podcasts housed on your Bluetooth-enabled phone or MP3 player through the car's speakers. The MK6000 also has a built-in voice synthesizer that can read out names from your phone book. All you have to do is confirm your choice for hands-free dialing. The MK6000 retails for $240.
Cool Radio Technologies
While Bluetooth is making a big splash, systems that enable new ways to listen to music are also finding a place in vehicles. Among these new technologies is Motorola's Bluetooth-enabled iRadio service, a subscription music system that seamlessly moves from the home to the car stereo to wireless headphones.
"Unlike satellite radio, which works solely as a receiver, iRadio through your cell phone can receive controls from the user, opening unlimited request options," said Tony Frangiosa, president and CEO of MobileToys.
iRadio is powered by the mobile handset. The service will launch with 435 commercial radio channels. Motorola has not revealed a launch date, but many experts believe the service is soon to be activated.
"Other similar devices include integrating iPods and other MP3 players through your car stereo, allowing for a virtual jukebox of music to select from, and devices that allow customers to swap out their factory car stereo system with a top-brand aftermarket stereo while still controlling its function through steering wheel buttons and dials," Frangiosa noted.
Going Where You Go
From navigation devices to radio receivers, a wide variety of portable devices for use in-car or on the street are also coming to market. Two to look for from Delphi are the Nav200 and the SKYFi3.
The NAV200 portable GPS navigation system offers a blend of navigation and entertainment features in a portable package. Priced at $399, this device fits in your pocket. That means you can carry it with you anywhere you drive — or walk. It's preloaded with Navteq maps of the United States and Canada, and includes an MP3 player and photo viewer, as well as a movie player, calculator and games.
The SKYFi3 is a microSD-compatible MP3 satellite radio receiver. You can purchase the optional vehicle kit that offers a low-profile dock with direct channel and preset favorite access. It also includes a built-in FM transmitter that broadcasts XM radio to your FM radio. Delphi also sells a Bose system and home kit for the $180 device.
"Satellite radio receivers will be another growth area for 2007, with the focus moving to 'wearables' … receivers that work in the car or office, but also on the golf course, at the beach or just walking around. Most also provide storage for MP3 files and can store music right from the XM or Sirius broadcast," Haynes noted.
A Mobile ISP
Autonet Mobile unveiled its Internet service provider for cars at CES. Autonet is hoping to fill what it sees as a void in the marketplace with its wireless broadband mobile network. The service allows passengers to check e-mail, surf the Web, play games or communicate via any WiFi-enabled device. The company claims it will work on 95 percent of U.S. roads, regardless of driving conditions or location. It sells for $399 with a $50 per month subscription.
"A few automakers have been promising the ability to download movies and music to a car's hard drive — Chrysler Sebring, Mercedes S-Class and Lexus LS now have the option of a hard drive — but there's really no one big solution that applies to all automakers," Edmunds.com Road Test Editor Brian Moody told TechNewsWorld. "Many of the pieces exist, but it hasn't happened on a wide scale yet. The [Autonet Mobile device] could help that endeavor."
The Digital Car: Cool Automotive Accessories, Part 2