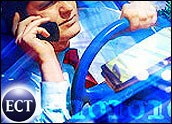 A new study released this month at the Frankfurt Motor Show demonstrates that Internet access — and other high-end digital applications — will soon drive consumer purchases of automobiles. A copy of the study by Boston-based Strategy Analytics entitled "Frankfurt Motor Show 2005 Introduces Entertainment Choice" was provided to TechNewsWorld.
The study showed that car manufacturers are responding to the shift in consumer demand for entertainment choices in their vehicles. These car makers have been slow to react to shifts in consumer entertainment preferences in the past. But, the study said, the cars and SUVs on display at the Frankfurt Motor Show 2005 show in Germany indicate that manufacturers are "beginning to understand the need for flexibility in entertainment offerings," said the study.
Downloading Music, in Traffic
With the popularity of online music downloads and DVDs, consumer entertainment choice has expanded dramatically over just the last 18-24 months, the study said, and both the wireless and consumer markets are embracing new entertainment technology.
"Despite the cassette format being almost entirely obsolete in portable and home markets, there was still widespread installation of cassette head units in new vehicles up until two years ago," said Clare Hughes, an analyst in the automotive practice of Strategy Analytics. "Car manufacturers have reacted better to the current consumer demand for in-vehicle portable music player integration, compressed audio playback and DVD entertainment."
What is more, the study said, car makers also have an advantage over aftermarket suppliers in that they can offer better integration with the vehicle and multi-functional controls.
There are a lot of stakeholders in the Internet automotive market — consumer electronics companies, car dealers, car makers and consumers, who "navigate the constantly evolving territory of the automotive Internet," said Rick Post, president and chief executive officer of Autobytel, the online car seller.
Content Drives Growth
Another report by Strategy Analytics further highlights the trend. The report, "Automotive Digital Radio — Content Driving Adoption," highlights the increased dominance of XM and Sirius in North American automotive digital radio. This demonstrates how investment in content is driving growth, the study said.
The emergence of broadcasters using HD Radio and iBiquity in 2006 will, moreover, impact satellite growth rates.
Meantime, the European automotive digital radio market will be based on "audio hardware upgrades," the study said. But, currently, it is plagued by a lack of consensus on standards as well as slow broadcaster commitment to infrastructure and content development outside the U.K. and Germany.
"To date, radio has been the principle and most clear-cut automotive entertainment feature," said Hughes. "However, the increasing availability of digital radio, FM and digital radio via cellular phone and portable entertainment players, as well as RTI over radio, will result in major competitive and complementary positioning issues for automotive product planners longer term. Over the next two years however, the automotive focus needs to be on those digital radio markets where content and suppliers are driving adoption."
Adoption Rates to Climb
Hughes said that across all regions, the availability of digital radio content, systems and pricing will dictate consumer adoption rates in home, automotive and portable markets. Digital radio is currently a subscription-based U.S. market, dominated by XM and Sirius. Satellite players have invested heavily in content, particularly in major league sports, talk shows, road traffic information and weather.
Research shows that by 2010, more than 15 million in-vehicle digital radio systems will be shipped annually. By that time XM and Sirius together, will have an automotive subscriber base of over 24 million users, presuming they maintain an 80 percent customer retention rate, the study said.
The alluring electronics could increase overall car sales in the coming years — helping the struggling domestic automobile industry, experts said.
"There is no doubt that we are in a struggling period right now," Michigan Gov. Jennifer Granholm (D) said during a speech this week in Detroit, where workers are preparing for Detroit's North American International Auto Show. "But there's also no doubt that there are rays of hope."
Granholm cited a series of statistics about capital investment and business growth in Michigan, which she said show how the state has hope for the future. She said Japanese and German companies have announced investment of $1.6 billion in Michigan, retaining or creating 8,300 jobs, during the past 36 months.