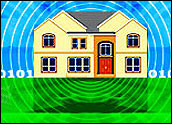 Broadband networks for the home are fueling the growth of sales of wireless devices, and will continue to do so for the next five years.
Research from the Boston-based IT consultancy, Strategy Analytics, indicates that homeowners worldwide are going to purchase nearly 950 million wireless home devices, including game consoles, wireless MP3 players and connected TVs by 2012.
"Leading edge broadband users are keen to make the most of their service by connecting multiple devices to their home network," said Peter King, director of the connected home devices service at Strategy Analytics.
King said that wireless is used in the PC first, and that the computer is the trailblazer in the home, paving the way for the use of other wireless devices.
The Digital Home
"Our vision of the digital home is one where a variety of digital devices use wireless home networking technologies to seamlessly interact with each other and with the available broadband and digital services," said David Mercer, vice president of Strategy Analytics. "This vision is being realized."
Right now, PCs, TV devices, portable media devices and mobile phones are all serving on home digital networks. The transition from current WiFi technologies to next-generation MIMO and 802.11n is going to increase the penetration of the devices, and open up the path for other wireless technologies. Annual demand for MIMO and 802.11n devices will reach 134 million units by 2010, according to the Strategy Analytics report, "Wireless Home Devices Global Market Forecast."
Developers are introducing technologies which further the trend. Last week, wireless provider Verizon, and GN Netcom, a developer of hands-free audio solutions, reached a licensing agreement to introduce a series of Verizon-branded headsets for use with broadband services and applications, including online gaming and IP telephony.
Verizon will sell the devices, along with its high-speed DSL and its advanced fiber-optic network, which delivers voice, data and video services at high speeds.
"The headsets are the perfect complement to our services, including online gaming, music, video and other entertainment services," said Andrea Fant-Hobbs, vice president of brand management and media services at Verizon.
The wireless handsets will enable "increased freedom and functionality, across broadband applications," said David Wood, senior vice president and general manager for North America at GN Netcom. "As the use of broadband applications continues to rise, so does the need for headsets.
Other carriers are touting wireless broadband now too, as part of their package of 3G wireless offerings.
The Cingular 3G network, for example, utilizes High Speed Downlink Packet Access/Universal Mobile Telephone System (HSDPA/UMTS) technology, which enables simultaneous voice and data services to customers. "Imagine a soccer mom who can now get regular weather video updates every 30 minutes from her phone on the way between her son's or daughter's activities," said Andy Shibley, vice president and general manager for Cingular in San Antonio.
An Arms Race
Demonstrating that a technology arms race is underway, Qualcomm said that it has reached several milestones en route to its goal of bringing fully wireless broadband capabilities to WCDMA networks in 2007, including successful completion of the industry's first HSUPA test calls delivering 2.0 Mbps on the uplink. The San Diego-based company will now launch interoperability testing with multiple leading infrastructure providers.
The moves by these providers and developers come even as subscriptions to wired high-speed Internet services rose 33 percent last year, with telephone companies' digital subscriber lines gaining the most ground on cable-modem connections.
The number of broadband lines jumped to 50.2 million at year-end from 37.9 million a year earlier, the Federal Communications Commission said in a statement e-mailed to technology journalists.
The most common type of DSL service increased by 5.7 million lines, besting cable modems' 4.2 million additions for the first time, said the FCC.