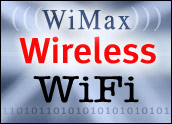 Promising applications are powering the market for WiFi chips and related equipment, raising the expectation among analysts and other observers that the market will grow to US$3 billion during the next three years, according to new research.
"Propelled by emerging WiFi applications such as wireless game consoles, PDAs, cell phones and home entertainment systems, the market for WiFi chips will grow to more than $1.9 billion in 2006, and to $3 billion in 2010," said Chris Taylor, director of the wireless components service at the Boston-based consultancy Strategy Analytics.
Demand for transceivers, base-bands, and power amplifiers, as well as other WiFi components, is increasing, claimed the firm.
"The adoption of MIMO (multiple input, multiple output) and 802.11n, which require multiple PAs, transceivers and more complex front end modules, will also have a big impact, even though certified 802.11n systems will probably not reach the market for another year," Taylor noted.
The competition in the market is rough, with Microsemi holding the lead as the industry's top supplier of modular components for WiFi networks. Other companies are gaining on them, however.
"Microsemi held onto its leading position in WiFi PAs in 2005," proclaimed Taylor. "Yet Anadigics, TriQuint, Fairchild, and RF Integrated made gains."
Receivers, Transceivers
While WiFi transceivers with on-chip complementary metal oxide semiconductor (CMOS) power amplifiers will take more of the market, analysts expect MIMO and 802.11n in higher power systems to drive an increase in the market for external gallium arsenide (GaAs) and silicon germanium (SiGe) power amplifiers and front-end modules. "This will benefit Skyworks and RFMD, which have extensive module experience," Taylor said.
The manufacturing of WiFi equipment is also of concern to policymakers — especially in California. Legislation introduced there compels manufacturers to choose one of several ways to protect consumers, and prevent criminals from illicitly linking to another person's WiFi connection.
Gov. Arnold Schwarzenegger is mulling a proposal that would require manufacturers of wireless routers to warn buyers about possible security problems with their networks.
Researchers have shown that many consumers configure home-based routers without implementing security mechanisms to prevent unauthorized use.
The legislation orders manufacturers to choose one of several ways to protect consumers. A sticker may be placed on the ports of the router, for example, or a warning may be included during the configuration process. Lastly, consumers themselves may be required to take some form of action indicating that they know security measures have not been activated. That is unlikely, however, as equipment manufacturers can enable security without permission from the consumer.
That topic, and related issues, are being discussed throughout the industry, as WiFi, 3G and WiMax are truly being taken very seriously by many consumers and various businesses throughout the U.S. and Europe.
'Tipping Point'
"The wireless industry is approaching a tipping point, and will impact the lives of virtually everyone who uses technology of some kind," said Caroline Lewko, founder and chief executive of the Wireless Industry Partnership (WIP), a trade group, which boasts companies from the WiFi, WiMax and other industries as members.
For example, AT&T, the largest phone company in America, said it plans to build a WiFi network for Springfield, Ill., the capital of the Midwestern state, located about a three hour drive south of Chicago.
The company already operates more than 34,000 small-scale WiFi hotspots in 80 countries, and plans to utilize a mixture of wireless networking technologies to cover the 50-square-mile metropolitan area.
Wireless market niches are growing much faster than the overall telecommunications industry. "That kind of adoption precludes wireless from being a bubble," noted Lewko.