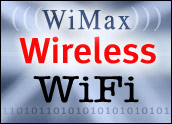 The mass market for WiMax technology faces a number of challenges, but will probably reach its potential within five years.
"Now that the certification of WiMax equipment has started and coverage areas have begun to expand beyond basic trials, WiMax equipment suppliers and chip makers face a much less uncertain future," said Stephen Entwistle, vice president of the strategic technologies practice at Strategy Analytics. "Even so, most remain cautious."
The U.S. market for WiMax technologies, like power amplifiers, transceivers and other infrastructure, as well as services and applications, differs dramatically by region.
Caution Is Just
"The caution is justified," said Chris Taylor, director of the RF and wireless components service at Strategy Analytics. "In spite of the progress of WiMax, equipment shipments will not reach tens of millions of units per year until after 2010, which will make recovery of product development costs problematic for many in the already large base of component suppliers."
Hoping to provide some momentum for the fledgling industry, Samsung, Intel and Motorola last week disclosed the creation of a new venture to embrace WiMax technology as the fourth generation (4G) of wireless technology. The companies are working to build out Sprint's major WiMax network, said Ephraim Cohen, a spokesperson for Samsung.
The project will use 2.5 GHz wireless spectrum, which covers 85 percent of the households in the 100 largest U.S. cities. Once deployed, it will be the largest, single band of wireless spectrum in America.
The companies plan to launch the system — offering advanced, wireless broadband — in a number of trial markets by the end of 2007. By 2008, the companies hope to be able to reach 100 million customers. The expansion is then planned to continue, as Sprint said it will invest US$1 billion next year for the technology and nearly $2 billion in 2008 on the 4G network roll-out. The investment is supposed to reduce the "cost per gigabit" of the service for customers.
Samsung said it has experience working with these kinds of advanced networks, as it has already deployed a 3G network in South Korea. To ensure that the goal of deployment is reached, Intel and Motorola are working with Sprint and Samsung to develop portable data and consumer electronics devices.
Shifting Paradigm
The belief is that these investments will create a "paradigm shift" in wireless services, said Ki Tae Lee, president of Samsung Electronics. This will lead to "a new revolution in mobile broadband services nationwide," he added.
Intel earlier this month proved the concept of mobile WiMax, installing a network for use by the Caltrain system, a regional commuter network in Silicon Valley. The wireless broadband network worked on a train going 79 miles per hour, which was sixteen miles away from its base station. Intel partnered with Redline Communications on the project, which runs from San Francisco through Silicon Valley and leading universities, like Stanford, and high tech companies, whose executives use the trains to commute.
Analysts, however, are not as impressed as the technology developers about the short-term prospects for WiMax. "The U.S. WiMax market is at a point of inflection," said John Green, a partner at the research consultancy BusinessEdge Solutions. "The trail-blazing companies have demonstrated that the technology works and that there is a viable business model."
Still, it won't be easy for the pioneers to dominate. Cable companies are now entering the wireless network fray and other competitors will emerge, noted Green.
There are other issues as well, which need to be addressed before WiMax can emerge as a mass market phenomenon, observed Tim Lorello, senior vice president and chief marketing officer for TeleCommunications Systems.
The developers of these technologies are going to have to accommodate regulators at the Federal Communications Commission (FCC), who are requiring all telecom carriers to provide e-911 services, as well as access to the networks for law enforcement officials battling terrorists, according to Lorello.
"A smart approach would be to encourage the device manufacturers to embed global positioning system (GPS) chips, similar to what the cellular carriers did by embedding GPS into cellular chipset solutions," claimed Lorello. "This would allow WiMax to follow the same network approach as e-911 as the wireless operators have done."
Still, Lorello admitted last week's Sprint deal may provide a "serious shot in the arm" for the industry to overcome those obstacles. "As a cellular provider, Sprint more easily will be able to overcome the various objections," he said. "An announcement, of course, is a far cry from actual deployment — but a stated intent puts them on the hook with the investor community."