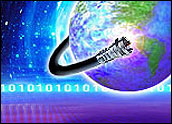 Broadband Internet access is no longer a novelty for consumers — it is decidedly mainstream both in the U.S. and in Western Europe. Still, there are widespread disparities in the quality of service for many consumers.
A new report released by the Boston-based IT consulting firm Strategy Analytics indicates that conditions for growth vary throughout different regions, but the defining factor in spreading the technology is market competition.
"Countries with higher broadband penetration usually have significant facilities-based competition between telecom companies offering DSL, and other providers, such as cable and TVF operators," said Martin Olausson, senior analyst with the London office of Strategy Analytics.
Regulations by the government can either foster, or hinder that market penetration, he said. "Regulations have encouraged competition between incumbents and independent DSL providers," noted Olausson, "prompting both to offer faster broadband speeds, enabling new services, such as Voice over IP (VoIP) telephony and IP-based TV."
Millions Signing Up
Across Europe, another 16 million households are expected to sign on for broadband services in the next year, bringing the total there to 73.2 million homes. Within four years, there will be 108 million broadband subscribers there.
The statistics are roughly similar for penetration throughout the U.S. By the end of 2005, 24 percent of adult rural Americans went online at home with high-speed Internet connections compared with 39 percent of adults in urban and suburban areas, according to the Pew Internet Survey. That's driving changes in the U.S. media.
Nearly one in three Americans regularly used the Internet to get their news in 2006, compared to one in 50 in 1996, primarily because of the growth of broadband, according to the Pew Research Center for People and the Press. That number is about the same as it was two years ago, said Pew Research Center Director Andrew Kohut.
"We expect that the Internet and broadband services will be integrated into nearly all aspects of home life and social activity," declared Olausson.
Cable Leading the Charge
Cable companies are helping lead the move to broadband, bringing access to new customers every day.
The U.S. is still a tad behind Europe in the quality of broadband access, even though President Bush during his 2004 re-election campaign promised to bolster broadband. "Many places in the U.S. and Canada do not have broadband access available," said Ted Demopoulos, a best-selling business book author, and founder of Durham, N.H.-based Demopoulos Associates, an IT consulting firm. "I only recently got access at home, despite endless calls trying to sell it to me before it worked. Both of my immediate neighbors bought broadband services that the providers couldn't make work."
Demopoulos, who frequently travels on business, said that he often sees broadband outages in places where one would least expect that. "Last month, in a major hotel, broadband service was so absurdly slow at times it rivaled dial-up in tortoise speed," said Demopoulos. "At another hotel, near New York City, broadband services were out for 24 hours while I was there recently."
At his office, about a 45-minute drive north of Boston, the broadband connection seems to fail every afternoon, for at least 10 minutes, and no one seems to be able to fix or even diagnose the problem, he said.
This may be slowly changing, however. As the profile of broadband has increased, many developers are incorporating the technology into new homes and developments. Many new homebuyers demand broadband as part of the home purchase. One leading, national home developer, Pulte Homes, is working with carriers like Verizon and AT&T to bring fiber to the home capability in many of Pulte's new communities, said Melanie Hearsch, a spokesperson for Pulte Homes, based in Bloomfield Hills, Mich.
Public Policy Push
In other areas, carriers are seeking to implement wireless broadband services to meet the demand that consumers in the U.S. say that they have for the technology. Chicago-based CableMatrix Technologies is working with Vcom to bring broadband to consumers via WiMax connections.
However, just as in Europe, the government, on the local and state level, must assist in the development of the infrastructure. In New York state, broadband access for rural communities moved from the idea stage to the public policy realm when Gov. George E. Pataki signed legislation sponsored by Sen. George H. Winner Jr. (R-Elmira).
The new law will expand broadband access to rural regions of New York, making it far easier for economic development in these rural areas, according to Winner.
The Empire State Development Corp. will provide recommendations by Jan. 1 of next year to lay out the plan of how best to deploy and expand broadband access in those underserved rural areas, Winner added.