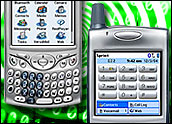 Touch-screen technology for mobile phones is generating considerable interest from consumers, and it is starting to grow significantly. By the end of 2007, momentum will be very strong for the technology, and by 2012, 40 percent of all mobile phones will likely utilize touch-screen technology.
"The touch screen market in cell phones is nearly ready to take off, but before it can do so, certain conditions must be met," said Stuart Robinson, director of the handset component technologies service at Strategy Analytics, the Boston-based research service.
Lower Costs, Higher Demand
First, Robinson said, the cost of touch screen technology must shrink from its current price of US$5 to $10, to under $3. Then, Robinson said, revenue-generating applications must be developed to differentiate touch screen devices from menu or icon driven phones. "Finally, the market requires a catalyst, such as the presence of an iconic touch screen phone in a Hollywood blockbuster, to generate demand," said Robinson.
These touch screen interfaces for mobile phones will remain at under 2 percent of total devices until such a catalytic event occurs, most likely at the end of next year. Once that happens, fast growth will generate interest in touch screen phones, growing the market to around 40 percent.
"We expect most demand to come from finger-sensitive technology built into high-end feature phones," said Stephen Entwistle, vice president of Strategy Analytics. "This will be a significant shift from today's wireless PDA segment, where most stylus-driven touch screen devices can be found."
Content a Catalyst
One of the significant factors behind the growth of the demand for touch screen mobile phones is the improvement of content for the mobile market.
Many mobile companies are coming out with exciting content for subscribers, but the subscribers have a hard time accessing the content, because it is hard to enter a URL with one's index finger on a tiny type-pad, or even with a stylus. Enter the flat panel touch-screen, which will make accessing content easier by making it one screen-touch away.
Many manufacturers are targeting the market today. Supertex, a maker of high voltage analog and mixed signal integrated circuits (ICs), this week introduced the HV852, a new high voltage, low noise, inductorless electroluminescent (EL) lamp driver IC. The low profile IC is suited for lighting display applications where space is at a premium, like flat panel touch screen displays on phones, PDAs and MP3 players.
The technology utilizes a patented charge pump scheme to eliminate the need for an external inductor, a diode, and a high voltage capacitor commonly found in conventional EL lamp driving topologies.
The IC drives EL lamps of up to 1.5 square inches with capacitive values up to 5.3nF. The peak-to-peak output voltage of the IC is 160V.
"This IC saves manufacturers space and cost in their applications by using a patented charge pump scheme to convert a low voltage DC input to a high voltage AC output, thus eliminating the need for an external inductor, a diode and a high voltage capacitor," said Ahmed Masood, vice president of marketing for Supertex.
White Light Emitting
Also this week, Konica Minolta, based in Tokyo, disclosed that it had developed an organic white-light emitting electroluminescent device.
The device can achieve an initial brightness of 1,000cd/m2 (candela per meter squared), as well as a luminous efficiency of 64 Lm/W (Lumens per watt), and an emission lifetime of about 10,000 hours, and is said to deliver the world's highest luminous efficiency.
The practical application of organic EL devices (OELDs) includes mobile phone display backlights, and they are also expected to be widely used in flat-panel displays as they are brighter and thriftier in power consumption and can emit light more evenly than conventional LCDs, Minolta said.