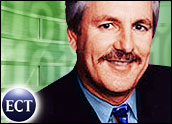 A couple of things happened last month that got me thinking about Apple and Sun and their failed merger attempt years ago. Sun held its lab tour event at the Computer History Museum in Mountain View, California, and Apple became outraged at Real Networks for making its Real Music services compatible with the iPod.
Before I get into this topic, let me give a quick plug to the Computer History Museum. If you ever come to the Silicon Valley, set some time aside to visit this place. It has old hardware that doesn't exist anywhere else, everything from the first Apple computers to the machines — complete with built-in ash trays — used by Norad in the 1950s to defend against nuclear attack.
Out of the Sun Labs
Sun has always prided itself on innovation, but lately its fortunes have been flagging. Last month it put together a lab tour for the press, analysts and customers to counteract the growing perception that its sun has set.
Given that this showcase took place at the Computer History Museum, it was tempting to leap to the assumption that Sun's time has passed. As I left, however, I was certain that Sun had shifted its view to the future.
One of the first things that caught my eye was a vastly improved search engine. With this technology, due out shortly, the system does some thinking for you. Although it doesn't offer true intelligence, it will examine your search terms, analyze the context, and then modify the search according to its analysis.
For instance, if you were looking for a story on dogs with black and white fur, the engine would determine that a Web page about a black and white poodle might be a match. Because it understands context, the engine would not return a result that included the statement, "The question was black and white, and you'd have to be dumb as a dog not to see the answer."
Of course, this new search engine is being developed in a place where a company with the unlikely name of Google is about to go public and make a small number of folks extremely rich. The Google moment is kind of like the lottery — except you know who is going to win, and it won't be you.
Project Looking Glass
One very interesting product at the Sun showcase was called "Project Looking Glass," an operating system whose user interface looks like the version ofthe Mac OS that will come after Tiger. The new Sun operating system has a Mac-like task bar that has been pumped up with more realistic icons than Apple currently offers. It also makes better use of limited desktop real estate.
Overall, this OS is an incredible piece of work from a company that doesn't often come to mind when you hear the words "desktop operating system."
Sun is providing this Unix International system free to the open source community for use on Linux desktops. This shows the true source of the coming threat to Apple. What is fascinating about this is that it was Linux — not Apple or Microsoft — that put Sun in the financial trouble it's in now. That Sun would help Linux with this new OS is just one of the quirky things about the valley right now.
PC of the Future
Based on the PowerPC chip — which is in itself interesting due to thetraditional animosity between IBM and Sun — the new Sun PC is a fascinating and impressive piece of hardware. The platform runs Windows, Unix, Linux and the Mac OS.
You can move between platforms quickly. Almost instantly, the OS or application comes up when you insert your card, the system's state preserved from the last time you were in a session. As with the Sun Ray thin-client solution, you move from system to system with just your cards and always have access to your files.
Part of what makes this technology work is the radio frequency identification systems that don't require traditional card readers. Other solutions might be nametags or security badges that, when users get within a few yards of their systems, would automatically log them into their sessions.
Of course, finding a way to avoid having machines flash your files as you walked by your computer would be an interesting problem to solve.
Sun and Apple
Given the Apple software in this system, it isn't hard to draw parallels with the Real Networks dispute that broke out while I was attending the Sun event. Sun is on a licensing spree. The company understands that it doesn't do any good to have a technology if no one is using it.
Apple, proprietary from day one, lost the market to another vendor, Microsoft, which embraced a more open approach to the market and licensed its technology.
While both Sun and Apple have lost massive amounts of market share, Sun held its own against Microsoft but was hurt by Linux. Apple failed against Microsoft and has yet to face Linux, which clearly is mimicking Apple designs as it moves to the desktop.
Sun is solid on servers but continues to bounce off the desktop, even though it offers interesting solutions. Apple is considered the desktop design leader but is failing with servers. Apple has strong desktop channels, while Sun has strong server channels; Apple has a powerful personal computer brand, while Sun has a powerful server brand. Now that both Solaris and the Mac OS are based on Unix, one wonders why they don't merge.
Joining Forces?
Apple needs to learn from Sun how to share. There is a saying used in handgun target practice: If you hold on too tightly you'll miss, but if you don't hold on tightly enough you'll lose it. The same goes for technology.
Apple holds on too tightly. Some might argue that Sun historically has done the same, but evidently it has learned and has become more aggressive as a technology licensing firm.
Apple's problem with Real Networks should have been resolved through licensing. Real's move is expressly allowed by the Digital Millennium Copyright Act, which makes you wonder why Apple would try to deploy that law as a weapon.
Users just want their stuff to work. Apple's attempts to use one of the industry's most hated laws to insure that Real's files won't work on the iPod is incredibly stupid.
Sun knows better than to threaten users. Java was, in fact, created to increase interoperability. Granted, this was a weapon aimed at Microsoft, but the goal was consistent with user wants and needs.
As I attended the event of one Silicon Valley legend that often licenses its technology, I thought of another that typically does not. I thought of what might have been if the two firms had merged last decade and what could be if they choose to merge in the coming years.
With Steve Jobs' health problems making it clear that Apple needs an heir, maybe it's time these companies joined up and focused on a brighter future together.
---
Rob Enderle
, a TechNewsWorld columnist, is the Principal Analyst for the
Enderle Group
, a consultancy that focuses on personal technology products and trends.
---