Apple on Tuesday rebuilt its iPhone foundation by introducing two new models with Retina HD displays: the iPhone 6 at 4.5 inches, and the iPhone 6 Plus at 5.5 inches. It launched Apple Pay, a new mobile wallet payment system that promises to become the catalyst NFC mobile payment technology needs to become mainstream.
It also introduced a drool-worthy smartwatch — Apple Watch — in two sizes, three style collections, and six choices of straps. The Apple Watch will be available in 2015 starting at US$349. Plus, iOS 8 will be available for download starting Sept. 17.
To cap all that off, the mega-band U2 played at the Apple event, and after some on-stage banter with CEO Tim Cook, agreed to release its first new album in years to 500,000 million iTunes customers for free.
Wow.
With the possible exception of free music, any of one of those announcements would have the power to send ripples through the consumer tech world. With all of them coming together in one day, Cook threw down the gauntlet and delivered.
Of course, other smartphone makers already have delivered bigger screens and mobile NFC payment methods. Others already have created smartwatches that work with their phones.
However, Apple now is delivering these core features in a better way and, more importantly, acting as a catalyst to seriously change the way we pay for goods and services, as well as influence how the smartwatch and wearable market can take off.
Here's a closer look.
Presenting the Apple Watch
Cook could hardly contain himself as he invoked the Steve Jobs "one more thing" phrase to announce Apple Watch. It comes in two sizes, one for smaller wrists and one for larger wrists, and it's curated into three editions: Apple Watch, Apple Watch Sport, and Apple Watch Edition.
The rounded rectangular design offers customizable watch faces, but more important is the interface. Frankly, it looks fantastic. Multiple circular apps can be customized in placement in a loose group that can be flicked or scrolled through in any direction.
It looks at once familiar and fresh. Pressing the home button, or Digital Crown, takes you to the home screen; however, rotating the dial lets you do things like zoom in and out of maps as well as scroll and select.
The display is force-sensitive — that is, it can distinguish between a tap and a press, all of which app developers will be able to utilize. It has four sensors underneath, which scan for biometric information like heart rate. To take that one step farther, Apple has integrated heart rate tracking into ways to communicate — for instance, you can send your live heart beat to another Apple Watch user to see — and feel.
Through what Apple is calling its "Taptic Engine" (basically a vibration module), the Apple Watch can notify you via subtle, private vibrations, and let you feel someone else's heartbeat.
The Apple Watch is designed to be a more personal and customizable product than Apple has ever released, Senior Vice President of Design Jony Ive notes in a film introducing the Apple Watch.
It will help people communicate in new ways — hence the heartbeat, animated, customizable emoticons, and a smart messaging app that analyzes a text message and extracts a few possible likely responses to make communication from your wrist fast and easy.
You do need a compatible Phone (iPhone 6, 6 Plus, 5s, 5c or 5) to make full use of the Apple Watch. It's a companion device, which is standard Apple these days. However, the company managed to create a watch that is surprisingly customizable.
The six different types of bands — including leather, stainless steel links or mesh, and sporty rubber — come in a range of colors that can be mixed and matched to the Apple Watch itself.
It has lots of magnets. Charging, for instance, is accomplished through a round disk that magnetically clicks onto the bottom of the watch with what appears to be a satisfying click. You can't wear the watch and charge it, though — that's a nighttime activity.
Of course, Cook is a known fitness fan, so he seemed pleased to introduce the ways the Apple Watch is designed to help people live more active, healthier lives. The Apple Watch can keep track of how much you stand in each hour of the day, or track hard core fitness activities — tracking movement and calories expended along the way. There's a lot to dive into here in the coming months.
The core takeaway? The Apple Watch is very customizable in both external look and function, and its built-in features and apps promise a deep and rich experience. Of course, you can answer phone calls with it, use Siri, and make mobile payments at retail locations that support Apple's new Apple Pay system.
As for the early 2015 delivery date, Cook promised that the Apple Watch is "worth the wait."
Introducing Apple Pay
Apple Pay is a new mobile payment system that lets you tap your iPhone 6 or Apple Watch near a retailer's NFC reader. You can use your the credit card that you likely already have on file with Apple via your iTunes account. You also can take a photo of your credit cards to create a visual identification system that lets you easily select a card to use pay.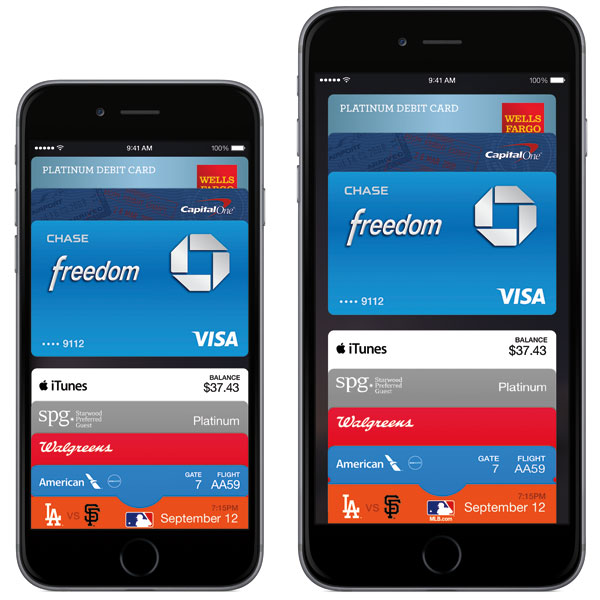 Apple Pay currently works with credit and debit cards from American Express, MasterCard and Visa issued by the most popular banks. In the U.S., Apple says it has 83 percent of credit card purchase volume covered right now.
When you make a transaction, the actual card numbers are not stored on your device — and they aren't on Apple's servers, either. Instead, Apple says, a unique Device Account Number is assigned, encrypted and secured in what Apple is calling the "Secure Element" on your iPhone or Apple Watch.
Each transaction is authorized with a one-time unique number using your Device Account Number and a dynamic security code to validate transactions. The retailer doesn't even need to see your name or ID to accept a transaction, and the retailer doesn't store your credit card number or related information of the sort that hackers recently have been able to snag from major retailers like Home Depot and Target.
This system, in combination with millions of potential iPhone 6 and Apple Watch users, has the potential to finally spark widespread consumer and retail adoption of mobile payments.
In addition to the 258 Apple retail stores in the U.S., Apple has gained the support of Bloomingdale's, Disney Store and Walt Disney World Resort, Duane Reade, Macy's, McDonald's, Sephora, Staples, Subway, Walgreens, and Whole Foods Market for the system.
McDonald's, it turns out, even plans to implement the system in its drive-through windows. The Apple Watch also will work at the more than 220,000 merchant locations across the U.S. that have contactless payment enabled. Plus, some retailers are working with Apple to enable payment online as well.
The iPhone 6 and iPhone 6 Plus
Wait, what? The iPhone 6 is the least important item introduced at today's event? Surprisingly, yes. The iPhone 6 is basically a finely honed and upgraded iPhone — bigger, faster, thinner, prettier and more functional than ever. It's still, ultimately, an iPhone, though.
The iPhone 6 has the widely predicted 4.5-inch screen while the iPhone 6 Plus has the 5.5-inch screen. Both will be available for pre-order on Sept. 12 with first availability Sept. 19. The iPhone 6 starts at $199 for 16 GB of storage, then leaps to 64 GB for $299 or 128 GB for $399 with a two-year carrier contract in the U.S. The iPhone 6 Plus will start at $299 for 16 GB, hit $399 for 64 GB, and reach $499 for 128 GB.
The new phones have sharp Retina HD displays. The 4.7-inch has a 1334 x 750 resolution (38 percent more viewing area than the iPhone 5s) and the iPhone 6 Plus has a 1920 x 1080 resolution (88 percent more viewing area and nearly three times the pixels as the iPhone 5s).
Apple's all-new 64-bit A8 chip is faster and more energy-efficient, and Apple's Metal graphics technology in iOS 8 will let developers tap into the A8 chip to deliver graphically rich 3D games to the iPhone.
Apple's M8 motion coprocessor gathers motion data from the accelerometer, gyroscope, compass and a new barometer, which senses air pressure to provide relative elevation. The M8 motion coprocessor can continuously measure your motion data, even when the device is asleep, saving battery life for fitness apps that use the sensors all day. With iOS 8 — which will be available for download starting Sept. 17 — motion data from M8 appears in the Health app.
The iSight camera on the iPhone is improved with faster autofocus and optical image stabilization. It can film video at 60fps for 1080p video and 240fps for slo-mo. It features continuous autofocus, cinematic video stabilization, and time-lapse video.
The front FaceTime HD camera captures at least 80 percent more light with a new sensor, larger f/2.2 aperture and advanced new features including burst mode and HDR video.
Cook Buys U2's New Album, Gives It Away to 500 Million
To cap off the media event, Cook acknowledged the importance of Apple's appreciation for music and let U2 rock out on stage.
The upshot is that all iTunes customers, from now until Oct.13, can download U2's brand new Songs of Innocence album from iTunes free. Cook said it wasa groundbreaking deal, because it would be the biggest album release ever.