Apple on Thursday released iOS 9, the latest version of its mobile operating system. Although more evolutionary than revolutionary, it has some useful additions.The good news is that iOS 9 works on much of Apple's existing hardware. If your device can run iOS 8, it should be able to run iOS 9. However, some of the software's features are available only on the newest iOS devices — the iPhone 6s and 6s Plus, and the iPad Pro.
I installed the new OS on all of my Apple devices without much of a hitch, although after installing it on my iPhone 6 Plus, the device forgot my fingerprint, and I had to rescan one of my digits.
Apple Pay fans will find this version of iOS very friendly. You can call the app up by pressing the home button twice from the lock screen. Not having to deal with the lock screen before performing an Apple Pay transaction is a welcome addition.
Apple has buffed the look of iOS with a new sans serif font, San Francisco. It gives the software's interface a cleaner and clearer modern look. The font also will be used in the new OS X El Capitan, and the upcoming Apple Watch OS 2.
Better Notification Organization
When you swipe right from the home screen, a new search screen appears. It displays items based on location and time of day. It shows recently accessed items, as well as recent news. When I accessed the screen near noon, there was a button to send Siri searching for nearby lunch eateries.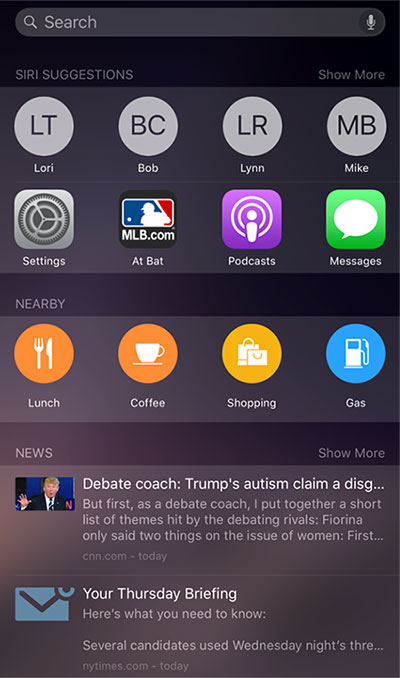 Search also can be accessed with a swipe down the home screen. At the top, there's a row of favorite apps based on your usage. If you have multiple screens of apps, this can be a quick way of accessing an often-used app with a minimum of hunting.
Apple also tweaked how notifications are screened in iOS 9. By default, they're displayed in chronological order and grouped by day. Previously, they were grouped by app.
That could be aggravating, because if you didn't see a notification when it initially was displayed and pulled down the notification screen, you'd have to hunt through a bunch of app groups to find the notification just pushed to you.
If you prefer the old way of doing things, you can choose to group notifications by app from the settings menu.
The Today screen on the notifications page has changed slightly, too. It has a new addition: Find Friends. If you add it to the active widgets on the page, it will notify you if a friend is nearby.
Hey Siri!
Siri's screen in iOS 9 has undergone some cosmetic changes, and there's no audio confirmation when you call it up.
In addition to using the home button to call Siri, you can configure it to appear by saying, "Hey, Siri!" However, you'll have to train it to recognize your voice first.
However, unless you have an iPhone 6s or 6s Plus, your device will have to be tethered to a power source. That limitation will reduce the usefulness of the feature for many. After all, we have mobile devices because we don't want to be tethered to a power source.
For some time now, the iPhone's competitors have had a power-saving mode. It performs a number of functions to stretch out battery life as the power plant approaches depletion. With iOS 9, the iPhone now has this feature, too.
The iOS 9 keyboard has received a facelift — it uses the new San Francisco font on the keys — and it has a welcome new feature: When you enter caps mode, all the keys change to capital letters.
Keyboard Becomes Trackpad
Apple has added some new apps to the iOS lineup. There's Find Friends, which can be used to see your friends' locations, provided they give you permission.
There's also Find Phone, for locating your phone or other device, and an iCloud Drive app for accessing your content stored in Apple's cloud. Both apps make locating a device and manipulating files in the cloud much more convenient.
Apple added some new tools to the Notes app in iOS. There's a tool for formatting lists, for instance. Some basic text styles are included, too, such as title, heading and body.
You can include images in notes, and there's a sketch feature for drawing with a finger.
Those features are the same on the iPad, but there's a bonus on the tablet. You can hold two fingers on the keyboard and it will act like a trackpad, allowing you to slide your cursor around your text.
Goodbye Newsstand
Why it has taken Apple so long to change the mail app in iOS is anybody's guess, but it finally added a feature that I suspect many users have wanted for along time: the ability to mark and trash all the mail in an in-box.
With iOS 9, Apple has scrapped the old Newsstand app and replaced it with News, which has a Flipboard flavor.
You choose a bunch of news sources from a list provided by Apple. Then, when you access the app, stories from all the sources will be queued for viewing.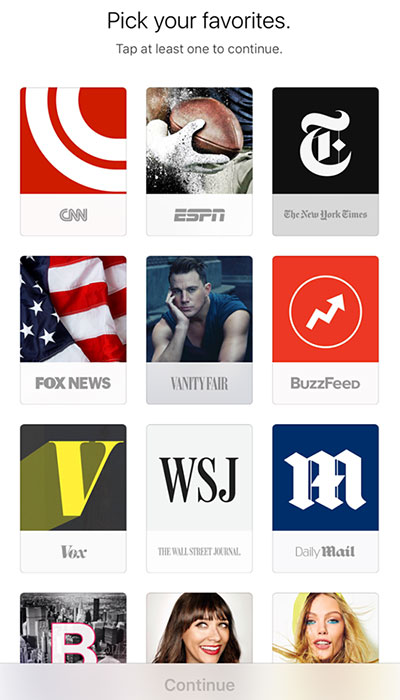 You can tweak the news that appears in your queue by making stories favorites. News will use that information to curate stories for you in the future.
The News app is especially attractive on the iPad, where the larger display allows more visually arresting layouts.
Multitasking Take 2
Another long-awaited feature in iOS is the inclusion of public transportation information in Apple Maps.
The photo app also has a useful addition. You can select multiple photos at the same time. A scrubber lets you move through archived pics with swiping speed.
On the iPad some of the new features can be even more useful. That's the case with the notifications screen. Apple makes good use of the increased real estate on the iPad by displaying both the today items and app notifications, as well as widget information, side by side.
Multitasking is improved in the latest version of iOS for iPad. For example, when you're in one app, you can swipe your finger from the right edge of the screen and a window into another program will appear.
In older iPads, the window is about 25 percent of the screen and can't be resized. In the iPad Air 2 and iPad Pro, it can be expanded, and you can work alternately in the open apps.
Unfortunately, you can't drag and drop content between programs, but this multiple window feature is a good start.
Picture in a Picture
Watching video on the iPad is more interesting in iOS 9 with the addition of picture-in-picture capabilities.
In programs that include video — like the Major League Baseball app — you can shrink a video into a small window you can watch while working in another app.
You can move the window around the screen so it doesn't get in the way of the app you're working in.
While iOS 9 isn't a show stopper, it definitely has plenty of useful features that make it a worthwhile upgrade.