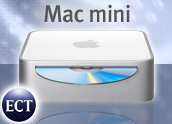 The thinking inside the box for producing a personal computer for users with shallow pockets is to start subtracting features from a more expensive model until you reach the price point you want, then toss the works into the same dull cabinet as the pricier offering.
Apple has shown over the years that it doesn't have a penchant for such in-the-box thinking.
Priced at US$499, the Mac Mini turns commodity computing into fine computing. Moreover, it makes it affordable for many PC users enamored of Apple's iPod to test the OS X waters.
Bang for the Buck
Sure, if you're new to computing, that $499 price tag will start moving upward when you have to buy a monitor, keyboard and mouse. And even if you're a second- or third-generation computer family with extra parts collecting dust in a closet, you're probably going to want to upgrade the Mini's paltry 256 megabytes of memory to 512 megabytes immediately.
Not only does the Mini impress with its size — 6.5 x 6.5 x 2 inches, smaller than some external computer peripherals — and weight — 2.9 pounds, less than even some ultralight notebook computers — but also with its design, which conveys innovation, not repackaging. From its slot-loading optical drive to the rounded corners of its anodized case, the Mini bespeaks elegance.
One way to reduce costs when producing an economy computer is to skimp on software. That's not the case with the Mini. It includes the iLife '05 suite of programs that Apple bundles with its higher-end machines.
ILife's applications let you manage and edit digital images (iPhoto), manage, play and purchase digital music (iTunes), edit video (iMovie), author DVDs (iDVD) and create music (GarageBand).
No Shortcuts
Another shortcut taken by computer makers is to unload the burden of processing graphics onto a system's main processor and memory. That's not Apple's style. The Mini has a dedicated graphics processor, the ATI Radeon 9200, and 32 megabytes of dedicated memory to handle its graphics chores.
The Mini comes in two flavors. A basic version with a 1.25 gigahertz Power PC G4 processor and 40 gigabyte hard drive and, for about $100 more, a 1.42 gigahertz model with 80 gigabyte hard drive.
Camped at the back of the unit are two high-speed USB ports, a six-pin FireWire (IEEE 1394) 400 port, Ethernet and modem connections, a headphone and line-out jack and digital video display port. An adapter is included with the Mini so it can use an analog monitor.
As attractive as the Mini is, it's definitely a hands-off machine. Adding wireless and more memory post purchase requires a trip to an authorized Apple service provider.
An obvious advantage of a computer that's the size of the Mac Mini is that's it's not hard to locate the mighty mite near a towering desktop relative. That can be appealing to keyboard jockeys who want to straddle the line between PC and Mac.
Some Assembly Required
In fact, by means of a switching cable, the Mac Mini and another computer can share the same keyboard, mouse and monitor. As I discovered, though, this cabling arrangement doesn't work for everyone.
I tried to tie a Mac Mini and my PC together using the Iogear MiniView Micro USB Plus KVM switch and cable, which sells for $40 to $80 on the Internet. After making all the connections, I fired up both computers. The PC end of things worked fine. So I tried moving to the Mac by tapping Scroll Lock twice.
Initially, nothing happened. But repeated taps of Scroll Lock finally displayed the Mac on my monitor. Unfortunately, the keyboard and trackball were unresponsive in Mini mode.
Since I was using a wireless keyboard and a wired trackball, both made by Microsoft, I thought that could be the source of my problems. Both devices use custom PC-based software for their operation.
When I replaced the Microsoft trackball with one from Logitech, the device worked on both computers. But when I swapped an Apple keyboard for the wireless one, it worked on the PC but not the Mac. Eventually, I just gave the Mini its own keyboard, monitor and trackball and let it coexist separately from my PC.
While the Mini's $499 price tag may smack of advertised prices for new cars, the additional $100 or $200 — unless you have a spare keyboard, display and mouse, or have better luck with a switching cable than I had — is a worthwhile outlay for a machine that can bring so much fun to your computing experience.
---
John Mello
is a freelance business and technology writer who can be reached at
[email protected]
.
---

Read More Reviews…
---