Just when it looked like a competitor was going to outflank Apple in the processor wars, the Cupertino, Calif. company raised the bar once again.
At a pre-recorded evening event streamed online Monday, Apple announced three new processors with better performance and power management capabilities than previous generations of its silicon.
In addition, it announced the chips would be in new models of its MacBook Pro premium laptops and iMac all-in-one desktop.
The new M3 processor has an 8-core CPU, 10-core GPU, and supports up to 24GB of unified memory. Apple says the M3's CPU is 35% faster than its first silicon, the M1, and the M3's GPU is 65% faster than the M1.
For Applistas looking for more power, Apple also introduced the M3 Pro with a 12-core CPU and 18-core GPU. It can address up to 36GB of unified memory, and its CPU is 20% faster and GPU 40% faster than the M1 Pro.
At the top end of the new chip line is the M3 Max with a 16-core CPU and 40-core GPU. It can address up to 128GB of unified memory, and its CPU is 30% faster and GPU 50% faster than the M1 Max.
The unified memory architecture of the M3 Max supports up to 128GB of fast, unified memory, making tasks once impossible on a laptop now achievable for professionals, according to Apple.
---
All three chips also have an upgraded neural engine, which Apple says is 60% faster than the one in the M1 series.
There might be a message in those Apple comparisons for owners of M2 MacBooks, contended Kevin Krewell, a principal analyst with Tirias Research, a high-tech research and advisory firm in San Jose, Calif.
"Apple continually compared the M3 against the M1 and the old Intel models. That means if you already have an M2 MacBook, it's not worth the upgrade," he told TechNewsWorld.
Qualcomm's Competing Chip
The Apple event comes on the heels of Qualcomm unveiling its Snapdragon X Elite platform, built on an Oryon processor with 12 cores and using one-third the power of Intel's current best laptop.
At Qualcomm's recent summit, the company demonstrated that the X Elite at 80w easily outperformed the 13-inch MacBook Pro with an M2 processor.
"At this point, it's hard to do an apples-to-apples comparison on the chips, but the takeaway is that if the M3 is better than Qualcomm, it's not going to be much better, and Qualcomm is going to be in pretty good shape," Bob O'Donnell, founder and chief analyst with Technalysis Research, a technology market research and consulting firm, in Foster City, Calif. told TechNewsWorld.
How the Qualcomm chip stacks up against the M3 will be dictated by benchmarks and real-world performance, added Ross Rubin, the principal analyst with Reticle Research, a consumer technology advisory firm in New York City.
---
 Related: It's About To Become Much Harder To Choose the Right PC | Nov. 7, 2023
---
"With the Snapdragon chip, there was a lot of focus on the CPU, which isn't something Qualcomm has historically focused as much on," he told TechNewsWorld. "They have focused on their graphics engine, architecture, and neural processor."
"Apple has focused a lot on their graphics processor," he continued, "not only for games and graphics applications, where you'd expect it but because that has become an important part of working with AI applications."
Keeping Ahead of Competition
Gene Munster, managing partner with Deepwater Asset Management, a venture capital firm in Minneapolis, maintained that the M3 series would keep Apple one step ahead of its competition.
The MacBook Pro featuring the M3 Max allows for the advanced manipulation and rendering of intricate 3D assets in Cinema 4D, utilizing Maxon Redshift.
---
"In the world of tech, you have to stay ahead of competitors. Speed matters," he told TechNewsWorld. "It's easy to say, 'Keep ahead of the competition.' It's hard to do, but Apple is doing that."
However, Mark N. Vena, president and principal analyst at SmartTech Research in San Jose, Calif., pointed out one edge Qualcomm's platform will have over Apple's M3 machines.
"The Qualcomm solutions are going to end up in low to moderately-priced PCs, so you can have Apple silicon performance in a much lower-priced machine," he told TechNewsWorld.
A 14-inch M3 MacBook Pro starts at $1,599, with an M3 Pro at $1,999 and an M3 Max at $3,199. While the MacBooks will be available next week, Snapdragon X Elite PCs won't be available until around the second quarter of 2024.
Also shipping next week will be the M3 iMac, starting at $1,299.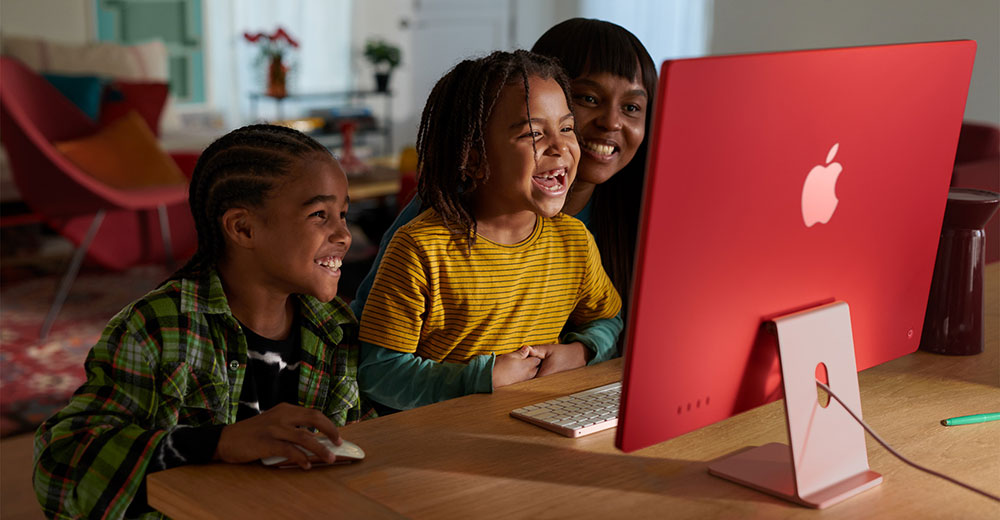 The new iMac, available in seven vibrant colors, features a slim design and boasts up to 2x faster performance with its M3 chip compared to the previous generation with M1.
---
"The iMac is a tired product, and they need to get people excited about it," Munster said. "Saying it's refreshed with a new chip that's meaningfully faster can help boost sales."
"People have been holding off during the last six months buying an iMac because it was due for an upgrade," he continued. "They've waited and waited and waited. Now it's been announced, and Apple will get a flood of sales."
Good Timing for Refresh
The refresh of the MacBook and iMac lines couldn't come at a better time, as Apple has been under revenue pressure for its non-iPhone hardware, noted Dipanjan Chatterjee, vice president and principal analyst with Forrester, a national market research company headquartered in Cambridge, Mass.
"This event is expected to entice both new and existing customers to renew their Mac devices, with hopes of clawing back some of the revenue decline," he told TechNewsWorld.
"The Halloween release sets Apple up nicely for a new Mac to adorn the bottoms of Christmas trees and to keep the new iPhone company," he added. "Although the lack of a new iPad is going to dampen spirits — this is a more popular gift than a laptop, and Apple could use some help in a revenue segment that's seen a 20% year-over-year quarterly decline."
"People buy technology when it's fresh," Munster added. "To reverse the decline in Mac sales, Apple needs to upgrade the hardware. That's what they're doing here."
"Mac is 10% of their sales," he continued. "It declined 7% in the June quarter. It will likely decline 26% in the September quarter. To get that back to growth, they needed to do this."
However, he noted that while Mac sales are down, Apple has still gained market share. "The PC industry is still suffering from the Covid hangover," he said. "That will probably go on for another six months."
Nudging Users Away From Intel
One phrase noticeably missing from the Apple event was artificial intelligence.
"These machines are capable of doing AI, but that's not their selling point," Munster said. "Their selling point is that these chips are faster than anything out there, and the only way to get a hold of those chips is to buy a Mac."
One of the themes of the event was getting people to move off Intel architecture, Rubin observed.
"The faster Apple can do that, the faster they can drop support for it," he explained. "You're already starting to see that if you upgrade to the latest version of macOS, you get features on Apple silicon that you don't get with Intel."
"At some point," he continued, "those machines will be left behind, the same way the PowerPCs were left behind when Apple switched to Intel."
Editor's Note: The images featured in this article are credited to Apple.