The Apple Watch wasn't the only new product to take the stage at Apple's media event on Monday — Apple also introduced an all-new sleek MacBook. In addition, Apple nabbed the chance to be the exclusive launch partner for HBO's new HBO Now streaming subscription service.
Here are the highlights of the event:
Apple Watch will be available for preorder on April 10, and it will launch on April 24
Apple Watch Edition (gold) starts at US$10,000
All-new super slim MacBook has a 12-inch Retina display
HBO Now streaming service will launch on Apple devices in early April for $14.99/month
Apple TV price drops to $69
New ResearchKit SDK launches for medical community to facilitate wide-scale research
New health apps for Parkinson's disease, diabetes, asthma, cardiovascular disease and breast cancer ready now
Meanwhile, Apple revealed plenty of detail along the way, showing off the construction of the new MacBook, as well as introducing Apple Watch pricing. For some, the most important reveal about the Apple Watch Sport is that the larger 42mm version will cost $50 more than the $349 38mm version.
Kicking Off the Event
In typical Apple fashion, Apple CEO Tim Cook kicked off the event with a round of joyful bragging: Apple opened six new Apple Stores in China in the last six weeks and plans to reach 40 by the middle of next year. As of now, Apple has 453 retail stores around the world, all of which combined saw 120 million visitors last quarter.
Cook then shifted attention to watching television. For a split second, everyone watching the event had to be wondering if Apple was going to introduce a new Apple TV — but no. Instead, living room TV fans got a great consolation prize: HBO Now on Apple devices.
"We love HBO," Cook said. "Over the years, they have created groundbreaking shows that have become part of our culture and helped shape our culture."
Cook then introduced HBO CEO Richard Plepler to share HBO Now, which is HBO's new streaming service that will let non-cable/satellite customers subscribe to the full HBO library of past and present shows, as well as HBO's current movie lineup.
The service will cost $14.99 and will launch on Apple devices first, starting in early April — but in time for the premier of the HBO hit, Game of Thrones.
Then came more joyful boasting: Apple has sold 25 million Apple TV units so far, and to make the device "more accessible to more people," Cook said, Apple lowered the price from $99 to $69. (In lieu of an actual hardware update, the price drop makes it more compelling against the lower-priced competition from Roku, Amazon, and Google.)
700 Million iPhones Sold
In case anyone was wondering about the possible size of the Apple Watch market — because you need an iPhone to use an Apple Watch — Apple now has sold more than 700 million iPhones. Turning to the new Apple Pay, 2,500 banks support it. There are 700,000 retail locations that accept it.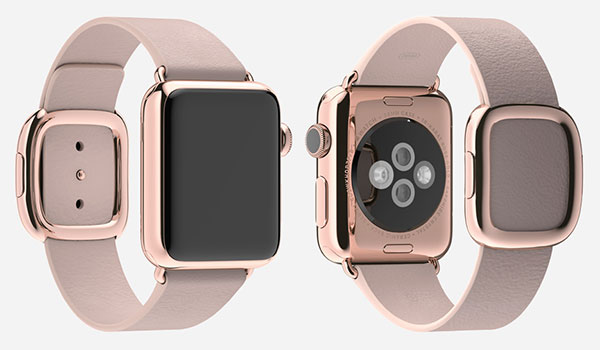 Apple Watch Edition18-Karat Rose Gold CaseModern BuckleRose Gray Leather Band
As for CarPlay, Cook said that every major auto brand has committed to offering CarPlay, and that there will be 40 new vehicles shipping with CarPlay by the end of the year.
Apple has aspirations that extend beyond car, home and work, though. Apple wants to facilitate a healthier world.
"Perhaps the most profound change and positive impact that iPhone will make is on our health," Cook said, alluding to HealthKit.
Apple SVP of Operations Jeff Williams introduced ResearchKit. It is a new open source software developer kit designed specifically to help medical researchers develop apps that will let iPhone owners share data — as well as learn from their own conditions — in order to help improve their lives and support advances in healthcare.
There are five new apps launching, including an app for Parkinson's Disease that can help assess a person's balance and gait, which is an indicator of the disease's progression. It also tracks exercise and graphs it against the symptoms of the disease — which might help show how exercise can slow the effects — right on the screen of a patient's iPhone.
Privacy is user-selectable, and Apple will not see an individual's data.
All New MacBook in Gold, Space Gray and Silver
The Apple MacBook Air has not seen a major update in years. Apple chose to drop the "Air" from its new MacBook — despite making it thinner and lighter than any Air. The new 12-inch MacBook with Retina display is just 13.1mm at its thickest point and weighs 2 pounds.
It's the first MacBook to use a new all-metal unibody construction. The keyboard is full-size, but redesigned with what Apple calls a more stable "butterfly" mechanism instead of a more traditional scissor mechanism beneath most keyboard keys.
Apple also introduced an all-new Force Touch trackpad, which not only recognizes how much force you use to select items — with a new gesture called "Force Click" — but also uses vibration haptic feedback, too.
The logic board is 67 percent smaller than the one in the older 11-inch MacBook Air. It uses the new Intel Core M processor with Intel HD Graphics 5300, which does not need a cooling fan. To bring all-day battery life of 9-10 hours, Apple redesigned its batteries as thin wafers that could be stacked to fit into the contoured body of the MacBook.
Remember that rumor about one port to rule them all? It was true. The new MacBook now has a single USB-C port that supports charging, data transfer and displays. Pricing starts at $1,299 for a MacBook with 8 GB of memory, 256 GB of storage, and a 1.1 Ghz dual-core Intel Core M processor. It ships April 10.
Apple also updated the existing MacBook Air line and 13-inch MacBook Pro with Retina display with faster processors and faster storage. The 13-inch MacBook Pro also gets the new Force Touch trackpad (but no word about the 15-inch MacBook Pro).
What About the Apple Watch?
Much of the Apple Watch-oriented presentation was a regurgitation of features previously announced. Apple showed of several videos of the materials — a stronger aluminum alloy as well as high-quality stainless steel — and Apple VP of Technology Kevin Lynch walked through a typical day using the Apple Watch.
He showed off a variety of apps that can do things like respond to messages, send images with haptic feedback, and wirelessly open up a hotel room door. Apple expects the Apple Watch to last 18 hours on a charge, enabling it to get through a typical user's day.
To help with the health pitch, supermodel Christie Turlington spoke of running a half-marathon in Africa with her Apple Watch, and said she believes it will help her reach a new best time in her next marathon.
Turlington also talked up her nonprofit organization, Every Mother Counts, which is focused on making childbirth safe for all mothers.
The Apple Watch will come in three basic collections: The aluminum Apple Watch Sport, which starts at $349 for the 38mm version and $399 for the 42mm version. The Apple Watch comes in stainless steel and ranges from $549 to $1,099 (depending on choice of bands). The Apple Watch Edition comes in 18-karat gold alloys and starts at $10,000.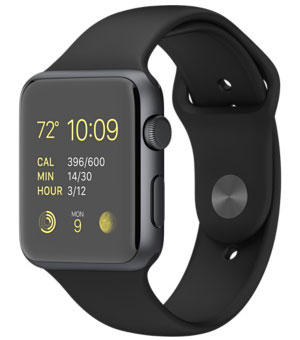 Apple Watch SportSpace Gray Aluminum CaseBlack Sport Band
Online preorders will begin April 10. Go to an Apple Store, and you can try one on. Availability begins April 24.
Apple Watch requires iPhone 5, iPhone 5c, iPhone 5s, iPhone 6 or iPhone 6 Plus running iOS 8.2. or later. iOS 8.2 became available for download Monday.