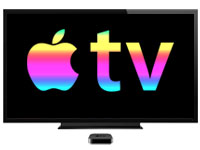 When it comes to TV, Apple is starting to recede into the dark corners of my mind. Its relevance — and even potential relevance — is waning. A fancypants Apple-made big-screen HDTV device that seems to float in the air and function like a delightful work of art… . It not only seems unlikely any time soon, but also unlikely to really matter to anyone but rich Apple enthusiasts.
As the hockey-puck Apple TV gathers dust — the last hardware update was inMarch of 2012 — Apple's slow march with new app "channels" is more irritating than truly useful. If I already am a cable or satellite-TV subscriber with a DVR, then messing with a slow app with inconsistent Internet streaming quality is downright silly. I can just watch a show with a snappy, high-quality response from my DVR.
Enter Verizon
This is not to say that no one is trying to grab strings and tug on the Gordian Knot of TV. I used to hope that Apple would come to the industry swinging a crystal sword and cut through the tangled mess, but now I think the fear of dominance actually hurts Apple's chance at meaningful change.
Verizon, though, has a shot. Better yet, Verizon could turn into an industry catalyst. How? Verizon just announced an agreement to buy Intel's OnCue Cloud TV platform.
The nifty idea behind OnCue was to create a set-top box that could deliver live TVover the Internet, as well as let you stream content from non-network services, like Netflix. Plus, you'd have the ability to rewind in time and stream recently live TV content that you missed during the past three days.
OnCue would let consumers access content in multiple ways — and easily, without manually switching between various remotes and boxes and connections and services.
The trouble is, TV and managing content deals aren't Intel's strengths, andeven if the interface was fantastic, OnCue had to start with zero customers. Ever try to negotiate a deal with zero customers standing behind you? Pretty tough.
Verizon, on the other hand, already has its Internet-ready FiOS fiber-optic networks rolled out. Sure, Verizon only reaches a relatively small market of 5 million pay-TV households in the U.S., but that's a start.
More to the point, Verizon would have the ability to provide over-the-top TV services to its vast mobile customer network, which means Verizon suddenly can start negotiating potential deals where it has about 100 million mobile device screens to back it up.
From a user standpoint, Verizon mobile customers could see a compelling reason to buy into an OnCue: Instead of replicating what they already get in the living room, Verizon could extend it and improve the overall experience.
Unless costs spiked, that would be a win for consumers… and potentially spark more user-friendly competition from other cable TV providers.
At the same time, it could shake loose geographic monopolies on content. Right now, your local cable company probably has a monopoly to pipe cable TV directly into your home. If Verizon can make headway with OnCue, we might finally be able to buy reasonably customized packages of content for Internet delivery — including live TV for things like news or sports — via other Internet serviceproviders.
The point is, Verizon now has the potential to become a catalyst in a way that seems impossible for Apple. While Apple focuses on iOS-ing the world, the Apple TV seems to be moving from hobby to has-been.
Enter Amazon
Love or hate Amazon, the company has proven that it has the ability to create competitive hardware products and connect them to competitive content products.
The Kindle line of e-book readers and Fire tablets is connecting Amazon's content with a solid (and sometimes sweet) hardware experience. Last year, the company was rumored to be working on its own set-top box, which would, of course, let it stream its Amazon Prime content to the living room HDTV directly. Right now, you need someone else's set-top box (or even an Xbox) to stream Amazon content via an app.
Just this week, reports from The Wall Street Journal suggested thatAmazon has been talking to entertainment companies about licensing their channels as part of a new online pay-TV service. In this sort of scenario, Amazon might be able to compete against traditional cable and satellite TV services.
More importantly, if Amazon could deliver live TV (and on-demand TV) in a more focused and consumer-friendly way, it could pull a string out of the Gordian TV Knot. An Amazon "Kindle TV" would help it along.
Where's Apple Again?
Meanwhile, what's Apple up to? Maybe we'll get a faster A7-processor based Apple TV replacement unit sometime in 2014. That would be nice — but will we ever get an Amazon TV app available on our Apple TV directly? Or will we be forced to use AirPlay to stream content from the app on our iPhones and iPads to the Apple TV just to fling it to a big screen? Seems silly, doesn't it? At best, somewhat trite.
Of course, maybe Apple will deliver a gesture-based navigation scheme for the next-generation Apple TV… and maybe open up its Apple TV interface to all iOS developers, letting innovators build apps for use directly from their Apple TVs. That would be cool.
These ideas seem increasingly far away, though. Ironically, that might spell opportunity for Apple. If the company's invention mojo is still strong, an Apple TV could profit from confusion and consumer pain — even as Verizon and Amazon pave the way by softening up traditional cable monopolies and content distribution deals.
Right now, though, it's hard to see — and getting harder to imagine — Apple as a TV leader, must less innovator.