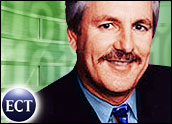 Last week Apple TV launched, and it appears Apple is following a similar script to what made the iPod a success — but will it work this time?
With the U.S. primaries coming up, and the incredibly well done remake of the famous 1984 Apple Ad playing a big role, I thought it would be good to remind you that not everything you are likely to read or see on the Web is real.
Finally, with graduations coming up and Father's day approaching, it is time to start putting out ideas for cool gifts.
Apple TV: iPod Redux
Much like the MP3 player market before Apple's arrival, the media extender market is not particularly exciting, and it almost looks as though many of the vendors in it are working hard to get out.
Products are relatively hard to use, not particularly compelling to look at, and if most of these folks can even spell "marketing," I'd be incredibly surprised.
There is clearly a potential market for devices in this sector — as the iPod clearly demonstrated in its own niche — and it could be equal to or greater than the one Apple now dominates.
Apple's formula is simple: Bring out a product that is physically attractive, does a few things very well, and market the hell out of it.
Apple TV does a few things well, but it doesn't yet pull video off the Web, other than some Apple content, like movie trailers. Right now you can't go to YouTube, for instance, and pull down video.
Most of what Apple TV does has to do with iTunes. If you can get it on iTunes, you can probably see it on Apple TV, which means you can see the programs you purchase for your iPod on the big screen.
Most probably won't get their programs this way, though. As an addition to your set-top box and DVD player, the offering is certainly interesting, but it probably won't hit a home run until it can replace one or the other.
However, if you primarily watch movies from a service like Netflix, and the iTunes catalog improves, and you have good download bandwidth — a lot of ifs — Apple TV would have advantages, if you could get a Netflix-like subscription price for the movies. Right now, you would have to pay the full DVD price.
Competition on the Way
Better offerings from Cisco and AMD are either entering the market or will enter soon. Cisco's is rumored to be the most comprehensive and could replace both your set-top box and your DVD player, which could make it more expensive as well.
Apparently designed to pull heavily from the Web and only secondarily from your PC, it could also be more forward-looking. However, it won't show up until relatively late this year, so — at least initially — Apple won't be running against it.
The AMD offering — called AMD Live! Ready and Active TV Technology — is more of a technology solution. The related products will come from third parties and probably will have vastly shorter names (I hope).
This system could replace your set-top box and could be added to a DVD player — but I'm not aware of such a configuration coming. Designed to combine PVR functions with over-the-Web download capability and connectivity to your PC, this too is very comprehensive in coverage.
It has a user interface that is easy, intuitive and will likely be less expensive than the Apple TV, but it may not be as attractive in terms of hardware design. Products should hit North America before the end of the year, so it too is vapor for now.
What may make the difference here is that — unlike music was when the iPod launched — video is very fluid right now. While free is king here as well, it is also legal, in many cases, with YouTube being the equivalent of Napster in a previous time.
With Viacom's iFilm and the new News Corp. entry in this space, being able to pull directly from the Web will likely define the winners and losers. Apple TV doesn't do that yet, and Apple's apparent desire to loop everything through iTunes could hurt its prospects.
Microsoft has the capability to come in and steal, but it has been unwilling to create the product the market seems to want, and its Media Center, while vastly more capable, is currently too expensive and complex for the task.
The Xbox 360 is arguably the current market leader, taking into account its own TV capabilities. Leaving out iTunes, it can actually do much more than Apple TV, but it is largely seen as a game system and also lacks the critical capability to get to new online services. It is interesting to note that the Xbox not only replaces a DVD player, but also is the only product in the mix that adds true high-definition capability.
My take is that this market is distinctly different in terms of content access than the market the iPod took over. While there is little doubt that Apple TV will do well, Apple will need to embrace the Web and an openness it has never before demonstrated to dominate this segment.
Oh, and the heavily subsidized cable and satellite industries will have to continue to be clueless with regard to their own offerings, which, if substantially improved, could eliminate most of the market for any of these third-party products.
Personally, I'd wait until around October before buying a device in this class. You'll have a lot more choices then, and all of the offerings will probably be more mature. Remember, the very first iPods had "issues" as well.
Turning an Election
Speaking of YouTube and Apple, by now — unless you live under a rock — you've seen theremix of the famous Apple PC ad from 1984, which is relatively unflattering to Hillary Clinton. I really love the ending spin on the Apple logo. This short film, now one of the most-watched on the Web, is having an impact on the Democratic primaries and apparently wasn't backed by any of the candidates.
So far, there has been one major incident in which Barack Obama wasfalsely accused of being a covert Muslim extremist. That apparently fooled at least one of the news services, which then went on to chat about the possibility of a Muslim president even though Obama is a Christian.
Manipulation on the Web is becoming much more common with firms actually marketing services that allow employees to go into forums and shill a company's product or service. These same services will undoubtedly shift to the election campaigns shortly, if they haven't already.
TheWebMaster Forum has been trying to deal with this problem since 2002. Unfortunately, it appears to be getting worse.
As is the case with most hoaxes, you can be tricked into making a fool of yourself by mailing this stuff around and spreading false information to promote a candidate you like. Here is agreat site if you get something that looks like a hoax, by the way.
This can berather embarrassing once the hoax is identified. Before this gets started, it might be wise to view things you see on the Web — or get from friends who themselves may have been tricked — with a little healthy skepticism. A hoax, once discovered, can probably do more damage to your favorite candidate than any benefit gained if the trick had worked.
I think it would be wise for all of us to work to make sure these elections aren't hijacked by questionable Web players who may or may not be paid by the candidates themselves. Check your sources before forwarding something on — and remember, just because you might want it to be true doesn't mean it is.
Dads and Grads – Recommendation Week One
This is one of three times a year that I get all kinds of toys in to test and comment on. Three that stand out this week are a gaming router, a drink chiller for your PC, and a high-end GPS (global positioning system) device that turned out to be much better than I expected.
The Pimped 802.11n Wireless Gaming Router from Linksys. TheWRT330N Gaming Router (When will folks learn to come up with consumer product names?) looks kind of like a modded PC. It has a gigabit router and features that allow you to prioritize gaming or video downloading to improve performance.
One caution: Follow the instructions. When I did, it set up really easily. When I initially didn't, the process wasn't as seamless. Good range, nice performance, and cool-looking — and you can find it for under US$200.
At the other end of the spectrum is theCoolIT USB Drink Chiller. I initially thought this thing was a joke, but it actually works really well. If you drink a soda as slowly as I do and don't like the warm dregs at the end, this thing is for you. It is also a more reasonable $30 — and it's unusual enough to be memorable, as well as practical enough to actually stay in use.
I just did a the latestTechCloseUP segment on GPS systems and tried out the HPiPAQ rx5915 Travel Companion. While relatively pricey at $599, it was the most portable of the systems tested, and it had full PDA (personal digital assistant), music and movie capabilities as well. It uses TomTom software for navigation.
While I didn't expect to like it, it turned out to be my favorite product — if the price weren't a problem. The fact that it was about the size of a Video iPod made it much easier to carry than any of the other devices I looked at.
I'm using all three of these things myself; do I have a cool job or what?
---
Rob Enderle
is a TechNewsWorld columnist and the principal analyst for the
Enderle Group
, a consultancy that focuses on personal technology products and trends.
---