Like many of you, I was fascinated with the Apple Vision Pro head-mounted display when it was announced, but, as luck would have it, I had already ordered the Goovis G3 Max at Indiegogo. I've been using it for several weeks now. It is awesome for what it does and pretty much does what Tim Cook demonstrated on stage for the Vision Pro.
The enormous difference is that the Vision Pro lists for $3,499 while the G3 Max is only $869 on sale against a $1,299 list price. As an early buyer, I got mine for under $800, which was one heck of a deal.
Let's talk about my experience with the Goovis G3 Max and how it might compare to the Apple Vision Pro when it arrives.
We'll close with my Product of the Week, a headset that might be just what the doctor ordered for your desktop video conferencing needs.
Apple Vision Pro
Apple presented the Vision Pro as a pro-level product with all the technology built into the device. It's fully stand-alone and does not seem to be able to be used as a screen for your laptop or iPhone. However, Apple's WWDC presentation demonstrated how iOS apps, movies, and images would appear superimposed onto one's surrounding environment using the Vision Pro.
(Image Credit: Apple)
---
Apple's strategy is always to try to sell you an additional expensive product. For instance, it has never created an all-in-one laptop that would also be a tablet. If you wanted a tablet, you bought an iPad; if you wanted a notebook, you bought a MacBook.
Initially, Apple mostly highlighted the Vision Pro's video-playing capabilities and experience. The device is VR and game capable, but Apple doesn't yet have VR content, and its platforms aren't known for gaming capability. Vision Pro uses hand gestures to operate, with no controller, which suggests that if Apple does get into gaming, you will have to buy a controller accessory to make it work.
The voice part of the Vision Pro, which will be critical, is not yet cooked. Since Apple is not yet at the forefront of generative AI, I would expect some issues getting that capability to work. However, the eye and hand elements appear to be mature in comparison.
Vision Pro doesn't look like it will work well with glasses, though contacts will be fine, and the price for an adaptive lens for the device is estimated to be between $300 and $600 extra if you need vision correction.
It fits very tightly against your face. There is no top support, but initial testers have complained that the pads may mark your face and the pressure can get annoying after extended use, like when watching a movie.
Videos should be impressive with 4K displays for each eye, and that tight fit keeps out ambient light. It has a digital crown, kind of like a watch, that allows you to control your level of immersion and potentially blends what the cameras on the device see with the content so you can see what is happening around you — though I wouldn't wear these walking or driving.
Apple Vision Pro's EyeSight feature enables users to stay attuned to their surroundings while engaging with augmented reality (Images Credit: Apple)
---
The one external thing is the battery which is expected to last for two hours, and you can plug it in if you are at home, on a plane, or in a car.
Finally, Apple Vision Pro is one of the nicest-looking head-mounted displays I have seen so far.
Goovis G3 Max
While the Goovis G3 Max is not as good-looking as the Vision Pro, it does have top support to take the pressure off your face.
The trade-off is that it does not seal to your face as tightly, so you may get some external light bleeding. I did, but I didn't find it that annoying, even when using the device outside.
It should be a lot more comfortable to use than Vision Pro, and I have used the Goovis for several hours without leaving marks on my face or being uncomfortable.
The Goovis has higher resolution displays and a better color gamut than the Vision Pro (3,528 vs. 3,400 dpi and >95% vs. >90% DCI-P3), but I doubt you would notice the difference.
Alone, the Goovis is just a display, but it comes with a streaming media player with a battery that powers the device. However, it will also plug into a set-top box, game console, smartphone, or PC with a USB-C or HDMI cable if you want to use it without the media player.
The media player's battery life is around 3 hours, and it can charge while playing if you use the longer USB-C cable it comes with to connect to a power source.
The Goovis has no external cameras, but it does come with a TV-like controller to control what you stream. Since it runs Android TV, it should load most third-party streaming apps, including Apple TV+ (though I did not try to load it).
I loaded YouTube Premium, Netflix, and Amazon Prime, which all worked well with the device. In fact, I spent the afternoon watching movies on my balcony, not realizing until I stopped that the sun had gone down.
The headset has an HDMI-in and an adapter for USB-C, allowing it to be used with anything with a USB-C or HDMI output. For instance, if you want to play a game, you can plug it into an Xbox, PlayStation, or Nintendo Switch and have your own huge-screen gaming experience — something you may not be able to do with the Vision Pro.
I mentioned that I had watched a movie on the Goovis G3 Max. It was the new Flash movie which I thoroughly enjoyed, and the experience was like having my own IMAX screen that I could use anywhere.
The Goovis has built-in speakers, but they are pretty weak, so I wouldn't suggest using them. However, a good, wired headphone set makes all the difference. With headphones on and this display on your face, you might as well be in a movie theater where people are actually quiet, and you can enjoy the movie in peace.
You do not need special lenses because the headset has a built-in diopter adjustment for each eye, so you do not need prescription lenses when you use it.
Wrapping Up: Which Is Better?
Given that the Goovis G3 Max is on the market and the Apple Vision Pro is not, right now, the Goovis is better because you can get it.
However, the Apple Vision Pro will eventually be more capable because of its cameras and advanced software than the Goovis alone. However, when you factor in that you can connect to more things like game consoles, smartphones, and PCs, the content advantage moves to Goovis.
Since the Vision Pro is initially all about that same content, the Goovis should initially win, even without the massive price advantage. Given Apple's limitations, that $2,000 delta between the two devices would give me pause.
In the end, the Goovis G3 Max should do most of what the Apple Vision Pro does initially, and the Goovis can be enhanced by hooking up to different things like game consoles, putting you deeper into the action and connecting you to better gaming performance than you'd be able to get on a device in this class.
So, for the money and what both devices will initially be able to do, the Goovis is the better offering, especially since you won't even be able to buy the Apple device until sometime next year. Though, given Apple's announcement, I expect we may see a couple more products launch shortly.
On a personal note, I have been using Goovis products since the company started several years ago. Other than having one fly off the top of my car (I left it on the roof), I have enjoyed all of them, with this latest clearly being the best.
If you want to enjoy content on a plane, car, bus, boat, or any place you feel comfortable being fully immersed in a movie, TV show, or web event, just remember to use headphones so you won't annoy people around you.

EPOS Impact 1000 Headset
I love headphones. I use them a lot when traveling or the rare times I must work in a cubicle or other shared space.
The sound quality of desktop headphones often leaves something to be desired because they tend to use speakers optimized for voice and are not that great for music or other forms of audio. This means I must travel with two sets of headphones, one for entertainment and one for work.
At around $430 list (you should be able to find them for less), these headphones are not a cheap date. However, they have some features I really like. For instance, they inductively charge on their stand when not in use.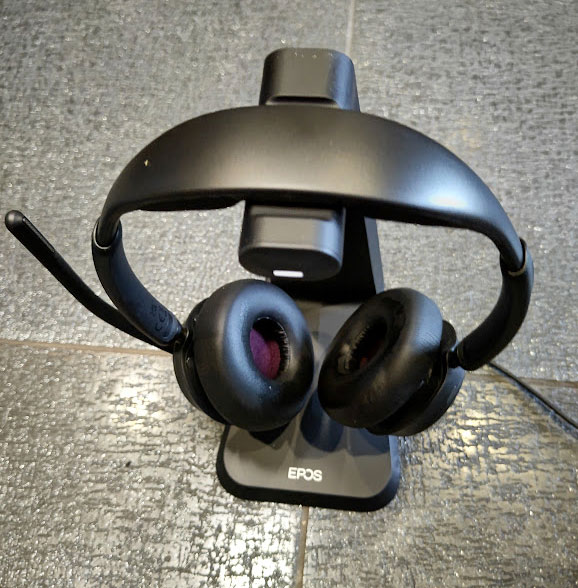 The headphones I typically use have a physical connection, so it often takes me a bit to get them seated properly so they charge. The EPOS Impact 1000 headphones do not have this shortcoming. You just place them on the stand and go.
In use, these still favor voice, which means music vocals are extremely clear, but the lows and music depth are limited. In short, if given a choice, headphones designed for music will perform better, while these will outperform for voice-focused applications like video conferencing and internet calls.
These EPOS headphones are Bluetooth enabled, so they will work with smartphones, tablets, PCs, and anything else that will take a Bluetooth accessory. It comes with a USB Bluetooth dongle for a desktop computer that works fine with PC and smartphone Bluetooth, a USB-C cable, a stand/charger, and a carry case. The microphone rotates so you can put it on either side of your head.
Noise suppression is exceptionally good, particularly for over-the-ear designed headphones, and the EPOS Impact 1000 can pair with up to three devices. Battery life is outstanding. This device can go days without charging for normal use. You can charge them with a USB-C cable if you do not want to pack the headset stand, which is nicely designed but large.
They come in several versions, including:
1061 headset without noise cancellation;
1061T with Microsoft Teams certification and no noise cancellation;
1061 ANC with noise cancellation — like the one I tested; and
1061T with Microsoft Teams certification and active noise cancellation.
The versions without noise cancellation cost about $80 less, but it is worth the extra money to get that feature. You can compare them all on the EPOS website.
I am wearing these headphones as I write this while listening to music — and making the EPOS Impact 1000 1061 ANC version is my Product of the Week.