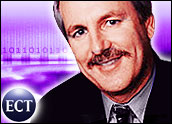 As we approach the end of the year, thoughts traditionally turn to the future. I thought I'd get an early start. Near term we have the widely rumored launch of the new Apple Newton, uh, I mean iPhone. A little further out we have the emergence of true telepresence — which brings the possibility that companies will no longer reimburse business travel for most of us.
Finally, we have, with Oracle's rumored plans to offer its own Linux distribution, the possibility of that firm taking out Novell — and maybe Red Hat, too — and either hitting Apple hard — or buying it.
Apple's New Newton
If the rumors are true, Apple will announce, along with its iTV and refreshed PC and iPod lines next year, the iPhone. This product will come in two models, one that will somewhat mirror the Motorola Razr in terms of style, and one that will mirror the Palm Treo in terms of capability. Given the Treo has its roots in Apple's mid-1990s Newton device, this ties the iPhone right back to the Newton — in effect what we'll see is a "new Newton" from Apple.
Now this is something that should put a smile on John Scully's face, though I doubt Steve Jobs would have him present at the launch (what a kick it would be if he did). For those who don't remember, Scully was the guy who fired Jobs from Apple in the 1980s and who also championed the Newton, which Jobs killed shortly after he returned to the firm. Someday I'd like to meet the guy who convinced Jobs to make the iPhone. It could be an incredibly interesting product for this company.
In order to be successful, both iPhone models will have to perform their core functions flawlessly and play music with iPod-like elegance. This is Apple's second phone attempt, the first being the disastrous joint Rokr product with Motorola that Apple itself tried to kill. The Rokr was a disappointment, but it probably did give Apple the experience it needed to create a great product.
In addition, the smartphone, which will be vastly more difficult to do right given the mixed audiences for a product like this, will need to do messaging, calendaring, contacts and video very well to embrace what the Treo and what the Video iPod do. This shouldn't be new to Apple given that it created this class with the Newton, but Jobs got rid of the Newton team a long time ago and the experience as to how to do this right likely resides elsewhere. Still, with the recent changes at Palm, there are clearly knowledgeable people available for rent — or purchase — and you would think Apple, anticipating this need, may have picked up some of them.
Integration Key
There are a number of interesting pictures floating around that suggest what the iPhone will look like. Given Apple's strong design consistency, I think this one comes closest to what it will actually do with the smaller model. It has the larger screen, which should be common in the new iPod line launched in 2007, and maintains a consistent design with the iPod mini line.
The new Newton-like device is a more difficult nut to crack, but this image probably comes closest. It maintains a similar look and feel to the video iPod with the larger screen and has a keypad. You could use the touch screen for dialing, and that would also give you the possibility of using digital ink. The ergonomics are a little rough, but Apple often favors design over ergonomics — as it does with the current iMac, for instance.
Ideally this device would integrate with Office for the Mac, which would be a huge benefit to both products. Strangely enough, there is no more loyal Apple developer than the Microsoft Apple Office group, which is much closer to Apple than Microsoft, both physically and ideologically. Still, Apple has a big trust problem. A product like this must interoperate with a variety of e-mail services and the firm will likely support the common standards, but being able to work with Exchange and Office would be huge, and that remains to be seen.
The End of Business Flying
Last week Polycom moved us one step closer to the day when businesses will stop reimbursing business travel for most of its employees. The company introduced a new video conferencing system that operates in true high definition. Vastly less expensive, but also vastly less capable, than Hewlett-Packard's Halo system (which costs around US$500,000), at less than a tenth of the cost installed, this should help give HD to a number of companies and institutions that currently can't afford it.
Polycom entered the video conferencing market at the low end years ago and bought up most of its competitors as it grew, Cisco-style, to dominate the segment. With HP and Cisco entering with high definition systems of their own, we are likely to go into another phase of consolidation shortly as the technology starts to proliferate. In about 10 years HD will be common and the folks just entering the workplace today should be extremely comfortable with it.
HD truly helps make you feel like you are in the same room with the remote folks you need to work with. I learned by talking to those who currently have Halo systems that HD remote conferencing technology can dramatically reduce travel costs and improve productivity because people don't get jet lag or waste lots of time on airplanes.
In the future, we all may be spending a lot of time in front of TV cameras. Better work on your makeup skills.
Oracle vs. Novell vs. Apple vs. Red Hat vs. Microsoft vs …
Oracle is rumored to be entering the operating system space with its own version of Linux. Shares in top Linux distribution provider Red Hat's stock fell when this news came out last week. Novell would falter long before Red Hat ever did, however, because Red Hat is vastly stronger — but then again, Oracle's enterprise sales engine is scary good.
Of course, that would probably force IBM to go the same way — it might purchase Red Hat or Novell, for instance. In the end, in such a scenario, at least two of the Linux distributions — Oracle's and whatever IBM purchased — would probably start looking rather proprietary. I imagine we'll see the return of the Unix-scale big company battles if this plays out.
However, this is all enterprise business — and Oracle CEO Larry Ellison has, in the past, also expressed his desire to make a play for the home. That might be years in the future but he and Jobs were at one time about as close as those two get to anyone, and may still be. Apple's OS is based on Unix and could transition to a Linux core relatively easily — certainly it would be easier than moving to Intel was. Apple also seems to be less than excited about BSD Unix lately, but we also know Jobs doesn't like the General Public License typically used with Linux at all.
Some Speculation
There is the possibility that someday in the future, Oracle and Apple could merge. However, I see a nearer term possibility of Google and Apple doing the same thing. While this all would be unlikely to happen until many years from now, there seems a certain urgency of late. Apple's stock options backdating issues, if they continue to get worse, could accelerate a lot of things, making 2007-8 rather than 2011-15 the time for big changes at Apple, Novell, Red Hat and Oracle.
At the end of all of this, were it to transpire as I've speculated, you'd have three large-scale software entities, IBM Software, Microsoft and Oracle. IBM wouldn't be in the home and would be tied to hardware, which would continue to cripple it. Microsoft, unless it changes, would still have one platform — Windows — which it is trying to stretch to cover all bases. And Oracle would have products well targeted at a number of segments. If it weren't for the fact that mergers like these would be near impossible to do well, Oracle could be the next Microsoft. Ellison would like that a lot.
---
Rob Enderle
is a TechNewsWorld columnist and the Principal Analyst for the
Enderle Group
, a consultancy that focuses on personal technology products and trends.
---