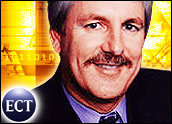 Last week was another interesting week. So far, this month the biggest announcements have largely been about Apple. As expected, Apple refreshed some of its product offerings. This should be the last significant release of many of these products before the Intel-based replacements start to arrive in about six to nine months.
While PowerBooks are beginning to look somewhat dated because they have been around for so long with little change, in many ways they still look more advanced than many of their WinTel counterparts. What is interesting is that one of the products that continues to look more advanced is the Dell X1 Notebook. It is silver, uses a 12-inch wide format display and weighs in at about half what the comparable Apple PowerBook does. This immediately gives us an idea of what the ApTel (spin on WinTel) products will look like next year. I'll discuss these later in this column.
Some Welcome Upgrades
The 15-inch and 17-inch PowerBooks have gotten a nice performance pump and an appreciated increase in battery life to make them more competitive, but it wasn't as if folks were flocking away from Apple products before these changes happened. Given that this product line is on its last legs, this is a nice refresh.
This brings us to what is likely the last major refresh of the Mac G5 desktop. With two processors, each with dual cores, this maps out well with an IBM PowerPC workstation, and for those living in the Apple world it should represent a powerful speed boost. Appearance changes will have to wait until the Intel-based product hits but inside the machine users will find pumped workstation NVIDIA graphics on PCI express that would only be more impressive if it supported NVIDIA's powerful SLI architecture. While this means it isn't as fast as it could be, there really is no point in doing an SLI port this late in the product cycle. Apple users will be happy with what they do see. From my perspective, they weren't particularly likely to switch to Linux or Microsoft anyway at this point.
The most interesting announcement coming from Apple was its release of Aperture, a program that appears to be very powerful and solidly focused on the professional photographer — who forms the foundation of competitor Adobe's business. We often position Microsoft and Apple against each other but these two rarely compete in any meaningful way today (though that is likely to change in the next 12 months). Adobe, on the other hand, is squarely in Apple's sights and, with Aperture, Apple doesn't appear to be shooting blanks. Adobe customers are relatively loyal to their tools, but Adobe, with Microsoft coming at it on one side and Apple on the other, isn't going to be sleeping any sounder next year.
Overall these latest announcements from Apple formed a nice, if not spectacular series. Unlike the Nano and Video iPod which have broad audiences, these latest product offerings will generally appeal to existing Apple customers. But that is now; let's look ahead to next year.
The Beginning of the End for Optical Drives
As Apple has been first to move to 3.5-inch floppies and then away from them we are expecting Apple to be the first to move aggressively away from optical drives to other alternatives. Some of those alternatives will be the more integrated use of iPods, other flash-based devices, and an updated iTunes.
Part of what will be driving this is the protracted fight between Blu-ray and HD-DVD camps, which is forcing many to look at other alternatives for future offerings. Given Apple's unique position (strong stores and vertical integration) we expect Apple will be the first to jump away from optical altogether.
We are anticipating that many of Apple's laptop products will simply no longer have an optical drive of any kind but instead will have a multiple format flash reader slot and an iPod docking port. When docked, future iPods will have access to some notebook functions and be usable as a secondary display — just as the notebook can use the iPod as storage to play back music, movies and TV shows. This capability was first showcased by Philips in the late '90s, then by Intel around 2000, and most recently by Microsoft. Our expectation is Apple will try to be first to market with their own unique spin.
This implies iTunes will be expanded into a software delivery mechanism much like it is already now used for audio and video files. It also implies the use of kiosks in Apple stores, and partner locations, so that people can still get their software and hard copy manuals.
While far from original, as this concept has been around for years, Apple is in a unique position to actually make it work. It should also help to boost Apple's revenues and profits once in full operation. It will probably also upset a number of existing Apple partners, but that is something they have learned to live with.
We are also expecting a true Apple phone in 2006, probably connected to an Apple branded phone service. Let's save that discussion for another time. For now let's look at what the 2006 Apple product lineup is likely to look like.
2006 Apple Laptops
With the market moving aggressively to laptops and Apple's laptop numbers being particularly strong, expect most of the company's design effort to be focused on making this new product stunning to look at and even more impressive to use. An instant-on feature, largely founded in Intel technology, will be common as will 802.11n and the elimination of the optical drive as mentioned above. A stronger tie-in to the ever more PDA-like iPod and stronger ties to iTunes like backend services should be present as well. This is where Apple will be taking its biggest gambles and, at least for now, those gambles look like good ones to me.
'06 iBooks
As we have seen with the iPod, black is the new white. Expect Apple to begin the iBook's color transition next year. The black iPods out now give us a sense of what they'll be looking to accomplish. High-gloss black finishes are very hard to do right, so it is fortunate that Apple has already leaned from mistakes and demonstrated some competence here.
Expect screen sizes in the 12-inch wide and 14-inch wide format sizes. I mentioned the Dell X1 above and I've talked about the HP Livestrong notebook previously — you can look at this model for an idea of the size we're talking about here. This is the line most likely to lose the optical drive first, making for very slim products in line with the Dell X1. These will be much more attractive than the existing line, which looks kind of pudgy to me when compared to comparable Sony, Toshiba, and Dell offerings.
The big thing in the WinTel space next year is expected to be custom colors. This will difficult to do in retail. Companies like Sony, Voodoo and Averatec have already started delivering on this promise. Given that Apple has substantial warning of this move there is a possibility that they will shift from the updated Model T approach ("you can have any color as long as its black or white") they are currently using.
Imagine an Apple iBook spin on the Voodoo Envy mentioned a few weeks back and, like Pavlov's dog, you're likely to start salivating. Prices should start in the US$850 to $950 range and cap out around $1,200 for the line.
2006 PowerBooks
PowerBooks will likely shift to a darker metallic or graphite finish to refresh the overall look and better mirror the more advanced image it has. The new PowerBooks line should also expand to the first 19-inch wide screen format product in the segment and the possibility of the first dual processor dual core laptop as well in this format. Samsung, which already has a relationship with Apple, has already launched a product in this class and the Apple comparable should have similar measurements. Largely targeted at power users, this product will be the first to make a 19-inch notebook look real.
Other PowerBook displays will probably be among the first to get LED backlighting, which will bring them in line with desktop display performance as well as allow them to stand at the head of their class in this regard. PowerBooks will probably retain the optical drive through 2007 but will also get the most advanced Intel technology, allowing for rapid boot and a much higher level of information security. Biometrics and/or soft-token security systems are likely and this line will once again step up to its promise as a technology leader.
Prices should start where the iBooks leave off, or around $1,200, and cap at around $2,500 for the fully configured 19-inch product.
Desktop Lines
Desktop hardware will be visibly changed as well as Intel favors BTX designs for cooling and noise containment. What's new in this area is small form factor, high performance products. When I say high performance, I'm not just blowing smoke, as the labs I'm in contact with are reporting performance improvements that even I find hard to believe.
Speculation is that since the UNIX kernel the Mac OS starts with is optimized for Intel before being ported to the Power platform, the result, up until now, has been a significant performance setback. Going back to Intel removed this inefficiency, which the applications have had to make up. The result, we understand, is like suddenly finding your emergency brakes were stuck on. Now Intel test systems are acting like they have permanent after-burners.
2006 Mac Minis
Starting with the Mac Mini we will see improved graphics performance which will be exploited in the Mac OS updated designed to run against Windows Vista. In fact expect the user interface to be substantially pumped to reflect both the improved system and graphics performance in the new platform.
I'm still expecting this product to become the Mac version of the digital hub and that it will be connected to Intel's Viiv initiative to produce the closest thing to an iPod-like Media Center product. With Intel's help Apple will probably have cable card support, and there is a chance it could be bi-directional which would put it ahead of Microsoft's Media Center offering. Skin options are likely — we will probably tie this to an Xbox influence but it will allow for customization. For an idea of finishes wonder over to Dow's Inclosia site.
Mac Minis should still start around $500 but extend up to around $1,000 for fully configured media hubs.
Death of the eMac?
CRTs aren't working well in education anymore thanks to disposal fees and weight issues. Expect a Mac Mini variant to move into this space with a low cost LCD display possibly from Samsung or another third party as a bid partner. The product will be aggressively priced towards the bottom of the Mac Mini range and have a unique ID that will allow it to be bolted to desks or walls. It will be interesting to see how this fares.
2006 iMacs
Moving on to the iMac, expect another design change. As mentioned above, Intel likes BTX and BTX won't work well with the current design. Expect something that is more of a blend of the current iMac and the previous pod version. A lower center of gravity, the possibility of an upgradeable screen (something that IBM had in their design) and an edgier, more Nano type of overall look should be expected. This thing is expected to be stunning to look at and will be one of the first desktop systems to have 802.11n wireless networking capability.
Prices should remain relatively constant for this line, starting at around $1,100 and topping out at around $1,700.
2006 G?
The new G5 desktop, which will get a name change, will drop a little in size and get the biggest performance jump of any of the platforms. This may actually get one of the very first quad core Intel processors and that would be interesting indeed. Designed to go to war with UNIX-, Linux- and Windows-based workstations, expect a blend of IP from both Apple and Intel allowing the product to step solidly where no workstation class PC has gone before.
This new desktop will probably retain the optical drive indefinitely and be one of the first machines to embrace Blu-ray as a storage medium. This could be the first product in years a corporation might actually find attractive and, I expect, folks who aren't particularly worried about Apple right now may change their tune. Sun would be on the short list of vendors who should be concerned about this.
This product will have a relatively broad range starting out at below $1,000 and topping out at around $3,000 for a fully configured multi-processor offering.
'06 Apple Monitors
I'm expecting Apple to expand their line to include a 45-inch LCD display with LED lighting. This will be one of the first of its kind and will stand out among aging plasma displays with the brightest, most reliable screen and a unique, but clearly Apple-esque, industrial design. Expect them to address the competitive disadvantage they have with the monitor bases in the smaller sizes (you can't adjust them for height) and expect that most will attach to the new iMac, with the larger screen having a wireless connection to the new Apple Media Hub. Also expect them to be aggressive with LED backlighting — which should move aggressively with other vendors in the following year.
The 45-inch LCD should come in below $5,000 and be more of an Apple showcase. They should have a 21-inch wide format for around $700, a 24-inch wide format for around $1,000, and a 32-inch wide format for around $1,900 in this time frame.
Overall, 2006 should be a very powerful year for Apple, but staying patient while we wait for the biggest product release since the original Mac will be almost impossible.