Developers released the latest edition of Archman GNU/Linux on Sept. 5. The Xfce desktop edition updates the Nov. 5, 2018, release.
Archman is an Arch Linux-based rolling distribution featuring the Calamares system installer, Pamac package manager, and a selection of preconfigured desktop environments. The distro's name is derived from the combination of Arch Linux and Pacman package management.
The new version comes with a customized Xfce 4.14 desktop environment. The customization is immediately noticeable in the design of the desktop panel.
The panel is centered at the bottom of the screen. Its positioning consumes about 70 percent of the bottom screen area. Combined with a smart hiding feature, the overall visual effect is to make the entire screen real estate available for use.
---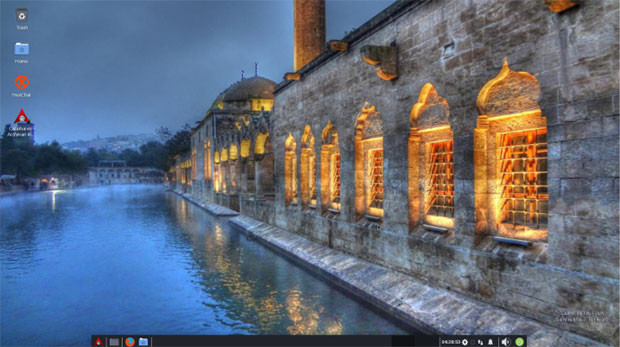 Archman — Xfce 2019-09, code-named 'Lake With Fish' — is a stable release ready to use. It comes with several essential productivity applications to get you started. The rest you can add as needed.
---
Another modified design adds special windows display treatment to the panel. The open windows are grouped as icons only in the panel display. Many other cosmetic changes are built into the desktop's design.
One is the switching from the Papirus icon set to the Surfn Arc icon set. Another is providing an alternative package installer. Added to the Archman repository is TkPacman, a lightweight graphical user interface for pacman.
tkPacman is a nice alternative. It makes handling system updates easier. The pamac package manager, an Arch Linux staple, comes with its own command line interface utility.
---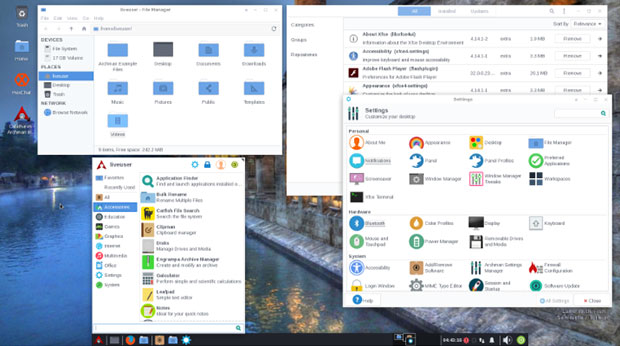 The Xfce menu and control panels allow considerable flexibility in adjusting the appearance and the usability without a big learning curve.
---
Desktop Delights
The Xfce desktop environment is an ideal lightweight environment that is loaded with functionality and customization options, but it is not so ideal if you want eye candy and animations as part of your desktop display.
The newest desktop release gives a slightly more modern look and feel to your screen. The Xfce environment puts a lot of speed and computing functionality into legacy hardware. However, if you run it on a relatively more powerful computer, you might have to settle for enjoying speedy performance while tolerating bland appearance.
Other desktop options are available, though — Archman is not a one-trick Linux distro. Recent 2019 Archman releases are Budgie, Deepin, GNOME, JWM, KDE Plasma, LXQt and MATE.
---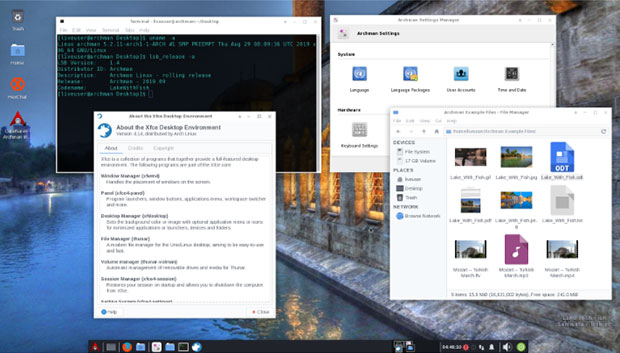 Archman Linux offers numerous desktop environments. The modified Xfce desktop has several modern features that make it one of the more configurable desktops available.
---
Allure, Not Angst
From a user's viewpoint, Arch Linux distros are infamous for their troublesome installation and configuring processes. Arch Linux distros come with a few more stumbling blocks than other Linux options. This, plus archaic software management routines, makes most Arch Linux releases too hard-core for many Linux users, especially Linux newbies.
Arch anything is a challenge that may not be worth the effort for typical daily computing needs. For example, most Linux distros provide an automated installation routine that comes with a standard set of everyday applications. Arch Linux offerings, on the other hand, are designed to start with a bare-bones system. You can add software you want rather than having to remove what you do not want, or ignore the bloat.
Most Arch-based Linux distributions merely let you burn the downloaded ISO file to DVD to use as an installation medium. They usually do not boot your computer into a standalone demo or live session mode.
Archman does — and much more. The result is a very user-friendly computing experience.
Installation 101
Archman Linux is part of a new breed of Arch Linux systems that strive to make getting started less challenging. I am not saying you can install Archman Linux in a flash and not see any glitches.
I usually grouse loudly when going though Arch distro installations. More times than not, it takes several attempts interspersed with hunting online for fixes and workarounds. Archman Linux spared me from those antics when I installed it on several aging computers and a few new boxes.
This distro makes it easier to go from downloading the ISO file to booting into the desktop. The Archman ISO brings some modern touches to the task of installing a custom Arch-based system.
The ISO boots into a spry live session. You then can click on the Calamares Installer. This handy alternative method provides a semi-automated routine that includes partitioning the hard drive with a built-in Gparted-style tool.
Once you get beyond installing the distro, Archman Linux provides a pleasant computing platform. Unlike other Arch distros, Archman Linux has a small but useful set of preinstalled system tools and productivity applications, so you start off with more than a minimal software inventory.
Family Familiarity
Archman is pure Arch Linux with a touch of class. The developer calls this distro the "optimal optimized Arch Linux environment."
The Archman package repository has its own customizations and system configurations. It uses almost all Arch Linux repositories.
The Archman package repository has very few packages. Arch repositories by design opt for superior quality over numerous similar mundane packages that serve the same computing tasks. They include distribution artwork, configurations, several packages that are not supported in the official repositories, and hardware drivers that are not yet supported.
The community developers built this operating system to bring what they regard as the awesomeness of Arch Linux to users who might be reluctant to try it, according to the website. It is a rolling distro, so updates and new features are pushed out to existing users as they become available. You do not have to deal with reinstalling each upgrade.
Bottom Line
The distro's origin is Turkey. That by itself is not an issue, but the reach of the Archman community's language localization seems a bit short.
In numerous documentation and website displays, the use of English is a bit awkward. The flawed English does not seem to be a factor within the operating system itself though. Still, if you are struggling to deal with Arch idiosyncrasies, side-stepping some of the phraseology can add to the frustration.
Distros based on Arch Linux usually are not a good starting choice for newcomers to the Linux operating system. Users need a better handle on how Linux works to use Arch-based distros successfully. Considerable background reading is necessary for things to make sense with minimal frustration.
Arch Linux distros in general are not ideal operating systems for users with little Linux experience. Developers of distros such as Archman Linux are trying to change that reputation. Archman Linux can be a good second OS to use as a tool for learning more about how Linux works.
Want to Suggest a Review?
Is there a Linux software application or distro you'd like to suggest for review? Something you love or would like to get to know?
Pleaseemail your ideas to me, and I'll consider them for a future Linux Picks and Pans column.
And use the Reader Comments feature below to provide your input!