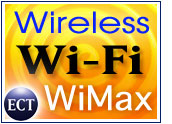 Aruba Wireless and Ortronics announced they have developed a WiFi wall outlet. Financial details of the development agreement were not disclosed.
The new Wi-Jack WiFi wall outlet will be marketed and manufactured by Ortronics and will integrate Aruba's enterprise wireless LAN (WLAN) technology directly into an office network wall outlet.
Most conventional WiFi technology currently does not allow companies to operate their wireless environment as a unified system. Each access point operates autonomously and provides a set of features and functions that must be managed independently. This has made deploying WiFi problematic due to operational costs, security concerns and management headaches.
Structured wireless networking, according to Aruba and Ortronics, changes the model for enterprise wireless deployment. Structured wireless integrates access-point functions into a centralized control system that coordinates the operation and optimization of the entire wireless environment.
"Ortronics and Aruba have combined our respective expertise in structured cabling and structured wireless networking to deliver the kind of innovation that makes history," said John Selldorff, chairman of Ortronics.
Each Wi-Jack comes with a single radio that provides either 802.11a (54 Mbps) or 802.11 b/g (11 and 54 Mbps) service. The Wi-Jack can also simultaneously function as an air monitor, giving IT staff a view into and control over the RF spectrum.
Ortronics is initially manufacturing two different versions of the Wi-Jack. One version provides two wired Ethernet connections with an Aruba access point integrated behind the cover and a second with only an Aruba access point and no additional Ethernet ports. Each Wi-Jack will connect to an Ortronics wireless controller, which uses Aruba's switching technology.
Once installed, the Wi-Jack is automatically configured and controlled by the wireless controller. From the controller, administrators can set transmit levels, alter channel assignments, provide a range of security required for WLANs, toggle modes of operation, enforce user access controls and control other attributes of the wireless network.
Availability of the new Wi-Jack is slated for the end of September. Detailed pricing and product details will be made available through Ortronics distributors.