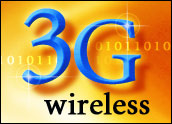 3GSM makes its debut in the United States today as AT&T Wireless announces the rollout of its initial third-generation broadband mobile communications offering in Seattle, Phoenix, Detroit and San Francisco.
The new U.S. service, launched ahead of schedule, brings the number of live 3GSM networks to more than 50 worldwide. The 3GSM technology is a broadband wireless specification that is based on traditional GSM and wideband CDMA technology.
According to AT&T Wireless, the new 3GSM offering will give wireless access to high-speed downloads and other advanced wireless features, such as streaming audio, streaming video, picture messaging and video messaging.
"We are delighted to welcome AT&T Wireless into the fast-growing global community of 3GSM operators," said Rob Conway, CEO of the GSM Association and member of its board.
"Expansion into the USA opens up a huge market that will contribute to global economies of scale, drive competition and innovation, and generate further growth — all of which bring terrific benefits for customers."
Vision of the World Phone
3GSM fulfils the vision of the world phone by combining the high-speed data and multimedia capabilities of 3GSM with the established international roaming capabilities of GSM.
Japan and Korea are both deploying 3GSM to connect with the global GSM community to deliver roaming services to their own mobile customers and visitors to their countries from overseas. Through 3GSM roaming, favorite data and multimedia services will become increasingly accessible to international travelers.
3GSM has already been launched in Australia, Austria, Bahrain, Belgium, Denmark, France, Germany, Greece, Hong Kong, Ireland, Israel, Italy, Luxembourg, The Netherlands, Portugal, Spain, Sweden, United Arab Emirates and the United Kingdom.
More launches are expected by the end of the year, including Singapore, Malaysia and Taiwan.
Trials Around the World
Trials in South Africa and the announcement of a contract to supply a 3GSM network in Tunisia further demonstrate that the technology has truly global application.
3GSM is the 3G-upgrade for GSM developed jointly by standards bodies from the United States, Japan, Korea, China and Europe. The specification delivers substantially enhanced capacity for voice and data traffic, data transmission speeds and quality management.
About the GSM Association
The GSM Association is the global trade association that exists to promote, protect and enhance the interests of GSM mobile operators throughout the world.
At the end of June 2004, it consisted of more than 640 second and third generation mobile operators and 140 manufacturers and suppliers.
The Association's members provide mobile services to approximately 1.1 billion customers across more than 200 countries and territories.
The GSMA aims to accelerate the implementation of collectively identified, commercially prioritized operator requirements and to take leadership in representing the global GSM mobile operator community with one voice on a wide variety of issues nationally, regionally and globally.