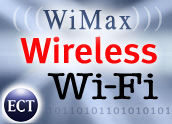 Intel and Proxim today announced a collaboration to develop WiMAX technologies for portable broadband wireless access. The agreement includes the development of base station and subscriber unit access points that deliver wireless access for data, voice and video services.
WiMAX, known also as IEEE 802.16, is an emerging wireless protocol that allows long-range high-speed wireless Internet access, serving both dense metropolitan areas and rural or suburban communities.
With its reach and performance, WiMAX is suited to drive the convergence of voice and data along with wireless technologies like WiFi and 3G. According to most industry analysts, this convergence will enable seamless mobility for enterprise and consumer users, obtaining voice and data services no matter where they are.
"We as an industry are headed toward the broadband wireless era and WiMAX will play a key role," said Scott Richardson, general manager of Intel's broadband wireless division. "The next wave is about portability, with people wanting to get access anywhere. Together, Intel and Proxim will enable people around the globe the opportunity to use emerging services and content in their homes and businesses."
Proxim and Intel
Initially, the companies will work together on fixed base stations supporting the 802.16a specification as well as customer premise equipment for fixed wireless networks. As part of the collaboration, Proxim will codevelop a reference design for WiMAX equipment.
Additionally, the Proxim Tsunami MP.16 base station will employ Intel 802.16 silicon. These initial base-stations can be deployed as an alternative for enterprise and service providers looking to provide high-speed broad-reach access to their customers.
WiMAX for Portability
Intel and Proxim also will work together to develop base stations based on the emerging 802.16e specification designed to enable broadband wireless portability. Portability will enable new applications and will be ideal for global service providers and carriers looking to introduce advanced data services.
"Proxim strongly believes in both the technological and market potential of WiMAX and particularly portable implementations of WiMAX," said Kevin Duffy, chief operating officer at Proxim. "We are pleased that Intel has chosen to work with Proxim to address this most exciting prospect for WiMAX technology. We will work closely with Intel to bring industry-leading WiMAX solutions to market, and to drive market adoption both at the system and client level."
Upon development, Proxim will target traditional wireless carrier and enterprise customers looking to provide their users with broadband wireless solutions. Proxim will include its core wireless software capabilities that enable subscriber roaming, increased subscriber support and dynamic bandwidth management.
Intel will provide the base station architecture, including the hardware and software components, as a reference design for other WiMAX equipment makers to enable them to quickly build and bring products to market.