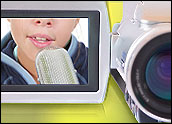 "No scripts, no teleprompter here, no real structure and no Britney Spears," says anchor Heather Nauert on a Sept. 25 edition of Fox News Channel's "Strategy Room." Then again, who needs Spears when you've got five stunning examples of Fox's now-famous efforts to recruit attractive females, all sitting around a table chatting with much energy about Congressional efforts to bail out the country's economy.
Another point that Fox's new show has in common with the former teen pop star: It hopes to scale new heights of popularity thanks to the Internet. "Strategy Room" is a Web-only Fox production, launched in the summer during the height of the election primaries. The channel is obviously hoping that its freewheeling style is part of its appeal. It certainly has been part of the promotional efforts. And it's not the only cable news channel to recently offer up exclusive Internet video presentations. CNN is giving its correspondent for "Anderson Cooper 360" something novel to do during commercial breaks: host a Web show from the set.
All of this — coupled with online productions from traditional broadcast news outlets like CBS — gives viewers a behind-the-scenes tour of their news operations. Yet CNN, Fox and CBS may not be aware that they're also allowing all of us a glimpse at how their management structures perceive these here Internets — as a way to do news on the cheap and still make money, thanks to pre-roll ads.
That's "'Strategy Room,' not 'Situation Room'
Lest I give you the impression that "Strategy Room" is Roger Ailes' take on "The View," it's not all females all the time. The hosts rotate among Fox News' stable of anchors and correspondents, and sometimes after the pre-roll ad ends, there's no real introduction from said host. It's like being parachuted into the middle of a discussion, as was the case on Oct. 1 when "Fox and Friends" co-host Brian Kilmeade and his in-studio analyst quizzed a Washington Times reporter on House Speaker Nancy Pelosi's PAC activities.
And when I say "in-studio," I'm being generous. It's basically a table with a big microphone stashed away in a corner of what looks like one of the channel's control rooms. That is certainly part of the intention and the you-are-backstage appeal. For a generation weaned on single-camera, user-generated YouTube videos and news contributions from grainy, shaky cell phone cameras, "The Strategy Room's" low-key set-design and production quality is positively Hollywood-esque in comparison.
It's the quality of the discussion that helps sell "Strategy Room." As a former cable news anchor who always dreaded hearing a producer say "wrap" in my ear during an interesting interview, I'm jealous of the hosts getting more time via the Web to pursue a topic and bring more insight to a key issue in the presidential campaign. This was especially evident during the June 3 "Strategy Room," which got mentioned (and embedded) in some political blogs.
The topic was Barack Obama finally going over the top in delegates for the Democratic nomination and Hillary Clinton's subsequent speech that should be have been a concession, but wasn't. Anchor Shepard Smith seemed to relish the freedom of the format, leaning back on the couch and steering the conversation like he was chatting with some very smart friends in his living room. Democratic strategist Bob Beckel was highly critical of Clinton's speech; I'm not sure he would have made the same comments to Fox's TV audience.
A different "Strategy Room," on Sept. 25 featuring Obama campaign manager Bill Burton, exhibited the same qualities. John McCain had just announced he was suspending his campaign to head to Washington to help with bailout discussions. Fox anchor Trace Gallagher led a spirited discussion with Burton and his panel of pundits.
Bravo to Fox for putting the emphasis on high-energy, unscripted content with "Strategy Room," and for mining this most interesting of political seasons. My fear, however, is that Fox will attempt to do what many a political campaign has done with its candidate: They won't let the candidate be the candidate. For the umpteenth time: The Web is not TV. Three-minute interviews on Fox News Channel are expected. They shouldn't be on "Strategy Room." Let the conversation flow and throw away the clock.
CNN's Live Webcast During a Live Show
The clock is definitely not CNN's friend for what could be termed as an interesting experiment in webcasting during "Anderson Cooper 360."
Full disclosure time: I was an anchor and technology reporter for CNN and CNN Headline News from 2001-2007. During that period, the network made several start-and-stop attempts to expand its digital presence, and I was a part of that. I wrote a tech column for Headline News' Web site and hosted a weekly tech podcast for CNN.com. The network has finally found a winning strategy with blogs, podcasts and streaming video — it's become one of the most visited news sites — and CNN is adding more exclusive Web content all the time.
Pencil in the "AC360" webcast as a work in progress. Correspondent Erica Hill (a former Headline News colleague) hosts a live stream broadcast at CNN.com during the commercial breaks in Cooper's show. This gives her a chance to show off plenty of off-the-cuff personality and also sneak in more questions of in-studio guests like personal finance expert Suze Orman and in-house political pundit David Gergen.
That is, when there are guests. "Are you kidding? Fortunes are made during times like these," Orman said when asked by Hill about long-term investing during scary market days. Gergen brought up jobs data that he contends aren't being addressed adequately by the candidates.
But when the guests are absent, so is compelling content. You end up with exchanges like these when Hill interviews Cooper:
"Whattya want to tell the people that they don't know?"
"I got nuthin'."
Welcome to amateur night at the Improv. Or you get Hill showing viewers the Palin Kids Name Generator; plug in your name and you get a new handle a la Track, Bristol and Willow. Kinda funny, although die-hard fans of Sarah Palin might take exception and scream about bias.
Again, like Fox's "Strategy Room," structure isn't the point here. Let it breathe, throw everything at the digital wall and see what sticks — I get that. But if the idea is also to drive traffic to cable network Web sites and reap the resulting online ad revenue, then give the viewer/surfer a reason to go.
Both of these shows were born during what's become an historic political season that has boosted ratings for all cable channels. It's not like there isn't plenty of material to work with on the part of CNN and Fox's digital gurus.