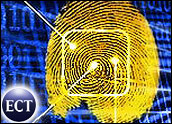 The British Airport Authority (BAA) on Wednesday announced that it has launched a limited scale trial of three integrated, biometric-driven security systems at London's Heathrow airport. The miSense, miSenseplus and miSenseallclear systems are designed to speed up and simplify passenger check-in, boarding and arrival procedures while at the same time strengthen security.
Making use of the latest biometric facial, fingerprint and iris recognition technology, as well as data encryption, security and systems integration, the trial will last through Jan. 31. Passengers traveling from Heathrow to Hong Kong on Cathay Pacific, and between Heathrow and Dubai with Emirates airlines, are eligible to participate in the trial run.
A pilot test of the three systems has been taking place at Heathrow Terminal 3 for about three weeks now, Stephen Challis, speaking for the BAA, told TechNewsWorld. The data will provide the basis for the BAA, the UK Home Office, and other participants in the miSense project, under the aegis of the IATA's (International Air Transport Association) Simplifying Travel Program, to enhance this concept system further in advance of launching an "industrial strength" version at an as yet unspecified future date, he added.
Test Beds
The miSense project is only one of a number of related initiatives being undertaken as part of the IATA's Simplifying Travel Program. BAA and miSense project partners expect to sign-up around 3,000 program participants during the trial run, enough to provide a statistically significant amount of performance data and feedback for evaluation and future enhancements, Challis said.
He noted that the use of biometric systems, combined with secure messaging and real-time database systems links to enhance security, and speed up and simplify check-in, boarding, arrival and immigration procedures, is a concept that is rapidly taking hold across the commercial airline industry. Such systems are now in use in Australia and New Zealand, and another is in the works at Amsterdam's Schipol airport, Challis pointed out. A similar effort is being made with the US-VISIT project.
miSense project participants are all essentially "chipping in" by donating their time, effort and technology in order to take part in an acid test and contribute to a far-reaching public security initiative, as well as to gain the recognition associated with having participated in such a high-profile project. "It's really good R&D … there's some really brilliant stuff behind it," Challis said.
In addition to BAA, Cathay Pacific and Emirates, miSense project partners include systems integrator Accenture, the UK Home Office, transportation logistics and operations consultants IER, Raytheon as program manager and systems integration coordinator, Sagem Defense Securite, nCipher and SITA, which is providing the simulated interactive Advance Passenger Information (iAPI) aspects of the system.
Making It Easier
France's Sagem provides most of the system's biometric iris, facial and fingerprint recognition components, as well as smart cards and fingerprint scanners, including portable devices and fake finger detection.
Cambridge, UK-based nCipher's enterprise key management and database encryption technology are core parts of the miSense system. "Protecting the integrity of stored passenger information underpins the security of miSense, and we are delighted that nCipher technology has been selected to play a vital role in this process," nCipher CEO Alex van Someren said.
"The recent long delays at London airports as a result of tightened security checks have highlighted the need for a more sophisticated solution that strengthens security while improving the passenger experience," he added.
"nCipher was approached by the miSense team for their technology and expertise in encryption for protecting sensitive information," Liz Harris, an nCipher spokesperson told TechNewsWorld.
nCipher's Hardware Security Modules and SecureDB are key elements of the new biometric security system. Its identity management, data protection and enterprise key management are being used to generate and protect the PKI (public key infrastructure) cryptographic keys that validate the identity of each traveler who enrolls in the program.
The company said its SecureDB database encryption product is being used to store and protect passenger information and passport details in order to ensure the highest possible levels of security, as well as compliance with data protection legislation.
"The nCipher technology deployed in the miSense trials is a standard product available to all our customers," Harris added. "Extensive research into passenger acceptability and technical performance will be conducted during the trial and used to inform the future design and operation of both airport and border control facilities and services."
The company's technology is also being used in a second, related miSenseplus trial, one that brings together the government immigration services of the UK, Hong Kong and the United Arab Emirates, in an effort to create an automated, international fast-track passport control service. In addition, the company is involved in related government, travel and transportation projects, including the UK e-passport program.
Eye, Hand and Face
Aviation authorities have been under pressure to revise and simplify security procedures at UK airports from commercial airlines, as well as travelers and watchdog groups, following the introduction of new, more stringent and elaborate procedures dating back to 9/11.
Cathay Pacific and Emirates passengers who are eligible and enroll in the miSense program will have their passport photo pages scanned and an image of their right-index fingerprints recorded. All personal data recorded during the trial run will be destroyed upon its conclusion in accordance with provisions of the UK Data Protection Act of 1998.
Program passengers will be able to check-in normally using the same kiosk. Fingerprints and boarding passes received upon check-in are then used to verify passengers' identities at security control and upon boarding.
miSenseplus program participants will have detailed images taken of their faces and both eyes, as well as ten fingerprints scanned. Once accepted, they will receive a miSenseplus membership card, which will afford them fast track immigration clearance when arriving and departing.
The data provided may be checked against databases held by other UK Government departments and agencies for evidence of criminality, the result of which may affect passengers' ability to continue to participate in the trial, but will not affect their right to travel, according to the miSense.org Web site.
miSenseallclear provides the critical real-time link between airline and government database systems, capabilities that have been introduced as part of similar system launches in Australia and New Zealand, Challis explained.
To be eligible for the miSense and miSenseplus programs, passengers must be a European Economic Area National at least 18 years old, hold a passport valid for at least six months and satisfy UK Government background checks.