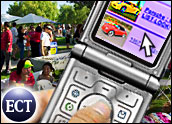 Will sending Web content to your handheld device be as simple as clicking a button? Mobile software company Bango believes so. Its new Internet-based application simplifies the process of downloading images from social networking sites to cell phones.
The software appears as a Bango Button on the home page of the user's cell phone browser window. With a click, the button can retrieve photos, music files and other content from various Web sites. The button links users directly to a mobile Web site or to mobile versions of Web sites. It can also be embedded in e-mails for distribution.
The software is designed to eliminate the cumbersome multi-step process normally associated with accessing Web images from mobile devices. About 33 percent of Internet users access social networking sites, according to research firm Yankee Group. However, sharing content across platforms — including mobile devices — has been tricky.
"The Button makes it easy for mobile users to get content that resides on a PC to their cell phone," Adam Kerr, a vice president at Bango, told TechNewsWorld.
A Caveman Can Do It
The software's ability to convert a Web site image into a properly sized, formatted image for a mobile device — without requiring any expert mobile knowledge — makes it valuable to users, according to the Cambridge, UK-based Bango.
The button removes the need to make the images mobile-ready or to have them located on a mobile Web site, Kerr added.
"It looks similar to the 'print' button that you see on many Web pages. This makes it very straightforward to access non-mobile Web-based content, it's easy to set up, and really simply helps users get content via a mobile server," Kerr said.
The button should work with most U.S. carriers, the company said. One exception is Verizon Wireless, which blocks some phones from downloading mobile Web-based content.
More Possibilities?
Users can download the button from Bango's Web site. Clicking on it leads to a short URL — when entered into a cell phone browser, it lets mobile device users access mobile-ready Web-based content.
Users looking to create revenue through arrangements with Bango will find a charge can be assigned to a piece of content. Installing and using the Bango Button is free, but Bango says it plans to charge users for analytics and reporting capabilities that track user behavior and traffic.