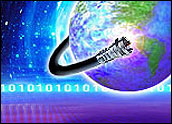 If you think accessing Internet data can be slow today, wait until 2010. That's when the Internet information glut could become unmanageable for corporate IT managers and users of enterprise applications, as well as consumers, according to Nemertes Research.
In fact, according to Nemertes, avoiding a possible data transfer gridlock may take a US$137 billion investment in global Internet hardware and software.
Demand Overload
The Mokena, Ill.-based company polled IT executives at enterprise organizations, equipment vendors, service providers and investment firms. Its findings are based on assessments of Internet access infrastructure, and the study found that — especially in North America — many firms will not be able to support demand as early as three years from now.
"We looked at investments in the Internet at several levels," Mike Jude, senior analyst at Nemertes Research, told TechNewsWorld. "These included the core infrastructure, switching fabric and access points, with the emphasis on Internet access layer. Now, people tend to measure that in petabytes transferred per month. But we asked how much investment will organizations have to make to close the bandwidth gap in bits transferred per dollar?"
What's to blame for the gridlock? The usual suspects: primarily products and services associated with broadband communication. Bandwidth-intensive applications — including streaming, interactive video; peer-to-peer file transfers; and, from consumers, music downloads — contribute to the bandwidth burden. Also, wireless devices ranging from cell phones to PDAs (personal digital assistants) are taking their toll, according to the study.
The Big Picture
In the bigger picture, an inadequate infrastructure will "slow down the pace of innovation," according to Nemertes. Attempts at producing more efficient online shopping sites, search engines and digital video Web sites will be stifled — not because user demand will slow down, but because the infrastructure as it exists now would prevent the emergence of more efficient applications.
For enterprise application users, the Internet data explosion will affect remote workers, according to Alex Cullen, vice president and research director at Forrester Research.
"Investment in infrastructure will not necessarily have to be made by CIOs (chief information officers), but they may have to pay higher fees for Internet access. Increased data traffic could put a screeching halt on the work of distributed employees who use a VPN (virtual private network) over the public Internet," Cullen told TechNewsWorld.
Forcing Efficiency
Software developers will also need to find ways to make applications more efficient, Cullen added.
"Smarter clients" that reduce interactivity, such as that found in rich Internet applications, will allow the software to perform satisfactorily with less available bandwidth, he explained.
Online customer relationships, for example, may begin to require multiple connection attempts to confirm online purchases, according to Nemertes. Also, when a sales rep visits a customer site with a presentation, streaming media or consulting with company engineers at company headquarters could become slow.
"Any mobile worker, including those that take company business from campus to customer premises, will be affected," said Jude.