CES surprised me again this year. For a show that comes too early in the year for most buyers and companies, it still stood out as having some truly amazing things. It will be remembered for showcasing the birth of personal flight vehicles, along with a Tesla-beating car, and Ford showing how it could do what Apple couldn't.
Surprises ranged from the return of a tech icon and the return of an iconic brand to a smart blender, and to a mystery phone that everyone was talking about but no one (that I know of) saw — not to mention a secret meeting of technology movers and shakers. I'll fill you in on some of the back stories at CES and then close with my discovery of a new favorite thing to do there: Visit the Whisky Attic.
Personal Flight Vehicles
Apparently CES, which embraced cars some time ago, is moving toward personal flight vehicles. Showcased at the show were a drone designed to carry people and a 3D-printed JetPack from Airwolf. Granted, the Airwolf demo was as much a showcase of the printing capability as it was the jet belt itself, but both were incredibly cool.
Of the two, the Ehang drone is the more interesting, because the step from self-driving cars and delivery drones to drones that deliver you is actually pretty small. Drone transportation would eliminate the need for roads and take shared autonomous rides (something that Uber, Lyft and Ford are working on) to where they are likely to end up.
It is kind of scary that a company from China figured this out first, though. The next big personal transportation revolution may not come from the U.S., Europe or even Korea — but from China.
The Electric Car Designed to Beat Tesla
Faraday had everyone drooling over its announcement of a Tesla-beating car. It does look like a car from the future — but a future when we are all riding the Ehang drone, because it isn't even remotely practical.
It would be destroyed by any steep driveway or speed bump, and the problems that the Tesla had with road debris early on, when its batteries were being punctured, would be deadly to this car. Don't get me wrong — it is a pretty thing. Still, going from a flying personal vehicle that could go most anyplace to a car that probably couldn't make it off most driveways seems to be a bit of a step in the nuts direction.
Ford Shows Apple How to Innovate
Most of last decade we complained that the car companies just didn't get it, and Tesla was the standing example of what could be done if technology concepts were used to drive automotive solutions. However, things have changed a bit. This decade, we are complaining that Apple can't innovate and Ford spoke on how to fix the problem at CES.
It has to do with allowing and promoting a willingness to take risks — something that large companies, including Apple, don't do well. It's why most large firms have to buy innovating companies to get innovation.
Ford is driving a massive amount of change into the firm, and if you've seen the new Ford GT and some of the things it is doing with in-car entertainment, you likely were amazed at the progress.
AMD and PCs Are Back
One of the stories that resonated at CES was that while other core technology vendors were all over drones and self-driving cars and other stuff, Dell, Lenovo and HP were all about PCs. Behind a lot of the activity was AMD.
One of the most interesting 3D presentations at the event, "Cry Out: The Lonely Whale Experience," focused on the plight of whales and the massive amount of pollution in the ocean. It was really cool with water and wind effects, and a fully articulated motion chair.
Of course I wanted one for my home, but Dell wasn't receptive to my request.
Dell's Killer Press Event
Speaking of Dell, one of the things that really annoys me about CES — likely because I'm an ex-actor — is that even though it is in the entertainment capital of the world, the presentations tend to feature inexperienced hosts.
Companies will spend millions on staging and then have some unrehearsed executive who can't even read a prompter destroy the whole thing. Well, Dell brought in an appropriate actor, Josh Brener from Silicon Valley and The Big Bang Theory, and its press event was one of the best-flowing and most entertaining of the event. So a shout-out to Dell for getting it right.
Oh, and its products were pretty decent too.
Panasonic – Holy Crap
There were two vendors that really pulled out the stops at CES and, surprisingly, one was Panasonic. The product that had me drooling was a blender, of all things — and not a cheap one, either. It retails for nearly US$600, but I like smoothies. This thing looks to be the smoothie king, and it looks cool.
Panasonic showed off a massive line of existing and prototype products that could revolutionize your home. One example was how to turn your garage into a brilliant man cave. It was clear that Panasonic wanted to own control over your house — and damned if I wasn't tempted to let it.
Oh, and it doubled down on the Technics brand with some incredible sound gear and a nice turntable. Turntables are back?!?! When I first started buying my own stuff, Technics was my favorite brand, so it is great to see it back.
Lenovo – Holy Crap, Part 2
There is only one vendor that goes all the way from smartwatches to servers at scale, and that is Lenovo. No other dominant PC vendor even has watches, but Lenovo has two lines of them.
It was the first to market with a shatterproof flexible screen; it offers phone customization; it has an affordable laptop with an OLED screen (that everyone I know in my community currently is lusting after), and it showed off one of the best three screen monitor/PC combinations I've ever seen at CES, mostly because I could afford it.
Lenovo really stepped up its game this year. (By the way, one of the other things that was interesting was that Lenovo and Dell basically took over the major choke point between the Venetian convention center and the hotels. If location at an event is everything, they get the location award. I have no idea where HP was — I never saw it.)
The Mystery Phone That Stole the Show
One of the big old backstories of CES is how Apple stole the show when it launched the first iPhone. There is always a chance that could happen again, and we were reminded of that this year, because the phone that folks seemed to be talking about the most was the Microsoft Surface phone.
Now, as far as I know, no one ever actually saw it or can even confirm it exists, but if you heard people talking about a phone it typically was the Surface phone they were talking about. That just seemed weird, because Microsoft phones typically get little interest — but suddenly a phone that was only a rumor seemed to be getting a ton of attention. Damned if I'm not curious too.
Uber Shafts Lyft
One little side story is that this was the first time I've used Uber at CES, and it worked out rather well. Lyft actually had a better special deal, but the Uber guys went around to the hotels and put their Uber sign showing their special on top of the Lyft sign, so you couldn't see the Lyft offer.
I thought it was kind of funny, but I'm pretty sure the Lyft guys weren't laughing.
Wrapping Up
This year's show had me at jetpacks and people-transporting drones, but it was actually an incredible look at the future. CES remains both one of the worst times and best technology showcases in the world. It can be a wondrous and amazing place to be. It was again this year.
Oh crap, that means I have to go next year. Hopefully, I'll be able to ride one of those people-carrying drones into the event, because the traffic really sucks during CES.

I'll bet you thought I forgot about the secret meeting of movers and shakers at CES, but I didn't. You see, I was going to be part of a group that Robert Scoble — a legend in our business who's now at Rackspace — puts together every year. However, I screwed up the day, so I showed up Tuesday at Whisky Attic, although the meeting was scheduled for Thursday. I left CES Wednesday, so I have no idea what happened at that event, but when I showed up two days early, the folks at Whisky Attic invited me to stay, and I got trained on how to taste whisky.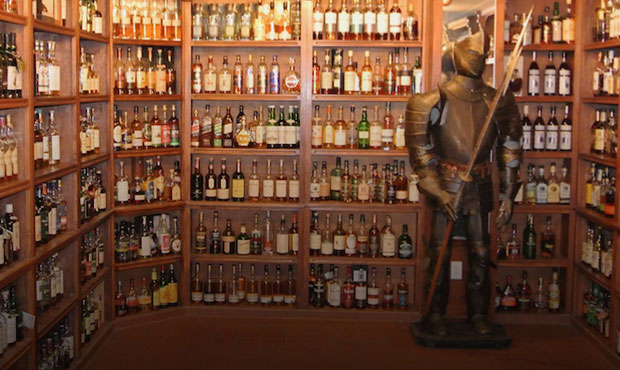 The Whisky Attic
This is now one of my favorite things to do when going to Las Vegas, because you learn something new — you learn how to taste and drink whisky. (We all pretty much do it wrong, adding ice and water, and mistakenly smelling it first.) It is a ton of fun — particularly about halfway through a 10-whisky tasting. It seems things just get funnier for some reason — thankfully, Uber drove me back to the hotel.
Whisky Attic doesn't sell whisky — a 10-bottle tasting is about $125 if you come in a group. Who knows, you may solve the problems of the world while you are there — but unfortunately, you likely won't remember how you did it the next day. Whisky Attic is where the tech powers that be meet at CES in Las Vegas, and it is my product of the week.