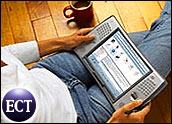 Holiday gift buying has never been more exciting. Portability has gone wild this year, and a stunning array of innovative audio and video devices have appeared that let us carry our music, movies and television programs anywhere.
After reviewing dozens of the hottest products, we settled on seven of the coolest devices as our top picks.
Our selections range from the newest video gadgets and MP3 players to portable devices that stretch entertainment to new levels of fun. We even found the ultimate listening, viewing and game-playing comfort chairs.
Rocking Delight
Sound Rockers by Pyramat are acoustical chairs that let users feel all of the action. They provide a multi-sensory experience when playing video games, watching movies or listening to music. These chairs are compatible with all game consoles and audiovisual devices, such as TVs, VCRs, and DVD and MP3 players.
The Sound Rocker vibrates and pulses in rhythm with the on-screen action. Its subwoofer creates a powerful rumbling bass.Two of the latest models are the PM440W (US$199.99), awireless gaming chair, and the S2000 ($129.99), the ideal playing throne for teen gamers. Standard features of the PM440W and S2000 include 3 inch full-range speakers, a 5.5 inch subwoofer, iPod/MP3 docking station, headphone jack, accessories storage pocket, breathable mesh fabric and the option to connect up to eight rockers together for an in-home arcade experience.
HDTV on a Stick
Who says you can't take your favorite television programming with you? Certainly not the engineers atPinnacle.
Pinnacle PCTV HD Pro Stick ($129.99) is an ultra compact,USB (universal serial bus) 2.0-powered TV tuner in a stick form factor that brings HDTV-quality signals to a computer via the new, digital ATSC (Advanced Television Systems Committee) standard.
ATSC is free, and supports high or standard definition. The device also receives standard analog TV (NTSC, for National Television System Committee) signals via cable, satellite or antenna.
The included Pinnacle MediaCenter software enables recording. The device saves files in DVD, DivX, iPod and Sony PSP formats.
In addition, it can capture images from most consumer devices with analog outputs, such as VCRs, camcorders and DVD players, allowing users to edit and enhance files with the included Pinnacle Studio QuickStart software.
TV to Go
Check out the RoverTV fromDoghouse Electronics, a pocket-sized mobile media player that records directly from television, DVR, VCR, CD or computer — both Macs and PCs — for high-resolution digital playback. It packs a 4 inch color Samsung TFT (thin film transistor) screen (320 by 240 for the big screen version and 480 by 272 for the wide screen version) in an ultra lightweight 5 ounce package.
The built-in lithium ion battery provides power for up to six hours — enough time for two feature-length movies and a sitcom or two. RoverTv can also store and play MP3, MP4, WAV files — and even FM radio broadcasts.
Flash drive and SD (secure digital) technology provide unlimited external memory. The included 2 GB card provides up to four hours of high-quality video or 2,800 songs.
The big screen model costs $299; the wide screen model costs $349.
MP3 and More
Samsung and Sandisk have released a pair of digital audio players that give new meaning to the term "sound innovation."
The Samsung K5, with its glossy black magnesium case, has built-in speakers that slide out. A one button control on the side of the player works menus, volume, and other functions that display on the 1.7 inch OLED (organic light-emitting diode) touch screen.
The K5 doubles as an alarm clock that replaces buzzers and annoying ring tones with your favorite tune; the JPEG viewer serves as a slide show player to accompany any song in your collection. The K5 comes in 2 GB ($209) and 4 GB ($259) flash memory capacities.
Sandisk's Sansa c200 ($99.99) is much like the Sansa c100 series, except the c200 comes with a larger color screen — capable of displaying up to 64,000 colors — to show off cover art and photo thumbnails. In addition, it comes with an expansion slot to add more memory and to transfer songs.
The Sansa c200 has photo capability, FM radio, FM recording, voice recording and supports high-speed USB for file transfers. The device plays MP3, WMA, WAV and protected WMA DRM files.
Feel the Vibez
The Vibez by German firmTrekStor is a hard disk MP3 player. It is available in 8 GB ($219.99), 12 GB ($239.99) or 15 GB ($259.99) models. The palm-sized unit features a 1.5 inch, full color TFT screen; a large rubberized scroll wheel controller; and a 20 hour rechargeable, replaceable Lithium-ion battery.
An optional FM tuner card, available in early 2007, will fit snugly in a slot behind the battery. An optional FM/video card that allows video playback will also be available in early 2007.
The Vibez can be used as a standard USB storage device. The device is a light 2.5 ounces, including the battery included, and measures approximately 4 by 2 by 0.7 inches.
The Vibez comes bundled with Sennheiser headphones, a neckband, both a USB and a line-in cable, and a software CD, which includes a manual in PDF format and a Windows 98 driver.
Pocket Web Surfing
Pepper Computer's Pepper Pad 3 is a feature-loaded handheld touchscreen-based computer that integrates many digital media types. It combines an MP3 player, mini DVD player, digital camera, laptop computer and assorted gaming devices.
Integrated Linux-based software allows users to browse the Web (it's WiFi- and Bluetooth-enabled), and send and receive e-mail and instant messages.
Users can also download and stream music, videos and movies, as well as take photos. Compared to a small-screen PDA, mobile phone or laptop, the Pepper Pad 3 provides a much richer viewing experience.
At 11.4 by 5.9 inches and weighing 2.1 pounds, the Pepper Pad 3 comes with a 7 inch wide touchscreen, a full QWERTY keypad, a 20 GB hard drive and built-in speakers.
The device's screen allows users to view full-size Web pages and watch full-screen videos. Even better, the infrared and UPnP capabilities allow it to double as a wireless remote control for PCs, TVs, set-top boxes, CD players, and other A/V devices.