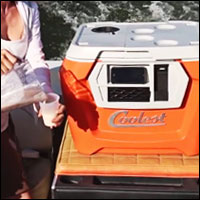 The hottest crowdsourced hit of the summer is the Coolest Cooler, an unassuming party cooler that features a built-in ice-crushing blender, a removable waterproof Bluetooth speaker, a USBcharger, an LED lid light, a gear tie down, super wide wheels fordragging it over sand, a bottle opener, integrated storagefor plates, a divider to help keep your margarita ice separatefrom your sandwiches, and a rust-proof ceramic knife built right intothe lid.
The knife isn't there to help you fend off robbers — theknife is there so you can cut limes.
This is a party cooler, and it's touched a nerve: Withinjust a few days, the Coolest absolutely rocketed in Kickstarterfunding to blow past US$5.2 million in project support. With 44 days of funding to go, it's hard to imagine the Coolest not going much higher. The Coolest is gettingwidespread press all over the Internet and beyond. It's only a matterof time before the inventor, Ryan Grepper from Portland, Ore., showsup on morning TV news shows.
The Coolest Cooler is already the 6th most-funded Kickstarter projectof all time.
Wow.
So what gives?
Little-Known Fact: The Coolest Failed Last Year
Interestingly, Grepper first tried to launch the Coolest last year onKickstarter. Thatfirst project had a funding goal of $125,000 and garnered 279backers who pledged a total of $102,188. Obviously, Grepper didn't give up. Heretooled the design — mostly just the look of the Coolest — andrevamped the Kickstarter project marketing page to better show off itsfeatures. And the funding goal? He actually reduced it to $50,000.
So what's fundamentally different? Tapping into a viral zeitgeist offunding love isn't easy, of course, but one thing jumps out: The newversion of the Coolest is bright orange and takes on a new overalljaunty shape. Instead of a basic rectangle cooler with featuresglommed onto it, the Coolest looks like something new — at oncerecognizable as a traditional cooler, yet with new angles that imply this cooler is ready to party.
Plus, think about the launch date: Last year's CoolestCooler launched in the fall and didn't complete its funding until lateDecember. Who wants to buy a cooler in December?
This year, though,the Coolest launched in July, which is a hot summer month when thesummer is still full of promise. The irony is that the previous campaignwould have delivered a Coolest in time to use in the summer of 2014, while this new and improved Coolest won't ship out to backersuntil the chilly month of February in 2015.
The Rewards
There are a few low-dollar rewards for people who like the idea butaren't ready to commit. For $55, you can get a "Keep Calm and BlendOn" Coolest t-shirt with a blended drink guide and Coolest reusableparty cup.
Early birds were able to get the Coolest Cooler for $165, whileeveryone else can still get one for $185, which will save you awhopping $115 off of the $299 expected retail price next year.
After that, you get Coolest options that include the t-shirt and cups, alongwith a $1,750 10-pack of Coolest Coolers for those who are superserious partiers (85 backers so far).
For $2,000, Grepper agreed topersonally fly out to your home town and man your bar at your nextevent with a fully functional Coolest prototype. Grepper writes, "Imake incredible drinks and dogs and kids like me." This offer reached its limit with eight backers taking him up on it.
Because this project took off so quickly, Grepper introducedsome reach goals that let backers vote on new colors, like Margarita,Blue Curacao, Sangria or Cosmo.
Meanwhile, What's the Risk?
As with any manufactured product, especially larger products thatinclude multiple types of integrated items, the supply chain andassembly-and-delivery process introduce the risk of delays. Tominimize errors or delays, Grepper says he's working with toolingmanufacturers that have a track record for prompt quality. Plus, he'slining up backup suppliers for each component in case one supplierruns into an unforeseen problem.
Manufacturing of the injection and blow-molded parts will begin inDecember, with final assembly and shipping starting in January andFebruary.