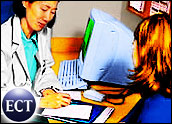 As the new Medicare drug discount card program begins today, Medicare consumers should be aware of three common frauds including identity theft and "bait and switch" tactics, according to the Foundation for Taxpayer and Consumer Rights.
"Seniors should read the fine the print of drug discount card contracts and watch for fraud and identity theft," said Jerry Flanagan of the Foundation for Taxpayer and Consumer Rights (FTCR). "Unfortunately, unscrupulous businesses are preying on seniors looking for prescription drug discounts."
Bait and Switch
Drug prices, availability and program-enrollment fees are not guaranteed. As a result, prices and drug availability can change every month while enrollees have to commit to enroll for a year.
Under the federal law, drug card sponsors are allowed to change the price of covered drugs if there is a change in the drug card sponsor's costs, such as changes in the discounts, rebates or other price concessions received from a drug maker or pharmacy.
Consumers should report drug cost changes to the Centers for Medicare & Medicaid Services.
Medicare Approval
Not all cards are Medicare approved. Illegitimate drug card companies are trying to take advantage of the Medicare prescription drug card program by selling unapproved cards that provide even fewer protections.
Seniors should beware of unsolicited phone calls or in-person visits from drug care salespersons. Medicare does not allow legitimate drug cards to be marketed through unsolicited calls or unsolicited visits to your home. Authentic discount cards will be stamped with a federal government seal.
Beware of Identity Theft
Identity thieves are using the new drug discount card program as an enticement to get personal financial information from seniors in order to commit credit card fraud.
Medicare beneficiaries should never share personal information, such as their bank account number, social security number, health insurance card number or Medicare number with any individual who calls or comes to the door claiming to sell any Medicare-related product.
Seniors should report fraud to the Centers for Medicare and Medicaid Services at 1-800-MEDICARE.