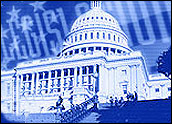 A revised version of Video Privacy Protection Act that would allow services such as Netflix to facilitate "frictionless sharing" of a user's viewing history via Facebook or other online services is awaiting President Obama's signature.
The U.S. Senate passed the update to the 1988 law late last week; the same legislation cleared the House days earlier.Social networking giant Facebook has been pushing it for more than year.
The Video Privacy Protection Act originally was signed into law by President Ronald Reagan to prevent the "wrongful disclosure of video tape rental or sales records." It was a response to the controversial publication of Robert Bork's video rental history after he was nominated to the Supreme Court.
Although Netflix and Facebook have a global integration agreement in force, users in the United States haven't been able to take advantage of frictionless sharing of their viewing histories. They can share — but they must give permission for each video. If the president signs the update into law, it would allow Netflix subscribers to give Facebook or other online services blanket permission to tell others what they've been watching. Users would still have to explicitly agree to the terms of sharing that information, however.
This capability could become available to Facebook and Netflix users in 2013.
"Netflix and Facebook are supportive," said Claudia Rast, a business and technology attorney withButzel Long. "It allows subscribers to Netflix to allow their friends on Facebook to know what the subscriber 'likes' on Netflix — more business for Netflix."
Netflix and Facebook did not respond to our requests for further details.
Frictionless Sharing
Nothing to date has stopped individuals from posting on Facebook the movies they've watched, but the new law could allow services to automatically update their viewing histories. They would no longer have to approve publication of each individual title.
"The law basically allows a single authorization of consent to enable unlimited, subsequent instances of video sharing across third party sites and social platforms," said Greg Sterling, principal analyst at Sterling Market Research. "Previously, each time a video was to be shared, the law required that consent be obtained."
The new law could mean more business for Netflix, but it could help Facebook as well. Given that Facebook is essentially designed around Likes, it isn't hard to see why the social network would want to let users share which movies and other video content they've watched. It could become a way to gauge movie popularity and thus drive even more users to the social network.
"It removes a marketing barrier," Sterling told the E-Commerce Times. "Facebook likes this because they want more information shared — on their platform — generally.
"Potentially this might also play into advertising in selected situations," he continued — "that is, film studios promoting upcoming films to prospective audiences. Netflix likes this because it permits more viral promotion of its brand, titles and service on Facebook."
Too Much Information
Aren't there some occasions when individuals might not want everything to be shared? Many movies could be considered guilty pleasures, while others could be the sort of thing people might simply not want others to know were in their Netflix queue.
Users can opt out of sharing any particular titles, but there will no doubt be some red faces nonetheless.
"The less-than-attentive consumer might authorize sharing in January and forget he or she has done that," noted Sterling, and "thus in June or July, unwittingly expose video viewing information that he or she might want kept private."
Of course, there are other privacy concerns as well, and this is the very reason that the Video Privacy Protection Act was created.
"The old law prohibited this type of sharing. Groups who did not support the change include EPIC — always protective of privacy issues — and the ACLU," said Butzel Long's Rast.
"The ACLU was critical because it believes that comprehensive privacy legislation — not piecemeal process — is in order," she told the E-Commerce Times. "While I agree with the latter argument, the VPPA was an incredibly old artifact of the VHS days and needed this tweak. I also understand that [Sen. Patrick] Leahy's committee removed the warrant requirement that held up the legislation earlier this fall."