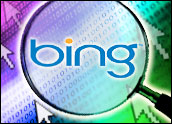 When Microsoft first launched its Bing search engine less than a year ago, the company promised to map out a strategy that involved more frequent updates and feature additions. This week, the company reiterated its commitment to that road map with the announcement of some new tweaks and technology integration starting immediately and continuing into the summer — tweaks including, of course, mapping in search results.
"When we launched last June, one of the ways we helped customers get to better decisions was by providing a more visual, more intuitive, and more organized experience," Bing Group Product Manager Todd Schwartz wrote recently on the Bing community blog. "This spring we will continue this evolution by making some changes to our user experience and providing new experiences throughout search."
Those changes include current and future refinements to the Quick Tab feature providing related information to main search queries, and the addition of popular links sent via social networks when users search for news content. However, the new feature making the biggest noise in the blogosphere is Microsoft jumping on the red-hot location-based service bandwagon with the integration of Foursquare into Bing Maps results.
"Selecting the Foursquare Map App in Bing Maps and zooming in to Greenwich Village will get you tips that show you what locals are saying about the hot spots in that area," Schwartz wrote. "It's like an interactive day planner, designed to help find the best things to do in that area. And if you have questions, you can always contact users through foursquare to get the inside scoop."
The addition of real-time and location-based services echoes the mobile social network features already announced by main search rival Google via the latter's highly-touted — and heavily criticized — Google Buzz. But as it shoots for success after previous search engine efforts, Microsoft is at least showing that it will stay aggressive in keeping Bing relevant by seeking an innovative consumer experience.
Will It Translate to Market Gains?
The latest ComScore search market data shows Bing gaining slightly to 11.5 percent in February, compared to an equally slight drop for Yahoo (16.5 percent). Google maintains its massive lead with a 65 percent market share, thought to grow to 80 percent when you consider worldwide users.
"For all the sound and fury, Bing hasn't gained that much market share," Directions on Microsoft analyst Matt Rosoff told TechNewsWorld. "It has gone up a little bit, but it's mostly come at the expense of Yahoo. It's really Yahoo and Microsoft fighting over a small chunk of the market. It's going to be a tough fight, and they will have to these updates for a long time before they can make a dent in market share, and they may never do that."
However, Rosoff added that the commitment to update and refine Bing several times a year is a notable departure for Microsoft and its checkered history of search engines. "Microsoft as a company has always had consumer online properties with varying levels of investment. But most of the energy now is going into Bing. They're really focusing on it and trying to put a lot of investment into it. Regarding the new features, there's nothing that stands out — it's sort of a trickle of interesting, mostly small innovations. But they are trying to get beyond the paradigm of links on a page — trying to go beyond 10 blue links."
Recent examples of Bing innovation Rosoff named: navigating image searches and combining the use of Flickr photos with street-side views. "You can superimpose photos on a street-side map, so you could get historical photos of Seattle and superimpose them over what the city looks like today. So theyr'e trying a lot of interesting things."
Adding Foursquare lets the industry know that Microsoft has plans for Bing's mobile applications as it tries to keep up with Google Maps and Buzz's ability to use a smartphone's GPS feature to tweet or send Facebook status updates from wherever users are. Windows Phone 7 is tightly integrated with Bing, Rosoff said.
The Tough Search Battle Ahead
If Microsoft is going to make Bing more feature-rich, it has to make sure it also doesn't get in its own way. Schwartz trumpeted the desire for Bing to provide a "lighter, cleaner presentation" and to "streamline and polish" the user experience. However, Rob Enderle president and principal analyst of the Enderle Group, says that hasn't been Microsoft's experience.
"Microsoft is taking their traditional approach to a competitive problem — increase the feature count so that the offering on spec looks superior," Enderle told TechNewsWorld. "Imagine a checklist with all of this stuff. Bing would have checks and Google wouldn't, with the anticipated result that any measured user would choose the richer product. This is often how companies make choices. Unfortunately, it isn't often how people pick a service."
Consumers, said Enderle, are currently happy with Google and creating an impression of Bing complexity won't convince users to pack up their search queries and fire up a new engine. "This is a war of perceptions, not features."
The way to do it, advised Enderle, is to add one major feature at a time, educate the public about its benefits and promote it to get people to try it. Simple and elegant is what has led Apple to dominance in MP3 players, online music services and smartphones. "Too many features and suddenly the product looks complex and scary, having the opposite result from the one you intended," he said.