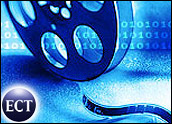 San Francisco-based BitTorrent, a firm infamous for creating file-sharing software that lets millions of people swap pirated movies and video content online, on Monday launched the BitTorrent Entertainment Network at BitTorrent.com.
The surprising shift comes with the support of major studios, television networks and video game publishers. BitTorrent now boasts the "most comprehensive library of downloadable digital entertainment ever amassed on the Web," including content from 20th Century Fox, Lions Gate, MTV Networks, Paramount Pictures, Warner Bros. Home Entertainment and Metro-Goldwyn-Mayer.
BitTorrent's 135 million users will now be able to rent movies for US$3.99 for newer releases and $2.99 for older titles. Television shows and music videos, on the other hand, are $1.99 each and can be kept indefinitely. The downloaded copyrighted content will contain digital rights management (DRM) features that will prevent them from being illegally copied.
Double-Edged Sword
BitTorrent's biggest key to success may also prove to be its biggest challenge: Its own users, while representing a key demographic of Web-using digital entertainment aficionados, also started using BitTorrent's software so they could share copyrighted material freely over the Web. Getting these users to start paying for content may prove difficult.
In addition, BitTorrent faces strong competitors like Apple's iTunes Store, which sells downloadable television shows and music videos for $1.99, as well as movies for $9.99. Customers who already have iTunes accounts for music may be more likely to simply buy movies from Apple rather than taking a chance with an unfamiliar vendor.
"I feel that BitTorrent has some potential, and I think there are two ways they can be successful," Phil Leigh, senior analyst for Inside Digital Media, told TechNewsWorld. "One is to be an engine for some service that has better brand recognition. Right now, if you buy movies from iTunes, it's all coming out of the Apple server, but there's no question that BitTorrent has a superior network architecture for delivering big files like movies. So, they could become the engine behind a number of different stores that have bigger brand names."
The second way BitTorrent can be successful is by continuing to offer content on its own, Leigh explained.
"While they don't have the brand recognition, the superiority of the network service can provide the consumer a better experience, and if the consumer is offered a noticeably improved experience with BitTorrent, it could enable them to be successful," he added. "But I think they'll be better as an engine behind somebody who has a [more established] brand."
Better Delivery Methods?
Ultimately, other services that offer video downloads will turn to a BitTorrent-type technology, Leigh noted.
One competitor, for example, isn't a store at all, but still provides a competitive backbone for digital content delivery. Move Networks has been quietly gaining customers who utilize it to deliver content online. Like BitTorrent, Move breaks up large files into smaller files that can then be streamed and cached in a variety of servers and PCs, but doesn't use end-user PCs to deliver any content.
"If you have a number of people running BitTorrent, it has an adverse affect on ISPs because ISPs are not used to sending outbound content," Jim Ericson, Move Networks' vice president of marketing, told TechNewsWorld. "ISPs are used to sending content in the other direction, to the end user — the more that a peer-to-peer scales, the more it affects ISPs."
Competing With Free
It's hard to say what the long-term effects of success will bring to the Internet and high-speed consumers, but BitTorrent will have to compete against other free services.
For example, Move Networks' highest profile customer is Fox Interactive Media, which utilizes Move Networks technology to offer shows like "24," "Prison Break," "Bones" and "The OC" online via a free stream from Fox's MySpace Web site.
A "24" fan, for example, could pay BitTorrent $1.99 for the show — or Apple for that matter — but could just as easily view it free on Fox's MySpace site.
BitTorrent's entertainment network can also be utilized as a distribution platform for independent content creators, the company says. Whether it's film, television, music or podcasts, BitTorrent features a self-publishing capability that lets artists distribute through a personalized BitTorrent URL and online presence, which puts the company in a position of competing with personal video-sharing heavyweight YouTube, as well.