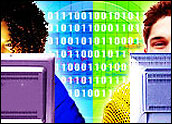 After Microsoft made its move to acquire Yahoo, the blog chatter started almost immediately. Initial postings hit the Web with notes of surprise before the more thoughtful ruminations started to hit, not to mention the tongue-in-cheek name-crunching that produced hypothetical monikers like — "Microhoo!" and "Yahsoft".
Marketing and social media-focused blogger Scott Monty wasn't particularly surprised, however. He noted that Microsoft has been lagging behind Google in many areas, and an acquisition is a way to shore up the gap. Yahoo owns some attractive social media sites like Flickr, del.icio.us and Upcoming; the combined search capabilities of the two would be more compelling, he posited.
"Currently, Google is dominating the online advertising space — it's the major game in town," Monty told TechNewsWorld.
"With the combined forces of Yahoo and Microsoft — Nos. 2 and 3 in the market — Google will be on notice. What it means for online marketers is there will be creativity fueled by competition — creativity in pricing, executions and availability of ad space," he explained.
Even Possible?
Valleywag.com, "Silicon Valley's Tech Gossip Rag", has been all over the Microsoft move, posting frequent updates. Nicholas Carlson posted an interesting note about why the deal might not be able to go through. Here's an excerpt:
"'I shudder to think about a MSNBC.com and Yahoo News integration,' a source formerly employed by both companies in the proposed Microsoft-Yahoo merger tell us. The 'cultures,' she says, 'will be really tough to integrate.' In that case, we're happy to report the good news: There's no way it will happen. Legally, Microsoft can't keep both news sites, and if it has to choose between the two, Yahoo News would be its natural choice."
Google's Opposition
Google wasted no time jumping into the blog fray by posting its own missive raising questions about the Microsoft move. David Drummond, senior vice president of corporate development and chief legal officer for Google, posted his take:
"Could the acquisition of Yahoo! allow Microsoft — despite its legacy of serious legal and regulatory offenses — to extend unfair practices from browsers and operating systems to the Internet? In addition, Microsoft plus Yahoo! equals an overwhelming share of instant messaging and web email accounts. And between them, the two companies operate the two most heavily trafficked portals on the Internet," Drummond noted.
"Could a combination of the two take advantage of a PC software monopoly to unfairly limit the ability of consumers to freely access competitors' email, IM, and web-based services? Policymakers around the world need to ask these questions — and consumers deserve satisfying answers," he added.
Dueling Giants Good for Google
Some bloggers have been pointing out that a Microsoft-owned Yahoo could provide better competition for Google, which could result in better products and services for businesses as well as consumers.
"Google's corporate mantra is 'Don't be evil,'" said Monty. "This was fine back in the day when they were the young upstart against the giant Microsoft — especially as Microsoft was busy fending off antitrust suits. But now that Google is the dominant force — and because so many of its online applications can scrape our private data, albeit with our permission — there are some who wonder if Google is now the entity that needs to be slowed down, or at least given a greater sense of competition.
"If Google gets lazy and loses its innovation momentum, it could turn users off. And I think a Microsoft-Yahoo alliance would help to keep all parties nimble and responsive," he added.
On the other hand, some bloggers think Google isn't worried at all. Blogger Robert Scoble quickly illustrated the point on his blog, Scobleizer:
"Google doesn't mind this deal going through at all. Google knows they will be able to outrun a 'Microhoo.' Why do they know that? Because they've been able to outrun them both separately. As I said on Channel 5 news on Friday night: put two turkeys together and you don't get an eagle," Scoble wrote.
Much More Than Ads
While many blog posts have been covering the advertising and search angles, Forrester Principal Analyst and Vice President Charlene Li pointed out that there's much more to the Microsoft move than first meets the eye.
"Clearly, advertising is a big part of the business, but in many ways the relationship that you form with small and medium-sized businesses especially, who form the vast majority of the advertisers that are using Google today … they make great opportunities for Google to have a conversation with the small businesses about other things that they offer as a company," she told TechNewsWorld.
"Google has ambitions outside of advertising, and those ambitions press up against Microsoft's long-term plans for computing, especially for being a platform for both businesses and individuals," she added.
In her Forrester Groundswell blog with Josh Bernoff, Li noted, "Microsoft is interested in search because it provides a beachhead into businesses — especially small and medium-sized ones who don't have a direct relationship with Microsoft.
"That's Google real threat — the ability to leverage today's search relationship into Google Domains and eventually, software as a service that could undermine Microsoft's long-term position — and as Kyle McNabb and Rob Kplowitz point out, at risk is Microsoft Office's current dominant position. To that end, Microsoft is buying significant share with Yahoo!, not only from search users, but also search advertisers and other relationships via Yahoo! Store."