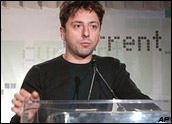 Sergey Brin had his own genetic code Googled by his wife's DNA testing company. The results, revealed in the first posting of the Google cofounder's new blog, show that he carries a gene mutation that predisposes him to Parkinson's disease.
"This leaves me in a rather unique position," Brin writes in his blog, Too. "I know early in my life something I am substantially predisposed to. I now have the opportunity to adjust my life to reduce those odds (e.g. there is evidence that exercise may be protective against Parkinson's). I also have the opportunity to perform and support research into this disease long before it may affect me. And, regardless of my own health it can help my family members as well as others."
Brin's mother has Parkinson's, and she too carries the mutation. Both were tested by Brin's wife Anne's company, 23andMe, one of a handful of firms hoping to offer genetic testing services directly to consumers. Its findings regarding the high-profile Brin are raising new questions about medical privacy, bioethics and the effects of such information on the psychological well-being of individuals.
Should You Know About Risks?
"Right now our dilemma is that genetic and genomic tests are of variable quality because we have inadequate oversight systems," Kathy Hudson, director of the Pew Genetics and Public Policy Center told TechNewsWorld. "There are enormous questions for garden-variety Americans, such as what is the value of having that information and what is the potential harm, in light of a lack of proven or effective interventions. That's the case for most genetic and genomic tests."
Dr. Robert Nussbaum, a medical geneticist at the University of California-San Francisco Medical Center, helped to discover one of the first inherited forms of Parkinson's disease. He told TechNewsWorld that he has a problem with the type of genetic testing offered by companies such as 23andMe.
"The fact that these sorts of tests cause people to ignore how complex it is, going from genetic predisposition to actually developing the disease, I think they oversell how predictive they are," Nussbaum said. At issue is penetrance, the term used to describe the likelihood that a genetic predisposition for a certain disease will actually develop into that disease. "He (Brin) has between a 20 to 80 percent chance. That's a pretty wide range. The penetrance of this particular disorder is all over the map. It depends on how the data is collected." Environmental factors and other potential effects on mutated genes must also be studied further, he added.
Nussbaum's concerns about genetic testing echo those of bioethicists who aren't just worried about privacy concerns or how the data would be used by insurance companies or employers. "I think you have to decide on a case by case basis. For some people, getting that information can be psychologically damaging. For others, information is power," he said.
Genetic Information on a CEO's Resume
The fact that Brin is a highly compensated business leader — with the portfolios of shareholders and investors on his shoulders — brings up a scenario worthy of a Michael Crichton novel: In the future, could corporate boards demand that CEOs have genetic testing to ensure their health?
"Before we even contemplate that question, we have to ensure that the tests are giving accurate information, and at the present time we don't have a system in place to assure that," Hudson said. "There's no oversight of accuracy and reliability. But the related question is, since DNA is everywhere, wouldn't it be possible for somebody at a board meeting to gather up coffee cups and do genome scans on people sitting around the board table, including the CEO? What about presidential candidates? Right now there's not any prohibition on that being done."
In the meantime, does this information truly allow Brin to modify his behavior accordingly "to reduce those odds?" Nussbaum says there's no evidence that exercise lessens the chance of getting the disease or alters the course and speed at which neural degeneration occurs. "What is true is that if one develops Parkinson's, because of the stiffness and difficulty in movement, maintaining good muscle tone and exercising regularly is helpful in maintaining mobility. It's certainly useful for symptomatic relief."